Zelda Kaplan
(Zelda Kaplan)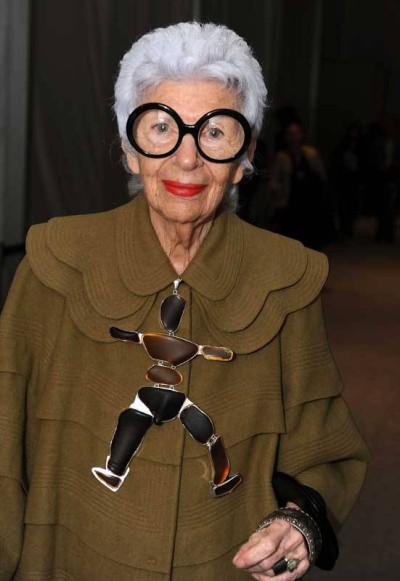 Zelda Kaplan
The world of fashion is in mourning after Zelda Kaplan, 95, died after fainting in her front-row seat at a fashion show yesterday.
The drama and spectacle surrounding her death almost seems to befit the New York style icon that she was right up to her final breath.
Ms Kaplan was known for taking the nocturnal nature of the city to heart, and was regularly seen closing down popular nightclubs like Bungalow 8 with socialites nearly a quarter her age.
She was instantly recognizable with her trademark oversized glasses, distinctive bold prints and ever-present matching hat.
Ms Kaplan was wearing a variation of her self-styled 'uniform' when she attended the Joanna Mastroianni fashion show at Lincoln Center on Wednesday.She gainfully posed for photographers while she waited in the front row before the show started, and showed no sign of the trouble that was just minutes away.
Witnesses saw her 'slump forward' shortly after the show started and she was escorted out of her seat by security guards.
Emergency medical technicians performed CPR on Ms Kaplan before she was transported to hospital and pronounced dead.
An IMG spokesman said: 'Emergency medical care was immediately supplied by a licensed first responder who is on our security staff, and she was taken by ambulance to Roosevelt Hospital.' According to WWD, Ms Kaplan's husband, Gideon Lewin, had been sitting next to her in the front row seats. He alerted security and said that his wife had never seen a doctor in her lifetime.
Her cause of death has not been released. 'I was sitting right next to her,' said fashion writer Ruth Finley.
'She flopped over in my lap. The show was just starting. I thought she fainted.'
Her social calendar was remarkable for someone half her age, but her energy in interviews portrayed a lively spirit.
In a 2010 interview with New York magazine, she said that her bedtime was 'anytime between midnight and 7am'.
An avid traveller, Ms Kaplan spent significant amounts of time in Africa and southeast Asia during the last few decades and was a champion of humanitarian causes including the prevention of female genital mutilation. Her travel not only influenced her philanthropy but also her fashion.
She was known to buy cloth directly from local weavers while abroad and bring it back to New York where she would turn the prints into custom dresses and matching hats.
In the July 2010 New York magazine interview, her answers cemented her place as an adult who is unafraid of never getting serious.
The Columbus Circle local said that her favourite, ever, New Yorker is Margaret Mead and called herself a 'Citizen of the World', explaining that she 'spent half [her] life relaxing and the other half crusading'.
Her life was a colourful one at the very least.
'I was a successful ballroom dancer and women's golf pro in Miami Beach in my 20s, a doctor's wife in New York in my 30s — and in my 60s and 70s I spent my time largely in Africa and Southeast Asia campaigning directly with local tribal government leaders for women's and children's rights,' she told the magazine.
In 2003, was the subject of a documentary film, 'Her Name is Zelda'.
While she never used medication, Zelda told New York magazine that she was fond of Shiraz and said that she mostly spent her days reading books and newspapers, 'which provides me great knowledge to empower people through daily conversations, and through my charitable efforts.'
Wonderfully unaffected, she hated spending money on haircuts, didn't drive a car and had never visited 'new' Times Square.
Her attitude of being able to do anything and having the world at her feet shone through: 'I've never met Donald Trump, but I would like to. When I heard he had a low handicap, I thought maybe we could play a round of golf.'
An energy that could only be stymied by death, her self-professed 'mortal enemy'.
The fashion and social circles of New York and beyond have reacted to the news, with Twitter flooded with words and thoughts celebrating Ms Kaplan's long life.
Her close friend, Richie Rich told the New York Post: 'Passing away in the front row was how it was meant to be. Zelda loves fashion, so she died for fashion. She would have wanted to go out in style. Zelda always said, "Live, live, live and have fun" … I hope the angels are holding her right now.'
Society photographer Patrick McMullen told The New York Daily News.'Zelda Kaplan is a true original and a cultural icon, particularly to seniors as persons who are vivacious unpredictable and great fun to be around.
'I will truly miss her. But look forward to seeing her again in the great night-club she will be hosting called after-life.' Designer Ms Mastroianni has paid tribute to Ms Kaplan's generosity, sense of style and 'incredible joie de vivre.'
In a statement, she said: 'We are deeply saddened to lose Zelda, such an icon of the fashion community. Zelda has been someone I have known and respected over the years. I truly admired her for her individuality and incredible spirit. She had such a love of life and believed in living everyday to its fullest. She will be sorely missed and my heartfelt condolences to her family.'
At Zeldakaplan.com, a larger-than-life graphic of Zelda on a hypnotising spiral backdrop – playful and energetic as ever – swirls while dance music plays in the background.
Zeldaworld.org is encouraging visitors to share their 'Zelda stories'. A 'Remembering Zelda' contact request on the site states: 'In lieu of Zelda's fashionable passing, we would like to build a tribute in her memory. Help us keep her legacy rolling.'
Born
June, 20, 1916
Flemington, New Jersey
Died
February, 15, 2012
New York, New York
Cause of Death
Cemetery
Flemington Jewish Community Cemetery
Flemington, New Jersey
16955 profile views