Wilma Mankiller
(Wilma Pearl Mankiller)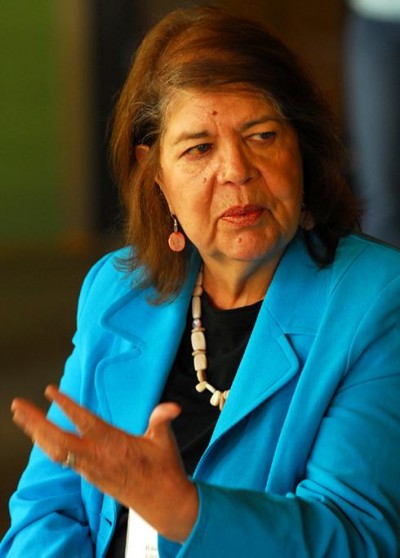 Wilma Pearl Mankiller was born in Tahlequah, Oklahoma, the sixth of eleven children, to Charley Mankiller (November 15, 1914 – February 20, 1971) and Clara Irene Sitton (born September 18, 1921). Her father was a full-blooded Cherokee and her mother was a Caucasian woman of Dutch and Irish descent who acculturated herself to Cherokee life.  The family surname, Mankiller, refers to a traditional Cherokee military rank; it is Asgaya-dihi in the Cherokee language. Alternative spellings are Outacity or Outacite.  The Mankiller family was destitute, and initially resided on Charley's allotment lands of Mankiller Flats near Rocky Mountain, Oklahoma. In 1942, during World War II, the United States Army exercised eminent domain for military purposes and took over the land of 45 Cherokee families, including the Mankillers, in order to expand Camp Gruber. The Mankillers willingly left Oklahoma under the Bureau of Indian Affairs' Indian Relocation Program. The family relocated to San Francisco in 1956, and later settled in Daly City.
In 1963, at the age of 17, Mankiller married Hector Hugo Olaya de Bardi, an Ecuadorian college student. They moved to Oakland and had two daughters, Felicia Olaya, born in 1964, and Gina Olaya, born in 1966.  Mankiller returned to school, first at Skyline College, and then San Francisco State University. Her bachelor's degree in the social sciences was from Flaming Rainbow University in Stilwell, Oklahoma and she did graduate work at the University of Arkansas. She had been very involved in San Francisco's Indian Center throughout her time in California. In the late 1960s, Mankiller joined the activist movement and participated in the Occupation of Alcatraz Island in 1969. For five years, she volunteered for the Pit River Tribe.  After divorcing Hugo Olaya, in 1977 Mankiller moved back to Oklahoma with her two young daughters, in hopes of helping her people. She began an entry-level job for the Cherokee Nation.
By 1983, Mankiller was elected deputy chief of the Cherokee Nation, alongside Ross Swimmer, who was serving his third consecutive term as principal chief. In 1985, Chief Swimmer resigned when appointed as assistant secretary of the US Bureau of Indian Affairs. Mankiller succeeded him as the first female principal chief of the Cherokee. She was elected in her own campaign in 1987, and re-elected again in 1991 in a landslide victory, collecting 83% of the vote. In 1995, Mankiller chose not to run again for chief, largely due to health problems.  Mankiller faced many obstacles during her tenure in office. At the time she became chief, the Cherokee Nation leadership was male-dominated. Such a structure contrasted with the traditional Cherokee culture and value system, which tended to include both sexes in leadership positions, though in somewhat different capacities.  Over the course of her three terms, Mankiller reinvigorated the Cherokee Nation through community-development projects where men and women work collectively for the common good. These were funded by the Bureau of Indian Affairs "Self Help" programs, initiated by the United Keetoowah Band, and with the help of the Federal government's self-determination monies. The projects included establishing tribally owned businesses (such as horticultural operations and plants with government defense contracts), improving infrastructure (such as providing running water to the community of Bell, Oklahoma), and building a hydroelectric facility.
Under the US Federal policy of Native American self-determination, Mankiller improved federal-tribal negotiations. She helped prepare for today's Government-to-Government relationship which the Cherokee Nation has with the US Federal Government.  Her administration founded the Cherokee Nation Community Development Department, revived the tribal Sequoyah High School in Tahlequah, and saw a population increase of Cherokee Nation citizens from 55,000 to 156,000. "Prior to my election," says Mankiller, "young Cherokee girls would never have thought that they might grow up and become chief."  After her term as chief, she became a guest professor at Dartmouth College, where, in 1991, she also received an honorary degree.  In 1998 Bill Clinton awarded Mankiller the Medal of Freedom.  She died in April 2010.
Born
November, 18, 1945
USA
Tahlequah, Oklahoma
Died
April, 06, 2010
USA
Adair County, Oklahoma
Cemetery
Echota Cemetery
Stilwell, Oklahoma
USA
17341 profile views