William Edward Boeing
(William Edward Boeing)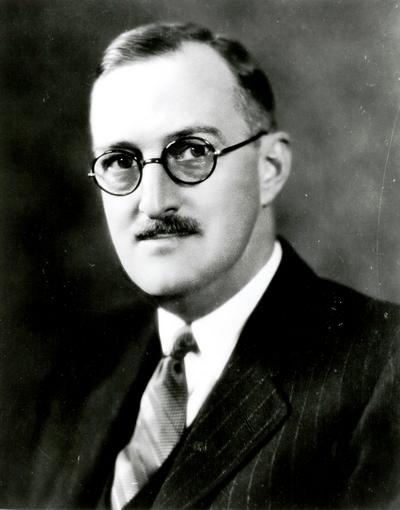 Boeing was born in Detroit, Michigan, to a wealthy German mining engineer named Wilhelm Böing from Hagen-Hohenlimburg who had made a fortune and who had a sideline as a timber merchant. Anglicizing his name to "William Boeing" after returning from being educated in Switzerland in 1900 to attend Yale University, William Boeing left Yale in 1903 to go into the lumber side of the business. He bought extensive timberlands around Grays Harbor on the Pacific side of the Olympic Peninsula. He also bought into lumber operations.
While president of Greenwood Timber Company, Boeing, who had experimented with boat design, traveled to Seattle, where, during the Alaska-Yukon-Pacific Exposition in 1909, he saw a manned flying machine for the first time and became fascinated with aircraft. He soon purchased an airplane from the Glenn L. Martin Company, and received flying lessons from Martin himself. Boeing soon cracked up the plane. When he was told by Martin that replacement parts would not become available for months, Boeing blew up. He angrily told his friend Cdr. George Conrad Westervelt (USN), "We could build a better plane ourselves and build it faster". Westervelt agreed. They soon built and flew the B & W Seaplane, an amphibian biplane that had outstanding performance. Boeing decided to go into the aircraft business and bought an old boat works on the Duwamish River near Seattle for his factory.
In 1916, Boeing went into business with George Conrad Westervelt as B & W and founded the Pacific Aero Products Co. The company's first plane was the Boeing Model 1. When America entered the First World War in April 1917, Boeing changed the name of Pacific Aero Products Co. to Boeing Airplane Company and obtained orders from the United States Navy for 50 planes. At the end of the war, Boeing began to concentrate on commercial aircraft, secured contracts to supply airmail service and built a successful airmail operation and later passenger service that evolved into United Airlines.
In 1921, William Boeing married Bertha Marie Potter Paschall. She had previously been married to Nathaniel Paschall, a real estate broker with whom she bore two sons, Nathaniel "Nat" Paschall Jr. and Cranston Paschall. These two sons became Boeing's stepsons. The couple had a son of their own, William E. Boeing Jr. The stepsons went into aviation manufacturing as a career. Nat Paschall was a sales manager for Douglas Aircraft and then McDonnell Douglas. William E. Boeing Jr. became a noted private pilot and industrial real estate developer. Bertha was the daughter of Howard Cranston Potter and Alice Kershaw Potter. Through her father, Bertha was a descendant of merchant bankers Alexander Brown of Baltimore, James Brown and Brown's son-in-law and partner Howard Potter of New York; and through her mother, the granddaughter of Charles James Kershaw and Mary Leavenworth Kershaw (a descendant of Henry Leavenworth).
In 1934, the United States government accused William Boeing of monopolistic practices. The same year, the Air Mail Act forced airplane companies to separate flight operations from development and manufacturing. William Boeing divested himself of ownership as his holding company, United Aircraft and Transport Corporation, broke into three separate entities:
United Aircraft Corporation, holding the former eastern US manufacturing (now United Technologies Corporation)
Boeing Airplane Company, with western US manufacturing, which later became The Boeing Company
United Air Lines for flight operations
He began investing most of his time into his horses in 1937. Boeing Airplane Company, though a major manufacturer in a fragmented industry, did not really become successful until the beginning of World War II.
Between 1935 and 1944, William Boeing and his wife Bertha set aside a massive tract of land north of Seattle city limits for subdivision, including the future communities of Richmond Beach, Richmond Heights, Innis Arden, Blue Ridge and Shoreview.
Boeing retired from the aircraft industry. He then spent the remainder of his years in property development and thoroughbred horse breeding. Concerned about the possibility of World War II battles in the Pacific Northwest, he purchased a 650-acre (260 ha) farm in the countryside east of Seattle, which he dubbed "Aldarra". The estate remained in the family until most of the land was sold and developed into a golf course in 2001. Several acres, however, remained in the family, including the Boeing's own and two smaller houses. His primary residence for most of his life, however, was a mansion in The Highlands community close to Seattle; the William E. Boeing House was later listed on the National Register of Historic Places. The Boeing Creek running near this property bears his name.
William Boeing died on September 28, 1956, at the age of 74, just three days before his 75th birthday. He was pronounced dead on arrival at the Seattle Yacht Club, having had a heart attack aboard his yacht. His ashes were scattered off the coast of British Columbia, where he spent much of his time sailing.
Born
October, 01, 1881
USA
Detroit, Michigan
Died
September, 28, 1956
USA
Seattle, Washington
Other
16794 profile views