William Clay Ford Sr.
(William Clay Ford)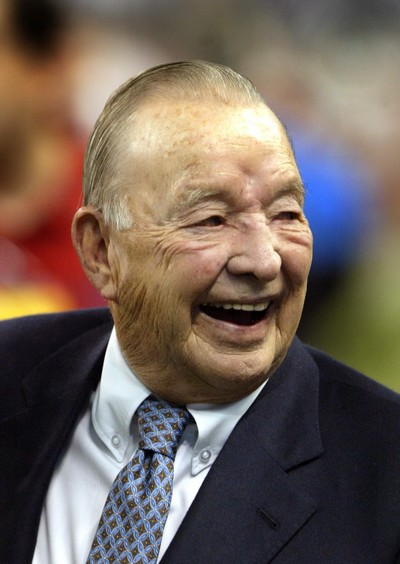 Born on March 14, 1925, in Detroit, Michigan to Edsel Ford and Eleanor Lowthian Clay, Ford served in the U.S. Navy Air Corps during World War II. Following the war, Ford married Martha Parke Firestone, the granddaughter of Harvey Firestone and Idabelle Smith Firestone, on June 21, 1947. They had four children together: Martha Parke Morse (b. 1948); Sheila Firestone Hamp (b. 1951); William Clay Ford, Jr. (b. 1957); and Elizabeth Hudson Ford (b. 1961).  In 1948, a year after Henry Ford's death, Ford was appointed to Ford Motor Company's board of directors. Ford received a Bachelor of Science in Economics from Yale University in 1949; he was a member of the Psi Upsilon fraternity.
After graduating, Ford worked for the Ford Motor Company, and briefly lead, the Continental Division. The Continental Division, however, was short-lived and merged with the Lincoln Motor Company shortly before Ford's public stock offering. Ford redesigned the Lincoln Continental, a vehicle his father created; in 1955, the Continental Mark II was released. Only two pictures adorned his office wall, his father's Continental and his updated Mark II.  Ford was chairman of the board at the Henry Ford Museum, from 1951 to 1983. He was also involved in other historic properties, serving on the boards of the Wayside Inn and Seaboard Properties, which managed the Dearborn Inn and Botsford Inn.  On April 10, 1952, an iron ore-hauling ship, the SS William Clay Ford, was named in honor of him.  On November 22, 1963, Ford purchased a controlling interest in the Detroit Lions of the National Football League, from Edwin Anderson and Lyle Fife for $4.5 million. He was also chairman of the short-lived Detroit Cougars, a professional soccer team, which played in the USA and NASL leagues.
He was Ford Motor Company's Design Committee chairman for 32 years, from 1957 to 1989. He served on the board of directors for 57 years, retiring on May 12, 2005, including being chairman of the Finance Committee. His son, William Clay Ford, Jr., was Ford Motor Company's CEO at the time.  According to the Forbes Magazine, Ford was the 371st richest person in the United States in 2013, with an approximate net worth of $1.4 billion. Ford reportedly owned 6.7 million shares of Class B stock and 26.3 million common shares; in other words, Ford was the largest single shareholder.  Ford died of pneumonia, a week before his 89th birthday, at his home in Grosse Pointe Shores, Michigan, on March 9, 2014.
Born
March, 14, 1925
USA
Detroit, Michigan
Died
March, 09, 2014
USA
Grosse Pointe Shores, Michigan
16392 profile views