William Boyd
(William Lawrence Boyd)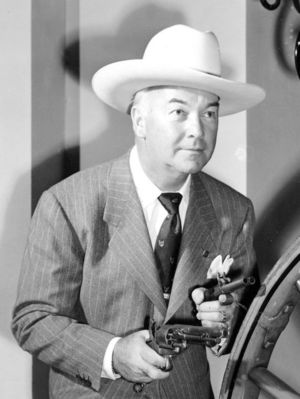 Boyd was born in Hendrysburg in Belmont County, located 26 miles east of Cambridge, Ohio. He was reared in Tulsa, Oklahoma, the son of day laborer Charles William Boyd and his wife, the former Lida Wilkens. Following his father's death, he moved to California and worked as an orange picker, surveyor, tool dresser and auto salesman. In Hollywood, he found extra work in Why Change Your Wife? and other films. During World War I, he enlisted in the army but was exempt because of a "weak heart". More prominent film roles followed, and he became famous as a leading man in silent film romances, earning an annual salary of $100,000. He was the lead actor in Cecil B. DeMille's The Volga Boatman (1926) and DeMille's extravaganza, The King of Kings, helping Christ carry the cross as Simon of Cyrene and also in DeMille's Skyscraper. He then appeared in D.W. Griffith's, Lady of the Pavements (1929). Radio Pictures ended Boyd's contract in 1931 when his picture was mistakenly run in a newspaper story about the arrest of another actor, William "Stage" Boyd, on gambling and liquor charges. Having been reckless with his money, Boyd was broke and without a job, and for a few years he was credited in several films as "Bill Boyd" to prevent being mistaken for his actor namesake. In 1935, he was offered the supporting role of Red Connors in the movie Hop-Along Cassidy, but asked to be considered for the title role and won it. The original Hopalong Cassidy character, written by Clarence E. Mulford for pulp fiction, was changed from a hard-drinking, rough-living wrangler to its eventual incarnation as a cowboy hero who did not smoke, swear, or drink alcohol (his drink of choice being sarsaparilla) and who always let the bad guy start the fight. Although Boyd "never branded a cow or mended a fence, cannot bulldog a steer", and disliked Western music, he became indelibly associated with the Hopalong character and, like rival cowboy stars Roy Rogers and Gene Autry, gained lasting fame in the Western film genre. The Hopalong Cassidy series ended in 1948 after 66 films, with Boyd producing the last 12.
Anticipating television's rise, Boyd spent $350,000 to purchase the rights to the Hopalong Cassidy character, books and films. In 1949, he released the films to television, where they became extremely popular and began the long-running genre of Westerns on television. Like Rogers and Autry, Boyd licensed much merchandise, including such products as Hopalong Cassidy watches, trash cans, cups, dishes, Topps trading cards, a comic strip, comic books, and cowboy outfits. The actor identified with his character, often dressing as a cowboy in public. Although Boyd's portrayal of Hopalong made him very wealthy, he believed that it was his duty to help strengthen his "friends" – America's youth. The actor refused to license his name for products he viewed as unsuitable or dangerous, and turned down personal appearances at which his "friends" would be charged admission. Boyd also appeared in the Hopalong Cassidy radio program from 1948 to 1952. Boyd appeared as Hopalong Cassidy on the cover of numerous national magazines, including the August 29, 1950 issue of Look and the November 27, 1950 issue of Time. For Thanksgiving in 1950, he led the Carolinas' Carrousel Parade in Charlotte, North Carolina and drew an estimated crowd of 500,000 persons, the largest in the parade's history. Boyd had a cameo as himself in Cecil B. DeMille's 1952 circus epic, The Greatest Show on Earth. DeMille reportedly asked Boyd to take the role of Moses in his remake, The Ten Commandments, but Boyd felt his identification with the Cassidy character would make it impossible for audiences to accept him as Moses.
Boyd was married five times, first to Laura Maynard and then to actresses Ruth Miller, Elinor Fair, Dorothy Sebastian and Grace Bradley. A son, by third wife Fair, died aged 9 months. Following his retirement from the screen, Boyd invested both his time and money in real estate and moved to Palm Desert, California. He refused interviews and photographs in later years, preferring not to disillusion his millions of fans who remembered him as their screen idol. For his contribution to the motion picture industry, he has a star on the Hollywood Walk of Fame at 1734 Vine Street. In 1995, he was inducted into the Western Performers Hall of Fame at the National Cowboy & Western Heritage Museum in Oklahoma City, Oklahoma. The inner sleeve of the original American Pie album by Don McLean featured a free verse poem written by McLean about Boyd along with a picture of Boyd in full Hopalong regalia. This sleeve was removed within a year of the album's release. The words to this poem appear on a plaque at the hospital where Boyd died.[citation needed] At his death in 1972, he was survived by his fifth wife, actress Grace Bradley Boyd, who died on September 21, 2010, on her 97th birthday.
Born
June, 05, 1895
USA
Belmont County, Ohio
Died
September, 12, 1972
USA
Laguna Beach, California
Cemetery
Forest Lawn Memorial Park (Glendale)
Glendale, California
USA
6583 profile views