Wilbur Olin Atwater
(Wilbur Olin Atwater)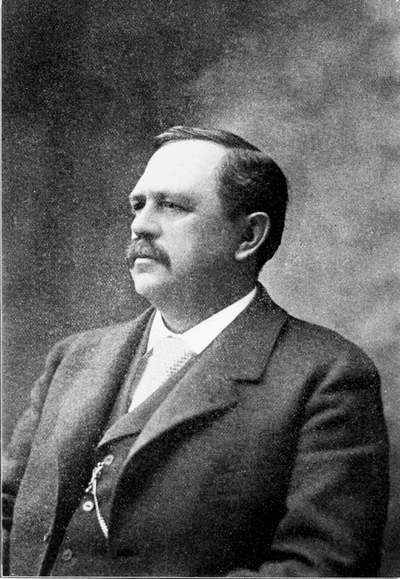 Atwater was born in Johnsburg, New York and grew up in the New England area. He opted not to fight in the American Civil War and instead to pursue an undergraduate degree at Wesleyan University in Connecticut. In 1868, Atwater's interest in civil engineering and agricultural chemistry led him to enroll in Yale University's Sheffield Scientific School, where he analyzed agricultural fertilizers for specific mineral content. Atwater received his doctorate in 1869 in agricultural chemistry, his thesis being entitled "The Proximate Composition of Several Types of American Maize." Afterwards, he spent two years in Leipzig and Berlin, where he visited agricultural experiment stations. Atwater also spent time traveling throughout Scotland, Rome, and Naples, where he reported his findings in local newspapers distributed where he lived back in the United States. Atwater later returned to the United States to teach at East Tennessee University and later Wesleyan as its first Professor of Chemistry.  His granddaughter Catherine Merriam Atwater married economist John Kenneth Galbraith.
Atwater is best known for his studies of human nutrition. He invented and used the respiration calorimeter, with the help of fellow Wesleyan scientists Edward Bennett Rosa and Francis Gano Benedict, to measure precisely the energy provided by food and created a system to measure that energy in units, known as food calories as developed in the Atwater system. "Maintained in the basement of Judd Hall [at Wesleyan], the 4- by 8-foot chamber housed a machine that measured human oxygen intake and carbon dioxide output."
With annual costs exceeding $10 thousand, the respiration calorimeter was considered a dream project for the 19th century. Atwater began the first of about 500 experiments in 1896. In fact, "he made history by establishing America's first state agricultural experiment station at [Wesleyan]." He studied respiration and metabolism in animals and in humans. The calorimeter aided studies in food analysis, dietary evolution, work energy consumption, and digestible foods. It measured the human metabolism balance by analyzing the heat produced and metabolic rate by a person performing certain physical activities. With this machine, the dynamics of metabolism could be quantified and the balance between food intake and energy output could be measured. Atwater applied the first law of thermodynamics to his research: Energy can be transformed (i.e., changed from one form to another), but it can neither be created nor destroyed. Before Atwater's development of the respiration calorimeter, many experiments on calorie intake and expenditure had been conducted on animals. During this period, there was a widely held belief that the first law of thermodynamics applied to animals, but did not apply to humans because they were unique. Atwater demonstrated that whatever amount of consumed energy humans cannot use is left over and stored in the body. His findings thus established that the first law applied to humans as well as animals. Atwater's research and conclusions in this regard changed both how people thought about science and about humans.
The results from Atwater's calorimetry study influenced many areas of American life. Most importantly, the calorimeter was a great influence to the growing awareness of the food calorie as a unit of measure both in terms of consumption and metabolism. Atwater reported on the weight of the calorie as a means to measure the efficiency of a diet. He stated different types of food produced different amounts of energy. He stressed the importance of an inexpensive and efficient diet that included more proteins, beans, and vegetables in place of carbohydrates.  "His careful studies of nutrition and those that followed helped spur federal policies that have done much to alleviate childhood hunger. We see reflections of his influence on the labels of products in our grocery stores, and we're beginning to see nutritional information on the menus of restaurants. Today's familiar food pyramid, a quick and easy visual guide to the recommended daily intake of food, is a tribute to Atwater and his successors."
Atwater also studied the effect of alcohol on the body. His findings showed humans generated heat from alcohol just as they generated heat from a carbohydrate. At a time when the Scientific Temperance Federation and the Woman's Christian Temperance Union doubted the nutritional value of alcohol, Atwater proved alcohol could be oxidized in the body and used to some extent as fuel for the human motor. Information gained from Atwater's experiments was used by the liquor trade in the promotion of alcohol. "[Atwater] was very prominent in the temperance movement, and every year he would lecture the students about temperance and tried to promote [abstention from alcohol]," … "Being a good scientist, he reported the data and was very upset that alcohol companies used his research" to advertise their products.
After completing his study, Atwater concluded that Americans consumed too much fat and sweets and did not exercise enough. His collaborator and successor at Wesleyan, Francis Benedict (1870–1957), continued down Atwater's path using the respiration calorimeter to further measure metabolism and other bodily processes. Benedict studied the varying metabolism rates of infants born in two hospitals in Massachusetts, athletes, students, vegetarians, Mayans living in the Yucatán, and normal adults. He even developed a calorimeter large enough to hold twelve girl scouts for an extended period of time. His biggest improvement was the invention of portable field respiration calorimeters. In 1919, Francis Benedict published a metabolic standards report with extensive tables based on age, sex, height, and weight.
Born
May, 03, 1844
USA
Johnsburg, New York
Died
September, 22, 1907
USA
Middletown, Connecticut
Cemetery
Indian Hill Cemetery
Middletown, Connecticut
USA
16963 profile views