Waylon Jennings
(Waylon Arnold Jennings)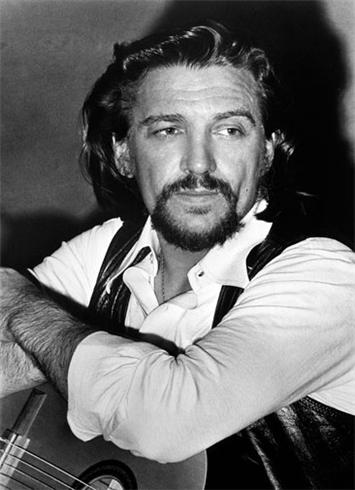 Waylon Jennings
Waylon Arnold Jennings was born in Littlefield, Texas, the seat of Lamb County, the son of Lorene Beatrice (née Shipley) and William Albert Jennings. His original birth name was Wayland, meaning land by the highway, but it was changed after a Baptist preacher visited Jennings's parents and congratulated his mother for naming him after the Wayland Baptist University in Plainview, Texas. Lorene Jennings, who had been unaware of the college, changed the spelling to Waylon. Jennings later expressed in his autobiography, "I didn't like Waylon. It sounded corny and hillbilly, but it's been good to me, and I'm pretty well at peace with it right now." When Jennings was 8, his mother taught him to play guitar with the tune "Thirty Pieces of Silver". Jennings used to practice with the guitars of his relatives, until his mother bought him a used Stella, and later ordered a Harmony Patrician. Jennings never learned to read music, but he practiced in pursuit of a career in music and to avoid a possible future picking cotton and other temporary jobs.
The 12-year-old Jennings auditioned for a spot on KVOW in Littlefield, Texas. Owner J.B. McShan, along with Emil Macha, recorded Jennings's performance. McShan liked his style and hired him for a weekly 30-minute program. Following this successful introduction, Jennings formed his own band. He asked Macha to play bass for him, and gathered other friends and acquaintances to form The Texas Longhorns. The style of the band, a mixture of country and western and bluegrass, was often not well received. At 17, Jennings and band recorded a demo of the songs "Stranger in My Home" and "There'll Be a New Day" at KFYO radio in Lubbock, Texas. In addition to performing on air for KVOW, Jennings later worked as a D.J. for the station. Jennings dropped out of high school in tenth grade to pursue music. His early influences were Bob Wills, Floyd Tillman, Ernest Tubb, Hank Williams, Carl Smith and Elvis Presley. He moved to Lubbock, where he initially worked for KLLL, and later for KDAV; Jennings' show was successful in both venues.
While working in KLLL, Jennings met Buddy Holly during the broadcasts of Sunday Party. Holly, who wanted to start in record production, arranged a session for Jennings. On September 10 Jennings recorded the songs "Jole Blon" and "When Sin Stops (Love Begins)" with Holly and Tommy Allsup on guitars with saxophonist King Curtis. The single was released on Brunswick in 1959 with limited success. Holly then hired Jennings to play electric bass for him during his "Winter Dance Party Tour.
After a show in Clear Lake, Iowa, Holly chartered a plane for himself, Allsup, and Jennings to avoid a long bus trip to Fargo, North Dakota. Allsup lost a coin toss to Ritchie Valens for his seat on the plane, while Jennings gave up his seat to J. P. Richardson, who was suffering from a cold and complaining about how uncomfortable a long bus trip was for a man of his size. Holly jokingly told Jennings, "I hope your ol' bus freezes up!" Jennings replied, "Well, I hope your ol' plane crashes!" During the early morning hours of February 3, 1959, later known as The Day the Music Died, the charter crashed outside Clear Lake, killing all on board. Jennings and Allsup continued the tour for two more weeks, featuring Jennings as the lead singer. Jennings later admitted that he felt severe guilt and responsibility for the crash.
He later returned to KLLL and performed regionally, but eventually was fired by Sky Corbin. Subsequently, Jennings worked briefly for KDAV. He released recordings under Trend Records and experienced moderate success with his single, "Another Blue Day."
Jennings lived briefly in Coolidge, Arizona, in 1961, working in radio before moving to Phoenix, where he formed a rockabilly band, The Waylors. Jennings and his band performed at a newly opened nightspot in Tempe (it was thought at the time that Jennings was part-owner). The band earned a small local fan base, and Jennings eventually signed with the independent label Trend Records. The recordings were not successful, and Jennings began working as a record producer. He moved to Los Angeles, California, in 1963, where he signed a contract with Herb Alpert of A&M Records.
His records had little success, because A&M's main releases were folk music rather than country. He had a few hits on local radio in Phoenix, including Ian Tyson's "Four Strong Winds" and "Just To Satisfy You" (co-written with Don Bowman). He also recorded an album on BAT called JD's. After 500 copies were sold at the club, another 500 copies were pressed by the Sounds label. He also played lead guitar for Patsy Montana on a 1964 album. Alpert tried to shift Jennings's style from country to pop, but Jennings refused. after his only single, "Sing the Girl a Song, Bill," Alpert released Jennings.
Singer Bobby Bare, who covered Jennings's songs "Four Strong Winds" and "Just To Satisfy You," recommended him to producer Chet Atkins, who signed Jennings to RCA Victor in 1965. On August 21, Jennings made his first appearance on the Billboard's Hot Country Songs chart with "That's the Chance I'll Have to Take." The same year he met and became friends with Willie Nelson, who went to see one of his shows in Phoenix, Arizona.
In 1966, Jennings released his debut album for RCA Folk-Country, followed by Leavin' Town, and Nashville Rebel. Leavin' Town resulted in significant chart success as the first two singles "Anita, You're Dreaming" and "Time to Burn Again" both peaking at #17 on the Billboard Hot Country Singles chart. The album's third single, a cover of Gordon Lightfoot's "(That's What You Get) For Lovin' Me", became Jennings' first top 10 single, peaking at #9. Nashville Rebel was the soundtrack to an independent film of the same name, starring Jennings. The single "Green River" charted on Billboard country singles at #11. In 1967 Jennings released a hit single, "Just to Satisfy You." During an interview, Jennings remarked that the song was a "pretty good example" of the influence of his work with Buddy Holly and rockabilly music. During the next years, Jennings produced midchart albums that sold well, including Just to Satisfy You, that included the same-named hit single of 1967.
In 1972 Jennings released Ladies Love Outlaws. The single that headlined the album became a hit for Jennings, and was his first approach to Outlaw Country. Jennings was accustomed to performing and recording with his own band, The Waylors, a practice that was not encouraged by powerful Nashville producers. Over time, however, Jennings felt limited by the Nashville sound's lack of artistic freedom. The music style publicized as "Countrypolitan" was characterized by orchestral arrangements, and the absence of traditional country music instruments. The producers did not let Jennings play his own guitar or select material to record.
In an interview, Jennings recalled the restrictions of the Nashville establishment: "They wouldn't let you do anything. You had to dress a certain way: you had to do everything a certain way…. They kept trying to destroy me…. I just went about my business and did things my way…. You start messing with my music, I get mean" In 1972 his recording contract was nearing an end. Hepatitis-afflicted Jennings accepted an offer from Neil Reshen to renegotiate his recording and touring contracts. At a meeting in a Nashville airport, Jennings introduced Reshen to Willie Nelson. By the end of the meeting, Reshen had become manager to both singers. Jennings's new deal gained him a $75,000 advance and artistic control. Reshen advised Jennings to keep the beard that he had grown in the hospital, in order to match the image of outlaw country.
By 1973, Nelson had returned to music, finding success with Atlantic Records. Now based in Austin, Texas, Nelson had made inroads into the rock and roll press by attracting a diverse fan base that included the rock music audience. Atlantic Records was now attempting to sign Jennings, but Nelson's rise to popularity persuaded RCA to renegotiate with Jennings before losing another potential success.
In 1973, Jennings released Lonesome, On'ry and Mean and Honky Tonk Heroes, the first albums recorded and released under his creative control. The release of these albums heralded a major turning point for Jennings, kicking off the most critically and commercially successful years of his career. More hit albums followed with This Time and The Ramblin' Man, both released in 1974. The title tracks of both albums topped the Billboard country singles chart, with the self-penned "This Time" becoming Jennings' first #1 single. Dreaming My Dreams, released in 1975, included the #1 single "Are You Sure Hank Done It This Way" and was his first album to be certified gold by the RIAA; it was also the first of his next six consecutive, solo studio albums to be certified gold or higher. In 1976, Jennings released Are You Ready for the Country, Jennings wanted the record to be produced by Los Angeles producer Ken Mansfield. Although RCA denied the request, Jennings and The Waylors went to Los Angeles and recorded with Mansfield at his expense. After a month, Jennings presented the master tape to Chet Atkins, who decided to release it. The album hit number one on Billboard's country albums three times the same year, topping the charts for 10 weeks. It was named country album of the year in 1976 by Record World Magazine and it was certified gold by the RIAA.
In 1976 Jennings released the album Wanted! The Outlaws, recorded with Willie Nelson, Tompall Glaser, and Jessie Colter for RCA. The album was the first country music album certified platinum. The following year, RCA issued Ol' Waylon, an album that produced a hit duet with Nelson, "Luckenbach, Texas (Back to the Basics of Love)." The album Waylon and Willie followed in 1978, producing the hit single "Mammas Don't Let Your Babies Grow Up to Be Cowboys." Jennings released I've Always Been Crazy, also in 1978. The same year, at the peak of his success, Jennings began to feel limited by the outlaw movement. The "outlaw image" restricted the repertoire he could record, as well as the material that audiences expected from him. Jennings referred to the over-exploitation of the image in the song "Don't You Think This Outlaw Bit Has Done Got Out of Hand?", denouncing that the movement had become a "self-fulfilling prophecy." In 1979 he released Greatest Hits, which was certified gold the same year, and in 2002 was certified quintuple platinum.
In the mid-1980s, Johnny Cash, Kris Kristofferson, Nelson, and Jennings formed a successful group called The Highwaymen. Aside from his work with The Highwaymen, Jennings' released a gold album WWII (1982) with Willie Nelson.
In 1985 Jennings joined with USA for Africa to record "We Are the World," but he left the studio because of a dispute over the song's lyrics that were to be sung in Swahili. Ironically, after Jennings left the session, the idea was dropped at the prompting of Stevie Wonder, who pointed out that Ethiopians did not speak Swahili. By this time, his sales had decreased. After the release of Sweet Mother Texas, Jennings signed with Music Corporation of America. The debut release with the label Will the Wolf Survive (1985) peaked at number one in Billboard's Country albums in 1986. Jennings's initial success tailed off, and in 1990 he signed with Epic Records. His first release, The Eagle, became his final top 10 album.
Also in 1985, Waylon Jennings made a cameo appearance in the live-action children's film Sesame Street Presents: Follow That Bird. In the movie, he plays a turkey farm truck driver that gives Big Bird a lift. He also sings one of the film's songs, entitled "Ain't No Road Too Long".
In 1993, in collaboration with Rincom Children's Entertainment, Jennings recorded an album of children's songs, Cowboys, Sisters, Rascals & Dirt, which included "Shooter's Theme," a tribute to his 14-year-old with the theme of "a friend of mine."
Despite low record sales, Jennings attracted large audiences in live appearances. In 1997, after the Lollapalooza tour, he decreased his tour schedule and became centered on his family.
In 1998, Jennings teamed up with Bare, Jerry Reed, and Mel Tillis to form The Old Dogs. The group recorded a double album of songs penned entirely by Shel Silverstein. In mid-1999, Jennings assembled what he referred to as his "hand-picked dream team" and formed Waylon & The Waymore Blues Band. Consisting primarily of former Waylors, the 13-member group performed a limited number of concerts from 1999 to 2001. In January 2000, Jennings recorded what would become his final album at Nashville's historic Ryman Auditorium, Never Say Die: Live.
Jennings was characterized by his "powerful" singing voice, noted by his "rough-edged quality," as well as his phrasing and texture. Accompanying his vocals, he played guitar. He was recognized for his "spanky-twang" playing. To create his sound, he used a mixture of thumb and fingers during the rhythmic parts, while using picks for the lead runs. He combined hammer-on and pull-off riffs, with eventual upper-fret double stops and modulation effects. Jennings played a 1953 Fender Telecaster, a used guitar purchased as a gift to him by The Waylors. Jennings's bandmates adorned his guitar with a distinctive leather cover that featured a black background with a white floral work. Jennings did further customizing work on the guitar, by filing down the frets to lower the strings on the neck to obtain the slapping sound. Among the other guitars he owned, Jennings used as a backup a 1950 Fender Broadcaster from the mid-1970s, until he gave it as a gift to guitarist Reggie Young in 1993. The leather covers of his guitars were carved by leather artist Terry Lankford.  His signature image was characterized by his long hair and beard, as well as his black hat and the black leather vest he wore during his appearances.
In 1997, he stopped touring to be close to his family. To set an example about the importance of education to his son Waylon Albright, Jennings earned a GED at age 52.
Jennings started to consume amphetamines at the time he lived with Johnny Cash during the mid-1960s. Jennings later stated, "Pills were the artificial energy on which Nashville ran around the clock." In 1977, Jennings was arrested by federal agents for conspiracy and possession of cocaine with intent to distribute. A private courier warned the Drug Enforcement Administration about the package sent to Jennings by a New York colleague that contained 27 grams of cocaine. The DEA and the police went to Jennings's recording studio. They found no evidence, because while they were waiting for a search warrant, Jennings flushed the cocaine. The charges were later dropped and Jennings was released. The episode was recounted in Jennings's song "Don't You Think This Outlaw Bit's Done Got Outta Hand?"
During the early 1980s, his cocaine addiction intensified. Jennings claimed to have spent $1,500 daily to satisfy his addiction, draining his personal finances and leaving him bankrupt with debt of up to $2.5 million. Though he insisted on repaying the debt and did additional tours to earn the funds, his work became less focused and his tours deteriorated. Jennings decided to quit his addictions, leased a home in the Phoenix, Arizona, area and spent a month detoxing himself, intending to start using cocaine again in a more controlled fashion afterward. In 1984 he quit cocaine. By Jennings's own admission in interviews, his son, Shooter Jennings, was the main inspiration to quit permanently.
Jennings's health had been deteriorating for years before his death. Jennings quit cocaine in 1984 and his habit of smoking six packs of cigarettes daily in 1988. The same year he underwent heart bypass surgery. By 2000 his diabetes worsened, and the pain reduced his mobility, forcing Jennings to end most touring. Later the same year he underwent surgery to improve his leg circulation. In December 2001 his left foot was amputated at a hospital in Phoenix, Arizona. On February 13, 2002, Jennings died in his sleep of diabetic complications in Chandler, Arizona. He was buried in the Mesa City Cemetery, in Mesa, Arizona. At the funeral ceremony, on February 15, Jessi Colter sang "Storms Never Last" for the attendees, who included Jennings's close friends and fellow musicians.
Born
June, 15, 1937
Littlefield, Texas
Died
February, 13, 2002
Chandler, Arizona
Cause of Death
Cemetery
City of Mesa Cemetery
Mesa, Arizona
19528 profile views