Walt Kelly
(Walt Crawford Kelly)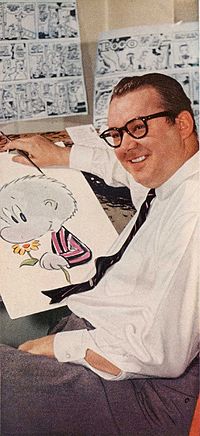 Walt Kelly began a series of comic books based on fairy tales and nursery rhymes along with annuals celebrating Christmas and Easter for Dell Comics. Kelly seems to have written or co-written much of the material he drew for the comics; his unique touches are easily discernible. He also produced a series of stories based on the Our Gang film series, provided covers for Walt Disney's Comics and Stories, illustrated the aforementioned adaptations of two Disney animated features, drew stories featuring Raggedy Ann and Andy and Uncle Wiggily, wrote and drew a lengthy series of comic books promoting a bread company and featuring a character called "Peter Wheat", and did a series of pantomime (i.e., without dialogue) two-page stories featuring Roald Dahl's Gremlins for Walt Disney's Comics and Stories #34–41. Kelly also wrote, drew, and performed during this period on children's records, children's books, and cereal boxes. So highly regarded was his work that the introduction (likely written by Dell editor Oskar Lebeck) to Fairy Tale Parade #1 spoke of him as "the artist who drew all the wonderful pictures in this book". Although his health would not allow him to serve in the military, during World War II, Kelly also worked in the Army's Foreign Language Unit illustrating manuals, including several on languages, one of his favorite topics. One manual depicted his friend Ward Kimball as a caveman. This period saw the creation of Kelly's most famous character, Pogo, who first saw print in 1943 in Dell's Animal Comics. Pogo was almost unrecognizable in his initial appearance, resembling a real possum more closely than in his classic form. Kelly's work with Dell continued well into the successful run of the newspaper strip in the early 1950s, ending after 16 issues of Pogo Possum (each with all-new material) in a dispute over the republication of Kelly's early Pogo and Albert stories in a comic book titled The Pogo Parade.
Walt Kelly returned to journalism as a political cartoonist after the war. In 1948, while serving as art director of the short-lived New York Star, Kelly began to produce a pen-and-ink daily comic strip featuring anthropomorphic animal characters that inhabited the Okefenokee Swamp in Georgia. The first Pogo strip appeared on October 4, 1948. After the New York Star folded on January 28, 1949, Kelly arranged for syndication through the Hall Syndicate, which relaunched the strip in May 1949. Kelly eventually arranged to acquire the copyright and ownership of the strip, which was not common at the time. The Pogo comic strip was syndicated to newspapers for 26 years. The individual strips were collected into at least 20 books edited by Kelly. He received the Reuben Award for the series in 1951. The principal characters were Pogo the Possum, Albert the Alligator, Churchy LaFemme (cf. Cherchez la femme), a turtle, Howland Owl, Beauregard (Houndog), Porkypine, and Miz Mamzelle Hepzibah, a French skunk. Kelly used the strip in part as a vehicle for his liberal and humanistic political and social views and satirized, among other things, Senator Joseph McCarthy's anti-Communist demagogy (in the form of a shotgun-wielding bobcat named "Simple J. Malarkey") and the sectarian and dogmatic behavior of Communists in the form of two comically doctrinaire cowbirds.
The setting for Pogo and his friends was the Okefenokee Swamp. Today the Okefenokee Swamp Park near Waycross, Georgia has a building housing Walt Kelly's relocated studio and various Pogo memorabilia. Additionally, Kelly illustrated The Glob, a children's book about the evolution of man written by John O'Reilly and published in 1952. Walt Kelly died in 1973 in Woodland Hills, California, from diabetes complications, following a long and debilitating illness that had cost him a leg. During his final illness, work on the strip had fallen to various assistants (and occasionally reprints), and Kelly characteristically joked about returning to work as soon as he regrew the leg. He is sometimes listed as having been interred in the Cemetery of the Evergreens in Brooklyn, New York, but there is no grave for him there. He is believed to have been cremated.
Born
August, 25, 1913
USA
Philadelphia, Pennsylvania
Died
October, 10, 1973
USA
Woodland Hills, California
Cause of Death
complications of diabetes
Other
3420 profile views