Wally Cox
(Wallace Maynard Cox)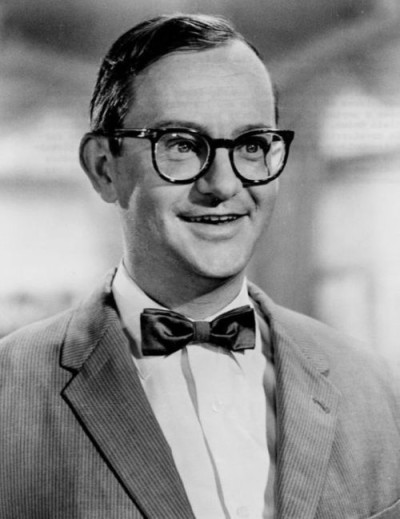 In 1949, Wally Cox appeared on the CBS network-radio show Arthur Godfrey's Talent Scouts, to the great amusement of host Godfrey. The first half of his act was a monologue in a slangy, almost-mumbled punk-kid characterization, telling listeners about his friend Dufo: "What a crazy guy." The gullible oaf Dufo would take any dares and fall for his gang's pranks time after time, and Cox would recount the awful consequences: "Sixteen stitches. What a crazy guy." Cox's decidedly different standup routine was infectious in its ridiculousness, and just as the studio audience had reached a peak of laughter, Cox suddenly switched gears, changed characters, and sang a high-pitched version of "The Drunkard Song" ("There Is a Tavern in the Town") punctuated by eccentric yodels. "Wallace Cox" earned a big hand that night, but lost by a narrow margin to The Chordettes. But he made enough of a hit to record his radio routine for an RCA Victor single. The "Dufo" routine ("What a Crazy Guy") was paired with "Tavern in the Town." He appeared in Broadway musical reviews, night clubs, and early television comedy-variety programs between 1949 and 1951, including the short-lived (January–April 1949) DuMont series The School House and CBS Television's Faye Emerson's Wonderful Town starring Faye Emerson. Cox had a huge impact in 1951 with a starring role as a well-meaning but ineffective policeman on Philco Television Playhouse. Producer Fred Coe approached Cox about a starring role in a proposed live television sitcom, Mister Peepers, which he accepted. The show ran on NBC Television for three years. During this time, he guest starred on NBC's The Martha Raye Show. In 1959, Cox was featured in the guest-starring title role in "The Vincent Eaglewood Story" on NBC's Western series, Wagon Train, with Read Morgan. In 1963 Cox played a prominent supporting role as Preacher Goodman in the Earl Hamner novel brought to the screen, Spencer's Mountain. Cox played the role of a Navy sonar-man in the The Bedford Incident in 1964. In 1965, he played the role of a drug addicted doctor opposite Brando in the World War II suspense film, Morituri.
Other roles were as the hero of The Adventures of Hiram Holliday, based on a series of short stories by Paul Gallico and co-starring with Ainslie Pryor, as a regular occupant of the upper left square on the television game show Hollywood Squares, and as the voice of the animated cartoon character Underdog. He also was a guest on the game show What's My Line? and on the pilot episodes of Mission: Impossible and It Takes a Thief. Cox made several appearances on Here's Lucy, as well as The Beverly Hillbillies, Lost in Space, I Spy, and evening talk shows. He also appeared on The Twilight Zone, season 5, episode number 140, titled "From Agnes — With Love". Wally Cox played character roles in more than 20 motion pictures and worked frequently in guest-star roles in television drama, comedy, and variety series in the 1960s and early 1970s. Among these was a role as a down-on-his-luck prospector seeking a better life for his family in an episode of Alias Smith and Jones, a western comedy, and Up Your Teddy Bear, aka Mother (1970) in which he starred with Julie Newmar. His television and screen persona was that of a shy, timid but kind man who wore thick eyeglasses and spoke in a pedantic, high-pitched voice. Wally Cox published a number of books, including Mister Peepers, a novel created by adapting several scripts from the television series; My Life as a Small Boy, an idealized depiction of his childhood; a parody and update of Horatio Alger in Ralph Makes Good, which was probably originally a screen treatment for an unmade film intended to star Cox; and a children's book, The Tenth Life of Osiris Oakes.
On February 15, 1973, Wally Cox died of a heart attack in his Hollywood, California, home. According to an autopsy, Cox died of a coronary occlusion. Initial reports indicated that he wished to have no funeral and that his ashes would be scattered at sea. A later report indicated his ashes were put in with those of Brando and another close friend Sam Gilman and scattered in Death Valley and Tahiti.
Born
December, 06, 1924
Detroit, Michigan
Died
February, 15, 1973
Hollywood, California
Cause of Death
Other
4147 profile views