W. H. Auden
(Wystan Hugh n Auden)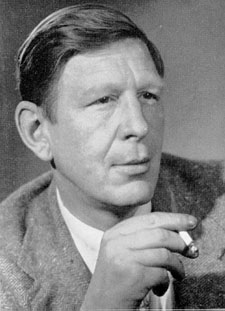 W.H. Auden was a British poet, author and playwright best known as a leading literary figure in the 20th century for his poetry. Known for his chameleon-like ability to write poems in almost every verse form, Auden's travels in countries torn by political strife influenced his early works. He won the Pulitzer Prize in 1948.
W.H. Auden was born Wystan Hugh Auden in York, England, on February 21, 1907. Raised by a physician father and a strict, Anglican mother, Auden pursued science and engineering at Oxford University before finding his calling to write and switching his major to English.
In 1930, with the help of T.S. Eliot, Auden published another collection of the same name (Poems) that featured different content. The success of this collection positioned him as one of the leading influencers in literature in the 20th century.
Auden's poems in the latter half of the 1930s reflected his journeys to politically torn countries. He wrote his acclaimed anthology, Spain, based on his first-hand accounts of the country's civil war from 1936 to 1939.
More so, Auden was lauded for his chameleon-like ability to write poems in almost every verse form. His work influenced aspiring poets, popular culture and vernacular speech. He stated in Squares and Oblongs: Essays Based on the Modern Poetry Collection at the Lockwood Memorial Library (1948), "A poet is, before anything else, a person who is passionately in love with language."
After moving to America, Auden's work shifted away from political influences to instead reveal more religious and spiritual themes. Another Time, a collection that debuted in America, features many of his most popular poems, including September 1, 1939 and Musee des Beaux Arts.
Accolades followed Auden, including his 1948 Pulitzer Prize win for The Age of Anxiety. Though best known for his poetry, Auden was also a distinguished playwright and author.
Auden wed Erika Mann, daughter of German novelist Thomas Mann, in 1935. The nuptial did not last, as it was a marriage of convenience for her to gain British citizenship and flee Nazi Germany.
Auden, ever the avid traveler, visited Germany, Iceland and China, and then, in 1939, moved to the United States. On this side of the pond, he met his other true calling—his lifelong partner, fellow poet Chester Kallman. Auden eventually became an American citizen.
With his health waning, Auden left America in 1972 and moved back to Oxford. He spent his last days in Austria, where he owned a house. Auden died in Vienna, Austria, on September 29, 1973.
Born
February, 21, 1907
York, England
Died
September, 09, 1973
Vienna, Austria
Cemetery
Cemetery at Kirchstetten
Austria
2686 profile views