Vito Cascioferro
(Vito Cascioferro)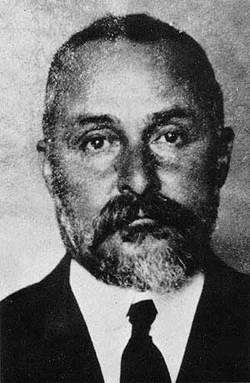 Cascioferro is considered to be the mastermind behind the murder of New York policeman and head of the Italian Squad, Joe Petrosino, on March 12, 1909. He was shot and killed in Piazza Marina in Palermo; two men were seen running from the crime scene. Petrosino had gone to Sicily to gather information from local police files to help deport Italian gangsters from New York as illegal immigrants. The two men were very much aware of the danger to each other's survival; Petrosino carried a note describing Cascioferro as "a terrible criminal", while Cascioferro had a photograph of the police officer.
Many accounts claim that Cascioferro personally killed Petrosino. Legend has it that Cascioferro excused himself from a dinner party among the high society at the home of his political patron De Michele Ferrantelli, took a carriage (that of his host according to some) and drove to Piazza Marina in Palermo's city centre. He and Petrosino engaged in a brief conversation; then Cascioferro killed Petrosino and returned to join the dinner again. Historical reconstructions have dismissed this version and cannot locate Cascioferro at the scene of the crime.
News of the murder spread fast in U.S. newspapers and a swell of anti-Italian sentiment spread across New York. Cascioferro pleaded his innocence and provided an alibi for the entire period when Petrosino was assassinated. He stayed in the house of De Michele Ferrantelli in Burgio. However, the alibi provided by De Michele Ferrantelli was suspicious, taking into account the relation between the two. Moreover, while in jail after his arrest and life sentence in 1930, Cascioferro apparently claimed that he had killed Petrosino. According to writer Arrigo Petacco in his 1972 book on Joe Petrosino, Cascioferro said: "In my whole life I have killed only one person, and I did that disinterestedly … Petrosino was a brave adversary, and deserved better than a shameful death at the hands of some hired cut-throat."
A report by Baldassare Ceola, the police commissioner of Palermo, concluded that the crime had probably been carried out by Mafiosi Carlo Costantino and Antonino Passananti under Cascioferro's direction. Evidence was thin, however, and the case was effectively closed when in July 1911 the Palermo Court of Appeals discharged Cascioferro, as well as Costantino and Passananti, due to insufficient evidence to send them to trial. Petrosino's murder was never solved. Nevertheless, Costantino and Passananti were identified as the most likely assassins. Costantino died in the late 1930s and Passananti in March 1969. In 2014, more than a century after the assassination, the Italian police overheard a tapped phone conversation in which a sibling claimed that Paolo Palazzotto had been the killer on the orders of Cascioferro. Palazzotto had been arrested after the shooting, but had been released for lack of evidence.
In 1923 the sub-prefect of Corleone warned the Ministry of Interior that Cascioferro was "one of the worst offenders, quite capable of committing any crime." In May 1925, he was arrested as the instigator of a murder. He was able to be released on bail, as usual. However, with the rise of Fascism his reputation and immunity was declining.
In May 1926, Prefect Cesare Mori, under orders from Fascist leader Benito Mussolini to destroy the Mafia, arrested Cascioferro in a big round-up in the area that included Corleone and Bisacquino. More than 150 people were arrested. Cascioferro's godson asked the local landlord to intervene, but he refused: "Times have changed", was the reply. He was indicted for participation in 20 murders, eight attempted murders, five robberies with violence, 37 acts of extortion and 53 other offences including physical violence and threats.
He was sentenced to life on June 27, 1930, on the old murder charge. He remained silent during the trial. Cascioferro had been arrested some 69 times before and always had been acquitted, but this time it was different. After hearing the sentence the president of the court asked Cascioferro if he had something to say in his defense. Cascioferro stood up and said: "Gentlemen, as you have been unable to obtain proof of any of the numerous crimes I have committed, you have been reduced to condemning me for the only one I never committed." The "iron prefect", as Mori was known, wanted to give maximum publicity to the event. He had posters printed with pictures of Cascioferro and the text of the court sentence.
Born
January, 22, 1862
Palermo, Italy
Died
December, 07, 2023
Palermo, Itlay
Cause of Death
Cemetery
Other
16925 profile views