Viola Dana
(Virginia Flugrath)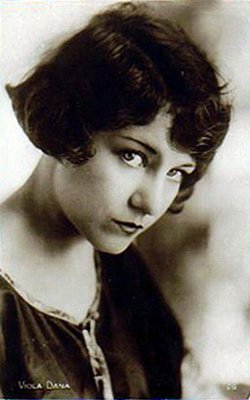 Viola Dana
Viola Dana was born Virginia Flugrath on June 26, 1897 in Brooklyn, New York.
She we was the third child born to Emil, a printer, and Mary Flugrath. The couple already had a daughter Edna (b. 1893) and a son, LeRoy (1895-1901). Youngest daughter, Leonie (Shirley Mason) was born in 1900.
Emil Flugrath is an interesting person, at least as far as research goes. His name appears in the 1900 census but he is not found in the 1910 or 1920 census records I was looking through. However, he was in TWO records in 1930. In one, his name is crossed out with "ERROR" written next to his name and in the other, his name is listed by himself. I haven't seen something like that before so it was pretty interesting. From what I have read, Emil was a part of his daughter's lives and didn't desert them, so, I am thinking that the census record taker misspelled his/the family's name.
Mary Flugrath didn't just want her girls to be actresses, she wanted them to be stars! She had wanted to be on the stage when she was a child, but her parents refused to allow their daughter to become an actress, so she took all that focus and drive and put it towards her own daughters. She wanted them to practice to be the best and the whole family eventually got on the fast track to stardom. Emil, having been an amateur athlete, built a gymnasium for his daughters to exercise in to help keep them in shape.
The middle Flugrath daughter, Viola, was the first one to start going to the nearby Edison studios to look for work. Eventually, younger sister Leonie/Shirley would tag along and the two would be cast in the 1910 version of 
A Christmas Carol
. The girls appear as the daughters of Bob Cratchit in the final scene 
appears as the friend of a young Ebeneezer Scrooge earlier in the film. They are kinda hard to make out because they don't get up close to the camera but Viola's nose gives her away!
The sisters only appeared in a few films together. The only film that all three girls appeared in together (where they were credited at least) was a 1912 short called The Third Thanksgiving. Viola and Shirley appeared together in Children Who Labor (1912), The Portrait in the Attic (1915) and The Show of Shows(1929), while only Viola and Edna appeared together once in 1923's The Social Circle.
Early in her career she appeared under the name 'Viola Flugrath.' It wasn't until around 1914 that she began using the screen name 'Viola Dana.' She was given that name by Eleanor Gates, the author of the play "The Poor Little Rich Girl" which Viola had appeared in.
During her movie career Viola had the opportunity to share the screen with such notables as Boris Karloff, Zasu Pitts, Anna Q. Nilsson, and Chester Conklin. She played flapper-esque characters with names like Euphemia Miggles, Happy O'Brien, Fifty-Fifty Mamie, Tangletop, and Etta Concanna. (I just love these!)
Her last film appearance was in The Show of Shows, performing in a few sequences including "Meet My Sister" with sister Shirley. This is seriously one of my favorite classic film sequences because you get to see the Flugrath sisters along with other famous sister pairs.
Born
June, 26, 1897
New York City, New York
Died
July, 03, 1987
Los Angeles, California
Cause of Death
Cemetery
Hollywood Forever Cemetery
Los Angeles, California
16131 profile views