Vidal Sassoon
(Vidal Sassoon)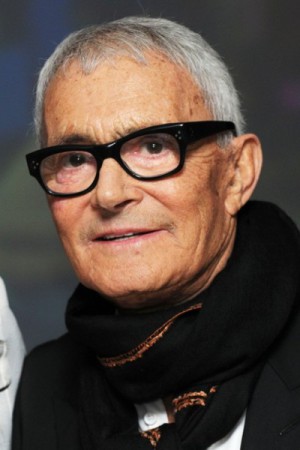 Sassoon was born in Hammersmith, London, and lived in Shepherd's Bush. His parents were Sephardic Jews. His mother, Betty (Bellin), came from a family of immigrants from Spain, and his father, Jack Sassoon, was from Thessaloniki, Greece.[citation needed] Sassoon had a younger brother, Ivor, who died from a heart attack at the age of 46.  His father left his family when Vidal was three years old.
Due to poverty as a single parent, his mother placed Sassoon and his younger brother in a Jewish orphanage, where they stayed for seven years until he was 11 when his mother remarried. His mother was only allowed to visit them once a month and was never allowed to take them out. He attended Essendine Road Primary School, a Christian school, before being evacuated due to WWII to Holt, Wiltshire. After his return to London he left school at the age of 14 and worked as a messenger before starting a hairdressing apprenticeship. In his youth, he was also a football player.
At the age of 17, although having been too young to serve in World War II, he became the youngest member of the 43 Group, a Jewish veterans' underground organisation. It broke up the British Union of Fascists meetings in East London. The Daily Telegraph calls him an "anti-fascist warrior-hairdresser" whose aim was to prevent Sir Oswald Mosley's movement from spreading "messages of hatred" in the period following World War II.  In 1948, at the age of 20, he joined the Haganah (which shortly afterwards became the Israeli Defence Forces) and fought in the 1948 Arab–Israeli War, which began after Israel declared statehood.
Sassoon trained under Raymond Bessone, in his salon in Mayfair. In 2010, Sassoon stated that "he really taught me how to cut hair…I'd never have achieved what I have without him." Sassoon opened his first salon in 1954 in London;  singer-actress Georgia Brown, his friend and neighbor, claimed to be his first customer.
Sassoon stated his intentions in designing new, more efficient, hair styles: "If I was going to be in hairdressing, I wanted to change things. I wanted to eliminate the superfluous and get down to the basic angles of cut and shape."  Sassoon's works include the geometric perm and the "Nancy Kwan" hairstyles. They were all modern and low-maintenance. The hairstyles created by Sassoon relied on dark, straight, and shiny hair cut into geometric yet organic shapes. In 1963, Sassoon created a short, angular hairstyle cut on a horizontal plane that was the recreation of the classic "bob cut." His geometric haircuts seemed to be severely cut, but were entirely lacquer-free, relying on the natural shine of the hair for effect. Advertising and cosmetics executive Natalie Donay is credited with discovering Sassoon in London and bringing him to the United States, where in 1965 he opened his first New York City salon, on Madison Avenue.  In October 1971, Sassoon promoted his 30-year-old second-in-command, artistic director Roger Thompson, to director of the Sassoon salon, explaining jocularly that, "Twenty-five years of schlepping behind a barber chair are enough!"
Sassoon began his "Vidal Sassoon" line of hair-care products in 1973. The actor Michael Caine, who when young and struggling "was roommates with Terence Stamp and Vidal Sassoon — he used to cut my hair, and he always had a lot of models around," claimed to have inspired this, saying, "I told him that he must have something that is working for him while he slept. I told him he had to make shampoos and other hair-care products." Whatever the inspiration, Sassoon's brand was applied to shampoos and conditioners sold worldwide, with a commercial campaign featuring the iconic slogan "If you don't look good, we don't look good."  Former salon colleagues also bought Sassoon's salons and acquired the right to use his name, extending the brand in salons into the United Kingdom and the United States.
The El Paso, Texas-based Helen of Troy Corporation began manufacturing and marketing Sassoon hair-care products in 1980.  On 24 April 1983, the firm Richardson-Vicks, which already owned the Pantene hair-care line, announced it had purchased the Los Angeles-based Vidal Sassoon Inc. for an undisclosed amount, as well as Sassoon's Santa Monica, California, hairdressing school; the company had already bought his European businesses. Sassoon's 1982 sales of hair products had topped $110 million, with 80 percent of revenues derived in the US. Its management team at the time was headed by Sassoon, president and CEO Joseph Solomon, and executive vice president Martin Nason.  Two years later the company was bought by Procter & Gamble. Vidal, who remained a consultant through at least the mid-1990s, sued in 2003 for breach of contract and fraud in federal court for allegedly neglecting the marketing of his brand name in favor of the company's other hair product lines, such as Pantene.
In June 2011 it was reported that Sassoon had been diagnosed with leukaemia two years earlier, and was receiving treatment in Beverly Hills, California, U.S.A. and London, U.K. He died on 9 May 2012 at his home in Bel Air, Los Angeles. His death was originally reported to be a result of natural causes, and later reported to have been a result of his leukemia. He died in the presence of his family. Los Angeles Police Department spokesman Kevin Maiberger  said that when the police arrived at his residence at Mulholland Drive he was already dead. A memorial service was planned for a later date.
Reactions to his death included Neil Cornelius, the incumbent owner of Sassoon's first solo venture, who said that his death was the loss of a "hairdressing legend. It is very, very sad because I grew up in the East End like Vidal and from the age of 11 I wanted to be a hairdresser like Vidal. I remember the first time I met him. I have washed the hair of Princess Diana, I have met Nelson Mandela, but meeting Vidal Sassoon topped all of those. I know it sounds crazy but I could not sleep [before] the first time I met him. He was a hairdressing legend." Other celebrity hairstylists also commented on his death. Lee Stafford said that "Sassoon revolutionised the way everybody wears their hair today, he also made British hairdressing the best in the world, he was my hero." While Oscar Blandi credited Sassoon for showing him the "true art of styling. He truly changed the world of hair and beauty. He was definitely the most innovative person ever to enter the industry. He led the way for the celebrity stylists of today" and Tabatha Coffey wrote on Twitter that "my great day turned into a devastating day. RIP Vidal Sassoon thank you for all you have done for our industry and for me."
Grace Coddington, Sassoon's former model and creative director of American Vogue, said that "he changed the way everyone looked at hair. Before Sassoon, it was all back-combing and lacquer; the whole thing was to make it high and artificial. Suddenly you could put your fingers through your hair! He didn't create [Sassoon's five-point cut] for me; he created it on me. It was an extraordinary cut; no one has bettered it since. And it liberated everyone. You could just sort of drip-dry it and shake it." While John Barrett of the John Barrett Salon at Bergdorf Goodman said that Sassoon "was the creator of sensual hair. This was somebody who changed our industry entirely, not just from the point of view of cutting hair but actually turning it into a business. He was one of the first who had a product line bought out by a major corporation".
In 2002, the chain of Vidal Sassoon salons was sold to Regis Corporation. By 2004, it was reported that Sassoon was no longer associated with the brand that bears his name.[citation needed] He also had a short-lived television series called Your New Day with Vidal Sassoon, which aired in 1980.  Sassoon was twice a guest on BBC Radio 4's Desert Island Discs, on 27 June 1970  and 9 October 2011, when he was also Resident Thinker on the Nowhereisland art project.
Born
January, 17, 1928
Hammersmith, London
Died
May, 09, 2012
Los Angeles, California
Cause of Death
Other
16399 profile views