Vernon Dalhart
(Marion Try Slaughter)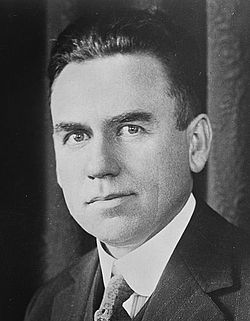 Vernon Dalhart
Vernon Dalhart came to country music from outside the tradition, becoming a national star in the years just before more indigenous kinds of country music found their place in the machinery of the music industry. A 1924 recording by Dalhart became country music's first million-selling record; pairing a train song ("Wreck of the Old 97") with a sentimental ballad ("The Prisoner's Song"), the release set patterns for two key genres of early country music on record. Dalhart was born Marion Try Slaughter in Jefferson, TX; the stage name Vernon Dalhart, like Conway Twitty, was a combination of the names of two Texas towns. Dalhart's grandfather was a rancher, a former Confederate soldier who became a member of the Ku Klux Klan; he was killed in a knife fight while Dalhart was a boy. Though Dalhart's classical-music background is often emphasized in accounts of his life, he did actually work for a time as a cowboy while in his teens. Dalhart sang at community gatherings, where he also played the harmonica and the jew's harp. He studied music at the Dallas Conservatory, married, and moved to New York in 1910. Dreaming of an operatic career, he worked in a music store and earned extra cash singing for funerals. He appeared in his first opera two years later and in 1913 appeared in Puccini's Madame Butterfly and Gilbert & Sullivan's H.M.S. Pinafore. Light opera and operetta remained his specialties.
Dalhart was a keen observer of the early power of the phonograph industry and jumped at the chance to record. His first releases, made around 1916, fell into various pop styles; one of them, "Can't You Heah Me Callin', Caroline," was a blackface minstrel song, a genre that never disappeared completely from his repertoire. Dalhart was an eclectic urban singer who recorded whatever might sell: comic songs (sometimes featuring the sprightly tenor banjo of John Cali), Hawaiian pieces, sentimental numbers, and much more. When he turned to country music it may have been simply a way of capitalizing on a song type that his competitors had neglected, but he immediately showed a flair for story songs. He tightened his operatic voice slightly, producing a distinctive, reedy vibrato that signaled his rural roots but appealed to mainstream record buyers. After "The Wreck of the Old 97" became a smash hit, Dalhart was a national star of sorts — he was never a really recognizable figure, but he could sell records in the millions. During the '20s and '30s, he used over 100 pseudonyms to record over 5,000 78 rpm singles for a variety of labels; among the names he adopted were Frank Evans, Vernon Dale, Tobe Little, Bob White, Hugh Lattimer, Sid Turner, and Al Craver. Dalhart scored successes with a series of topical songs based on current events such as the death of a Kentucky spelunker and the notorious Scopes trial, selling enough copies to firmly establish the Columbia label's 15,000-numbered country series as a force in the industry. He was often teamed with guitarist and songwriter Carson Robison, who composed some of his material and went on to a long career of his own. Dalhart continued on with recording through the late '30s, at which time his rather formal interpretation of down-home music fell out of favor as record buyers became more familiar with "authentic" country singers such as the Carter Family and turned to hip new genres such as Western swing.
Dalhart, despite persistent efforts to interest record labels in his work, was largely forgotten later in life. In the 1940s he eked out a living giving voice lessons and working as a night watchman in Bridgeport, CT, realizing no royalties from his earlier million-sellers. He died of heart failure in 1948. One of the achievements of the first stirrings of country music scholarship in the 1960s and 1970s was a new appreciation of his importance, and in 1981 Dalhart's contribution was finally given its due recognition when he was inducted into the Country Music Hall of Fame.
Born
April, 06, 1883
Jefferson, Texas
Died
September, 14, 1948
Bridgeport, Connecticut
Cause of Death
died after a long illness
Cemetery
Mountain Grove Cemetery
Bridgeport, Connecticut
12634 profile views