Verna Felton
(Verna Arline Felton)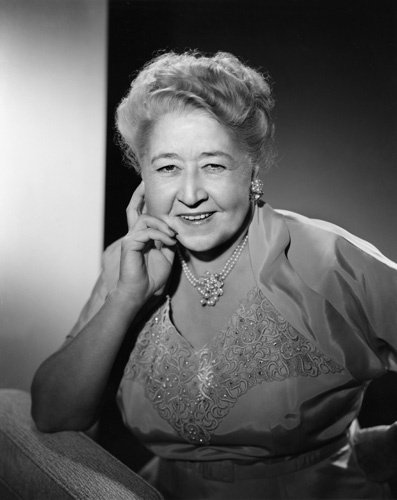 Verna Felton was born in Salinas, California. Her father, a doctor, died when she was seven years old. When going over his accounts after his death, Felton's mother discovered that though her husband had a large medical practice in San Jose, there were no records of his patients' payments for treatment and no cash in the office. Shortly before her father's death, Felton had performed in a local benefit for victims of the Galveston Flood. Her singing and dancing attracted the attention of a manager of a road show company that was playing in San Jose at the time. The manager spoke to Felton's mother, offering to give Felton a job with his company. Since the family was experiencing difficult financial times with the loss of Verna Felton's father, her mother contacted the road show manager. Felton quickly joined the cast of the show, growing up in the theater. She also worked extensively in radio, notably playing The Mom in The Cinnamon Bear, Junior the Mean Widdle Kid's grandmother on Red Skelton's radio series, Hattie Hirsch on Point Sublime, and Dennis Day's mother on The Jack Benny Program. In addition, she performed on radio as a regular on The Abbott and Costello Show and The Great Gildersleeve. Verna Felton appeared in a recurring role as the mother of Ruth Farley, a young woman played by Gloria Winters in the 1953-1955 ABC sitcom with a variety show theme, Where's Raymond?, renamed The Ray Bolger Show. The series starred Ray Bolger as Raymond Wallace, a song-and-dance man who was repeatedly barely on time for his performances.
Though some sitcom aficionados might assume that her guest appearances on I Love Lucy led to a regular supporting role as Hilda Crocker on the CBS sitcom December Bride, Felton had played that same character on the radio version two years prior to the television production. December Bride also starred Spring Byington, Dean Miller, Frances Rafferty, and Harry Morgan. Felton continued her Hilda Crocker role on the December Bride spin-off, Pete and Gladys, with Harry Morgan and Cara Williams. For her performance on December Bride, Verna Felton was nominated for The Primetime Emmy Award for Outstanding Supporting Actress in a Comedy Series in 1958 and in 1959. She was the original voice of Pearl Slaghoople (Wilma Flintstone's mother), voicing the character as a semi-regular on Hanna-Barbera's The Flintstones from 1961-1963. In 1963, in the series finale of CBS's Dennis the Menace sitcom, Felton played character John Wilson's aunt in the episode entitled "Aunt Emma Visits the Wilsons". In the story line, Mr. Wilson (Gale Gordon) tries to convince Aunt Emma to leave her estate to him and his wife, Eloise (Sara Seegar). Wilson becomes suspicious when Emma begins spending time with Dennis Mitchell (Jay North).
In 1960, for Felton's contribution to television, she was inducted to the Hollywood Walk of Fame and honored with a star that is located at 1717 Vine Street. Verna Felton was married to radio actor Lee Millar (1888–1941), who also did animation voices (notably for Disney's Pluto). Their son, Lee Carson Millar, Jr. (1924–1980), appeared as an actor in a variety of television series between 1952 and 1967. She and her son starred in Disney's 15th animated feature, Lady and the Tramp, which was released in the summer of 1955. Verna Felton died of a stroke on the evening of December 14, 1966, the day before Walt Disney died. She is interred at Grand View Memorial Park Cemetery in Glendale, California. Her son, Lee Millar, later passed away in 1980 of cardio-respiratory failure.
Born
July, 20, 1890
USA
Salinas, California
Died
December, 14, 1966
USA
North Hollywood, California
Cause of Death
Cemetery
Grand View Memorial Park
Glendale, California
USA
5274 profile views