Tyson Stevens
(Tyson Stevens)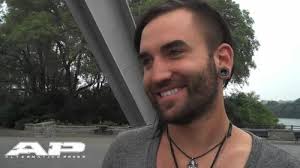 Tyson Stevens
Tyson Stevens, former lead singer for Gilbert-based screamo group Scary Kids Scaring Kids has died. He was 29.
A report posted Tuesday, Oct. 21, on Alternative Press' website says: "A source who wishes to remain anonymous has told us that Stevens was found dead this morning by his girlfriend in Tucson, Arizona."
The news was later confirmed on the Facebook page of Stevens' current group, Tucson's Coma Prevail, whose members posted: "Unfortunately the rumors are true. Out of respect for family we will post details soon. Thank you."
Among the bigger alternative bands to call the Valley home so far this century, Gilbert's gift to screamo fans, Scary Kids Scaring Kids released an EP and two full-length albums — "The City Sleeps in Flames" in 2005 and "Scary Kids Scaring Kids," which hit the Billboard album charts at No. 80 in 2007.
After signing to RCA Records, they announced their breakup in 2009. Keyboardist Pouyan Afkary posted a statement on his blog that read, in part: "The reason we are ending the band is very simple. We created this band together as juniors in high school and though we've been able to grow together for many years, inevitably we have also grown apart. We've had some very serious difficulties over the years as a lot of you can probably relate to as well. Life throws us all something different and we've decided that the best thing for us personally is to end the band on a positive note and start new chapters in our individual lives. We don't want this thing that we've created to become the source of ultimate negativity and we'd rather remember the great times we've had together and move forward knowing we tried our best and had more good times than bad. Though we can't say for sure what all of our futures will hold, I can say for sure that a few of us will continue following our passion for creating music."
Born
Died
16109 profile views