Tupac Shakur
(Tupac Amaru Shakur)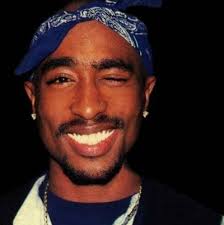 Tupac Shakur
Tupac Amaru Shakur (June 16, 1971 – September 13, 1996), also known by his stage names 2Pac and briefly as Makaveli, was an American rapper and actor. Shakur has sold over 75 million records worldwide, making him one of the best-selling music artists of all time. His double disc albums All Eyez on Me and his Greatest Hits are among the best selling albums in the United States. He has been listed and ranked as one of the greatest artists of all time by many magazines, including Rolling Stone which ranked him 86th on its list of The 100 Greatest Artists of All Time. Consistently ranked as one of the greatest rappers ever, he was ranked number 2 by MTV in their list of The Greatest MCs of All-Time in 2006. 2Pac is also ranked as the most influential rapper of all time.
Shakur began his career as a roadie, backup dancer, and MC for the alternative hip hop group Digital Underground, eventually branching off as a solo artist. The themes of most of Shakur's songs revolved around the violence and hardship in inner cities, racism and other social problems. Both of his parents and several other of his family were members of the Black Panther Party, whose ideals were reflected in his songs.
During the latter part of his career, Shakur was a vocal participant in the so-called East Coast–West Coast hip hop rivalry, becoming involved in conflicts with other rappers, producers and record-label staff members, most notably The Notorious B.I.G. and the label Bad Boy Records.
On September 7, 1996, Shakur was shot multiple times in a drive-by shooting at the intersection of Flamingo Road and Koval Lane in Las Vegas, Nevada. He was taken to the University Medical Center of Southern Nevada, where he died six days later.
Born
June, 16, 1971
United States
New York
Died
September, 13, 1996
United States
Nevada
17235 profile views