Tony Zale
(Anthony Florian Zaleski)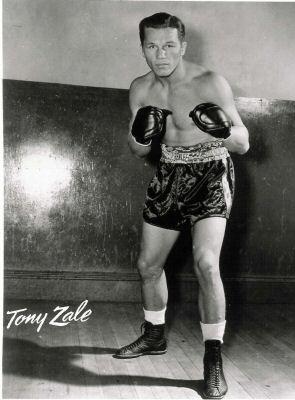 Tony Zale
His three-fight series with Rocky Graziano between 1946 and 1948 are treated with reverence and awe by those who simply read about them as well as the relative few who witessed them in person. Only the third, in which Zale proved his superiority with a third-round knockout, was filmed. The grainy footage provides ample evidence of one of the great warriors of sporting history.
Unlike Graziano, who was a likeable, gregarious rogue, Zale was a dignified, reserved man who treasured his privacy. Born Anthony Florian Zaleski in 1913 to Polish-American parents, he grew up in the slums of a town where every man and child seemed to work in the steel mills.
As a result of the death of his father when he was two, Tony developed a deep sense of guilt and an impenetrable shyness. When he was suffering from one of those temporarily worrying infant illnesses, his father had cycled to a drug store to buy medicine, only to be knocked over by a car and killed on the way home. For months, whenever he saw a man on a bicycle, Tony would tell his anguished mother: "Daddy's coming . . ."
Child labour laws, and trade union ideals, meant nothing in those grim cathedrals of industry. "It seemed like I worked in the steel mills since I was weaned," he once said, "breathing the burnt air, catching (with a bucket) the hot rivets that could burn a hole right through you if you missed." He remembered complaining to his brother as they walked through the factory gates: "I feel like I was born here." The response snapped out. "Stop bitchin'. Be thankful you got a job."
When he was working out at a boxing gym one night a coach looked at him and said: "You look like you're made out of steel." The nickname "Man of Steel" stuck with him for the rest of his life.
When he turned professional in 1934, he seemed just one of a multitude of bright-eyed, dreaming mediocrities. By the following year his future in the ring seemed so limited, he retired and got on with life in the mills before trying again in 1937. This time he relentlessly slogged his way to the top. In July 1940, he won the National Boxing Associa-tion middleweight title by stopping wiry Al Hostak in 13 rounds in Hostak's home city of Seattle.
This gave him partial acknowledgement as champion, but recognition meant nothing. His family needed money. A month later he was earning again in a non-title fight against college kid Billy Soose. Soose won on points, but remembered: "When Zale hits you in the belly, it's like someone stuck a hot poker in you and left it there."
Zale won universal recognition as champion by outpointing Georgie Abrams in a ferocious 15-rounder in Madison Square Garden, New York. On the floor in the first round, Zale fought back, sometimes within the rules and sometimes not. At one point Abrams was thumbed in the eye. It almost cost him his sight.
There was little time for even the quiet Zale family celebrations – ten days later the Japanese raided Pearl Harbor and the United States was drawn into the Second World War. After losing a non-title fight to the light-heavyweight Billy Conn in February 1942, Zale's career went into abeyance for the duration of the war. He served in the US Navy.
When the war finished, Zale's rivalry with Graziano started. In September 1946, recovering from pneumonia and considered too old at 33, he won a frighteningly brutal battle in front of 40,000 fans in Yankee Stadium. Graziano was knock-ed out in the sixth round, but Zale was so exhausted he could barely stand. Graziano, who urinated blood for weeks afterwards, called Zale "tougher and faster than anybody I ever fought in my life".
They fought again in Chicago Stadium in July 1947 and this time 18,000 fans saw Graziano win in six rounds. And in the third meeting at the Ruppert Stadium in Newark, New Jersey, in June 1948, the 35-year-old Zale outclassed Graziano in three rounds.
Zale's wife wanted him to retire, but he took one more payday, the 87th of his career. And this time he lost his championship to the celebrated French hero Marcel Cerdan, whose lover Edith Piaf was ringside, in 12 rounds at Jersey City in September 1948.
Zale divorced and remarried, living quietly with his second wife, Philomena, who kept away the more inquisitive and intrusive of reporters. Zale worked three nights a week as an amateur boxing coach in Chicago, and also "helped" Paul Newman on the movie of Graziano's life, Somebody Up There Likes Me (1956). Unfortunately, Zale always did have trouble pulling punches. He kept knocking Newman out!
After the death of his wife, Zale remained close to his daughters from his first marriage, but eventually fell ill with Parkinson's Disesae and Alzheimer's and spent his last years in a nursing home in Portage, Indiana.
Born
May, 29, 1913
Gary, Indiana
Died
March, 20, 1997
Portage, Indiana
Cause of Death
Fell ill with Parkinson's Disesae and Alzheimer's
Cemetery
Calvary Cemetery
Portage, Indiana
13568 profile views