Tompall Glaser
(Thomas Paul Glaser)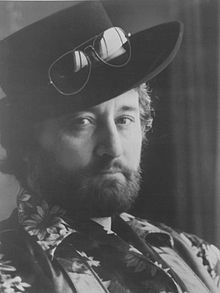 Tompall Glaser
Thomas Paul "Tompall" Glaser — a staunchly independent singer, songwriter, studio owner, publisher and recording artist and a central figure in country music's much-vaunted "Outlaw Movement" of the 1970s — died Tuesday at his Nashville home after a long illness. Glaser, who was featured onWanted! The Outlaws, country music's first million-selling album, was 79.
Glaser was an unabashed rebel in a company town. He and brothers Chuck and Jim owned the 19th Avenue South studio formally known as Glaser Brothers Sound Studios but commonly called "Hillbilly Central," where groundbreaking works including John Hartford's Aereo-Plain and Waylon Jennings' Dreaming My Dreams were recorded. Populated by a gang of misfits including Glaser, Waylon Jennings, Billy Ray Reynolds, Roger "Captain Midnight" Schutt and others, Hillbilly Central was a kingdom unto its own.
"That building was a fortress," said Glaser Sound secretary and publicist Hazel Smith, in Michael Bane's book Outlaws: Revolution In Country Music. "It was a place where they could go and hide. It was home to them, and there were no Picasso's on the wall."
The Hillbilly Central scene reached its pop peak in 1976, when RCA Records released Wanted! The Outlaws, featuring Glaser, Jennings, Willie Nelson and Jessi Colter. That album, a cobbled-together work featuring previously released material from each of the four artists, topped country charts and solidified the singers' reputation as "outlaws," a term meant to convey idiosyncratic artistry rather than actual lawlessness. But by 1976, Glaser and the other "outlaws" were well known in Music City for their restless creativity and for their night-owl habits.
"I discovered two principles of Glaser nightlife," wrote journalist Dave Hickey in 1973. "First, no pinball machine is passed by unplayed, and, secondly, any establishment which possesses a pinball machine hasn't much luck in trying to close while Tompall is playing the machine."
Glaser was born in Spalding, Neb., and was raised on a Nebraska farm. He and his brothers sang on local radio and in area venues and, in 1957, on Arthur Godfrey's network television show.
In 1959, the brothers came to Nashville at the request of singing star Marty Robbins, who hired them to sing harmony vocals at his concert and signed them to his own Robbins Records. The Glasers also toured with Johnny Cash and sang harmonies on recordings such as Cash's Ring Of Fire, Roy Orbison's Leah and Robbins' El Paso.
As Tompall & The Glaser Brothers, the vocal trio recorded a series of country singles, aided by producer Cowboy Jack Clement, and in 1966 Bobby Bare had a major hit with Streets Of Baltimore, a song written by Glaser and Harlan Howard. Streets Of Baltimore would later be covered by Charley Pride, The Statler Brothers, Gram Parsons, Nanci Griffith and dozens of others.
The brothers Glaser also established a publishing business beginning in 1962, handling songs including Gary Puckett & the Union Gap's Woman, Woman (co-written by Jim Glaser) and Hartford's mega-successful Gentle On My Mind.  Money earned from publishing such hits helped to build Glaser Sound Studios, which opened in 1970, the same year the Glaser Brothers were voted the Country Music Association's top vocal group. In 1971, the brothers scored a No. 7 country hit withRings, but the group disbanded in 1973 and Glaser embarked on a solo career. By then, Glaser and Jennings had become close friends and business partners, bound by shared affinities for music and pinball and by a shared disdain for convention.
"Before Waylon and Tompall got together, they didn't know there was anybody else like them," Smith told author Michael Streissguth for his book, Outlaw: Waylon, Willie, Kris And The Renegades Of Nashville. "I think both of them secretly thought they might be crazy. They'd both been going their own way alone for so long, it never even entered their minds that somebody else might feel the same way about country music and Nashville."
Glaser and Jennings co-produced Jennings' landmark Honky Tonk Heroes album, released in the summer of 1973 and featuring nine songs penned by Billy Joe Shaver. They shared a vision of musicians operating independently, outside of the traditional Music Row systems. And they starred together on Wanted! The Outlaws. But the men fell out over a publishing dispute, and Glaser rejoined his brothers in 1980, signing with Elektra Records and notching a No. 2 hit with Kris Kristofferson's Lovin' Her Was Easier (Than Anything I'll Ever Do Again).
The regrouping was brief, and the brothers called it quits in 1982. Glaser recorded another solo album in 1986, then sold Hillbilly Central and retreated from the public eye.
Born
September, 03, 1933
Spalding, Nebraska
Died
August, 12, 2013
Nashville, Tennessee
Cause of Death
Cemetery
Woodlawn Memorial Park and Mausoleum
Nashville, Tennessee
974 profile views