Tommy Rettig
(Thomas Noel Rettig)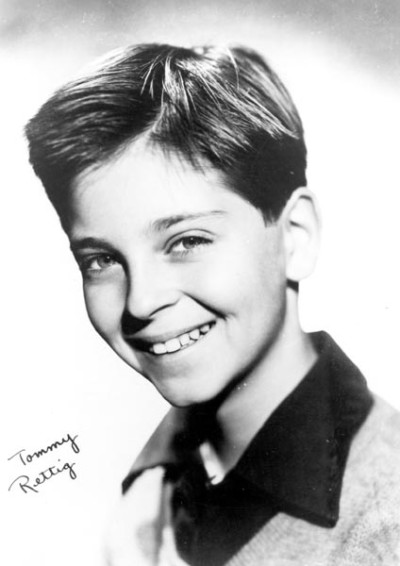 Rettig was born to a Jewish father, Elias Rettig, and a Christian Italian-American mother, Rosemary Nibali, in Jackson Heights in the Queens borough of New York City. He started his career at the age of six, on tour with Mary Martin in the play Annie Get Your Gun, in which he played Little Jake. Before his famous role as Jeff Miller in the first Lassie television series, Rettig also appeared in about 18 feature films including So Big, The 5,000 Fingers of Dr. T (written by Dr. Seuss) and River of No Return with Marilyn Monroe and Robert Mitchum. It was his work with a dog in The 5000 Fingers Of Dr. T. that led animal trainer Rudd Weatherwax to urge him to audition for the Lassie role, for which Weatherwax supplied the famous collies. Rettig later told interviewers that he longed for a life as a normal teenager, and after four seasons he was able to get out of his contract. He was also critical of the treatment and compensation of child actors of his day. He reportedly received no residual payments from his work in the Lassie series, even though it was syndicated and widely shown under the title Jeff's Collie. On October 28, 1958, Rettig guest-starred in the episode "The Ghost" of the ABC/Warner Brothers western series, Sugarfoot, with Will Hutchins in the title role. In the segment, Rettig played Steve Carter, a troubled youth whom Sugarfoot is taking to Missouri to collect an inheritance. In this episode, Rettig sang "The Streets of Laredo".
He graduated in 1959 from University High School in Los Angeles. At eighteen, he was cast as Pierre in the 1959 episode "The Ghost of Lafitte", set in New Orleans, of the ABC western series The Man from Blackhawk, starring Robert Rockwell as a roving insurance investigator. The black actress Amanda Randolph was cast in the same episode as Auntie Cotton. In the 1962 episode "Davy's Friends" of the syndicated western television series, Death Valley Days, narrated by Stanley Andrews, Rettig played Joel Walter Robison, a fighter for Texas independence. In the story line, Robison, called a "friend" of Davy Crockett, is sent on a diversion but quickly shows his military ability and is made a first lieutenant by Sam Houston. Stephen Chase (1902-1982) played Sam Houston, and Russell Johnson was cast as Sergeant Tate in this segment. From 1964 to 1965, he co-starred with another former child actor, Tony Dow, in the ABC television soap opera for teens Never Too Young. He was cast as Frank in the 1965 "The Firebrand" of the NBC education drama series Mr. Novak, starring James Franciscus. With the group "The TR-4", he recorded the song by that title on the Velvet Tone label. While he was the TR-4 group's co-manager, he did not sing with them. Rettig only co-wrote the song in hopes of the TV soap using it as their theme. It was not chosen.
As an adult, Rettig preferred to be called "Tom." He found the transition from child star difficult, and had several well-publicized legal entanglements relating to illegal recreational drugs (a conviction for growing marijuana on his farm, and a cocaine possession charge of which he was exonerated). Some years after he left acting, he became a motivational speaker, which—through work on computer mailing lists—led to involvement in the early days of personal computers. For the last 15 years of his life, Rettig was a well-known database programmer, author, and expert. He was an early employee of Ashton-Tate, and specialized in (sequentially) dBASE, Clipper, FoxBASE and finally FoxPro. Rettig moved to Marina del Rey in the late 1980s. Rettig made a guest appearance in an episode of the later television series The New Lassie, with Jon Provost, which aired on October 25, 1991. The series featured appearances from two other Lassie veterans, Roddy McDowall, who had starred in the first movie Lassie Come Home (1943) and June Lockhart, who had starred in the 1945 movie Son of Lassie, and the television series (as Timmy's mother in the years after Rettig left the show). He died at fifty-four of a heart attack. His memorial service in Marina del Rey, California was attended by Roger Clinton, Jr., the half-brother of then U.S. President Bill Clinton; Lassie; Microsoft dignitaries; and several former child stars, who were featured in a photo spread in The National Enquirer.
Born
December, 10, 1941
USA
Queens, New York, New York
Died
February, 15, 1996
USA
Marina del Ray, California
Cause of Death
Other
8290 profile views