Tommy Dorsey
(Thomas Francis Dorsey)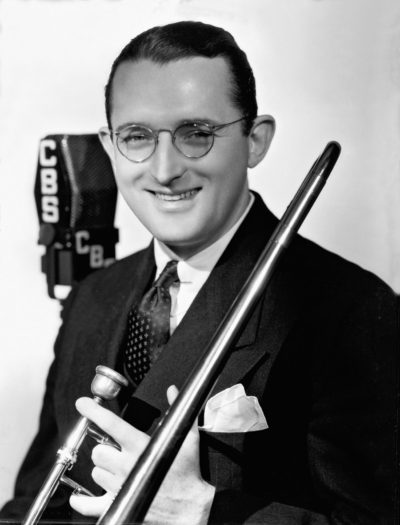 Tommy Dorsey's first band was formed out of the remains of the Joe Haymes band, and so began Dorsey's long-running practice of raiding other bands for talent. If he admired a vocalist, musician or arranger, he would think nothing of taking over their contracts and careers.[citation needed] Dorsey had a reputation for being a perfectionist. He was volatile and also known to hire and fire (and sometimes rehire) musicians based on his mood. The new band was popular from almost the moment it signed with RCA Victor with "On Treasure Island", the first of four hits for the new band in 1935. After his 1935 recording however, Dorsey's manager cut the "hot jazz" that Dorsey had mixed with his own lyrical style and instead had Dorsey play pop and vocal tunes. Dorsey would keep his Clambake Seven as a Dixieland group that played during performances, too. The Dorsey band had a national radio presence in 1936, first from Dallas and then from Los Angeles. Tommy Dorsey and his Orchestra took over comedian Jack Pearl's radio show in 1937. By 1939, Dorsey was aware of criticism that his band lacked a jazz feeling. He hired arranger Sy Oliver away from the Jimmie Lunceford band. Sy Oliver's arrangements include "On The Sunny Side of the Street" and "T.D.'s Boogie Woogie"; Oliver also composed two of the new band's signature instrumentals, "Well, Git It" and "Opus One". In 1940, Dorsey hired singer Frank Sinatra from bandleader Harry James. Frank Sinatra made eighty recordings from 1940 to 1942 with the Dorsey band. Two of those eighty songs are "In the Blue of Evening" and "This Love of Mine". Frank Sinatra achieved his first great success as a vocalist in the Dorsey band and claimed he learned breath control from watching Dorsey play trombone.[24][25] In turn, Dorsey said his trombone style was heavily influenced by that of Jack Teagarden. Among Dorsey's staff of arrangers was Axel Stordahl who arranged for Frank Sinatra in his Columbia and Capitol records years. Another member of the Dorsey band was trombonist Nelson Riddle, who later had a partnership as one of Sinatra's arrangers and conductors in the 1950s and afterwards. Another noted Dorsey arranger, who, in the 1950s, married and was professionally associated with Dorsey veteran Jo Stafford, was Paul Weston. Bill Finegan, an arranger who left Glenn Miller's civilian band, arranged for the Tommy Dorsey band from 1942 to 1950.
The band featured a number of future famous instrumentalists, singers and arrangers in the 1930s and '40s, including trumpeters Zeke Zarchy, Bunny Berigan, Ziggy Elman, Carl "Doc" Severinsen, and Charlie Shavers, pianists Milt Raskin, Jess Stacy, clarinetists Buddy DeFranco, Johnny Mince, and Peanuts Hucko. Others who played with Dorsey were drummers Buddy Rich, Louie Bellson, Dave Tough saxophonist Tommy Reed, and singers Frank Sinatra, Jack Leonard, Edythe Wright, Jo Stafford with The Pied Pipers, Dick Haymes and Connie Haines. In 1944, Dorsey hired the Sentimentalists who replaced the Pied Pipers. Tommy Dorsey also performed with singer Connee Boswell. Tommy Dorsey hired ex-bandleader and drummer Gene Krupa after Krupa's arrest and scandal for marijuana possession in 1943. In 1942 Artie Shaw broke up his band and Dorsey hired the Shaw string section. As George Simon in Metronome magazine notes at the time, "They're used in the foreground and background (note some of the lovely obbligatos) for vocal effects and for Tommy's trombone."
As Tommy Dorsey became successful, he made business decisions in the music industry. He loaned Glenn Miller money to launch Miller's successful band of 1938, but Dorsey saw the loan as an investment, entitling him to a percentage of Miller's income. When Miller balked at this, the angry Dorsey got even by sponsoring a new band led by Bob Chester, and hiring arrangers who deliberately copied Miller's style and sound. Dorsey branched out in the mid-1940s and owned two music publishing companies, Sun and Embassy. After opening at the Los Angeles ballroom, the Hollywood Palladium, on the Palladium's first night, Dorsey's relations with the ballroom soured and he opened a competing ballroom, the Casino Gardens circa 1944. Tommy Dorsey also owned for a short time a trade magazine called The Bandstand.
Tommy Dorsey disbanded his own orchestra at the end of 1946. Dorsey might have broken up his own band permanently following World War II, as many big bands did due to the shift in music economics following the war, but Tommy Dorsey's album for RCA Victor, "All Time Hits" placed in the top ten records in February 1947. In addition, "How Are Things In Glocca Morra?", a single recorded by Dorsey, became a top-ten hit in March 1947. Both of these successes made it possible for Dorsey to re-organize a big band in early 1947. The Dorsey brothers were also reconciling. The biographical film of 1947, The Fabulous Dorseys describes sketchy details of how the brothers got their start from-the-bottom-up into the jazz era of one-nighters, the early days of radio in its infancy stages, and the onward march when both brothers ended up with Paul Whiteman before 1935 when The Dorsey Brothers' Orchestra split into two. In the early 1950s, Tommy Dorsey moved from RCA Victor back to the Decca record label. Jimmy Dorsey broke up his own big band in 1953. Tommy invited him to join up as a feature attraction and, a short while later, Tommy renamed the band the Tommy Dorsey Orchestra featuring Jimmy Dorsey. In 1953, the Dorseys focused their attention on television. On December 26, 1953, the brothers appeared with their orchestra on Jackie Gleason's CBS television show, which was preserved on kinescope and later released on home video by Gleason. The brothers took the unit on tour and onto their own television show, Stage Show, from 1955 to 1956. On numerous episodes, they introduced future noted rock musician Elvis Presley to national television audiences, prior to Presley's better known appearance on the Ed Sullivan Show.
On November 26, 1956, Tommy Dorsey died at age 51 in his Greenwich, Connecticut, home. He had begun taking sleeping pills regularly at this time, from which he was so sedated that one night he died in his sleep from choking after eating a heavy meal. At the time, his wife was questioned about her affair on Dorsey. Jimmy Dorsey led his brother's band until his own death from lung cancer the following year. At that point, trombonist Warren Covington became leader of the band with Jane Dorsey's blessing as she owned the rights to her late husband's band and name. Billed as the "Tommy Dorsey Orchestra Starring Warren Covington", they topped the charts in 1958 with "Tea For Two Cha-Cha". After Covington led the band for a short period, Sam Donahue led it starting in 1961, continuing until the late 1960s. Buddy Morrow conducted the Tommy Dorsey orchestra until his death on September 27, 2010. Jane Dorsey died of natural causes at the age of 79, in Miami, Florida in 2003. Tommy and Jane Dorsey are interred together in Kensico Cemetery in Valhalla, New York.
Born
November, 19, 1905
USA
Mahanoy Plane, Pennsylvania
Died
November, 26, 1956
USA
Greenwich, Connecticut
Cause of Death
Cemetery
Kensico Cemetery
Valhalla, New York
USA
1993 profile views