Tommy Bond
(Thomas Ross Bond)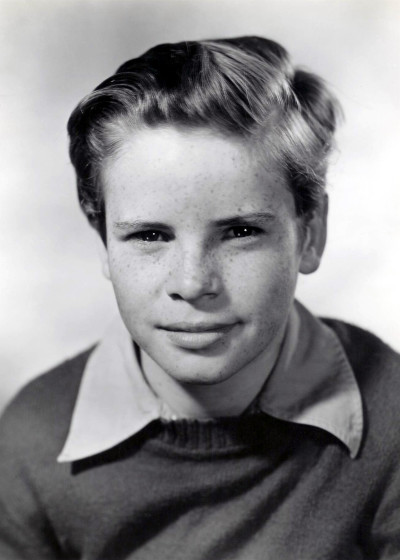 Tommy Bond got his start in 1931 at the age of five when a talent scout for Hal Roach studios approached him as he was leaving a Dallas cinema with his mother. The scout asked him if he would like to act in films because he "had a great face" and set up an appointment with Hal Roach in Los Angeles. Hal Roach was gathering new talent for his popular Our Gang comedies. Bond's grandmother Jane Quin Sauter volunteered to drive the boy to L.A. by motor car. This occurred in the spring of 1931, in the depth of the Great Depression. It proved to be a grueling journey, punctuated by flash floods and encounters with tarantulas, on mostly dirt roads from Dallas to L.A. Tommy Bond was hired at Hal Roach Studios for the Our Gang series in the summer of 1931 to begin work that upcoming fall, at around the same time as George "Spanky" McFarland was hired. Bond worked in Our Gang for two years, alternately appearing as a supporting character and a background actor. His speaking roles increased by 1934, including his most substantive role to this point as the gang's band conductor in Mike Fright. In late 1934, Bond left the series and returned to public school, still earning periodic bit parts in Hollywood productions. After leaving the gang for the first time, Bond also worked as a voice actor, most notably in several of Tex Avery's Merrie Melodies cartoons for Warner Bros. His best known voice role was as the speaking voice of "Owl Jolson" in Tex Avery's 1936 Merrie Melodies cartoon, I Love to Singa.
Tommy Bond returned to Our Gang on a recurring basis late in 1936, when Roach hired him to play "Butch", the neighborhood bully. In one short, his mother called him "Tommy", apparently indicating that "Butch" was a nickname. Bond's first short as Butch was Glove Taps. Besides filling the role of the archetypal Our Gang bully, the Butch character also regularly competed with meek Alfalfa (Carl Switzer) for the affections of his sweetheart Darla (Darla Hood). While an Our Ganger, Bond appeared in a number of outside films, such as those featuring fellow Hal Roach Studios comedians Charley Chase and Laurel and Hardy. As Butch, Bond remained with Our Gang an additional three years, staying with the series when it moved to Metro-Goldwyn-Mayer in 1938. His final Our Gang short, Bubbling Troubles, was released in 1940; Bond continued to work in other MGM productions following his departure from Our Gang. In total, Tommy Bond appeared in 27 Our Gang shorts – 13 as "Tommy" and 14 as "Butch".
After serving in the U.S. Navy during World War II, Tommy Bond returned to acting, and appeared in two Gas House Kids features alongside former on-screen rival Carl Switzer. In the late 1940s, Bond became the first actor to portray cub reporter Jimmy Olsen in two Superman film serials: Superman (1948) and Atom Man vs. Superman (1950). He also appeared as Joey Pepper in several installments of the Five Little Peppers serial. In 1951, Bond graduated from college and quit acting, but remained in show business in the areas of television directing and production, and worked with individuals such as Norman Lear, George Schlatter, and many others. He worked at Metromedia owned Channel 11, KTTV (now owned and operated by Fox) in Los Angeles from the 1950s to the early 1970s. He then went to work for Capital Cities Communications' CBS affiliate Channel 30 KFSN (now owned and operated and affiliated with ABC) in Fresno from the early 1970s to 1991. Tommy also worked as a prop manager on Rowan & Martin's Laugh-In. Tommy Bond retired from television in 1991. In his latter years he lived in the Fresno and Madera Ranchos area, and served as a spokesman for a number of Our Gang-related materials. Bond published his autobiography, Darn Right It's Butch: Memories of Our Gang/The Little Rascals, with the help of Fresno teacher, film historian and co-author Ron Genini, in 1994. Tommy's son, Thomas R. Bond II "Butch, Jr.", who is a film and television producer, worked with his father in their family production company, the American Mutoscope and Biograph Company. The senior Bond also hosted "The Rascals," a documentary on the life and times of the Little Rascals.
Throughout his lifetime, Tommy Bond appeared in 73 films, was a charter member of the Screen Actors Guild, joining in 1937, and worked with many Hollywood stars in the years of 1933 to 1951, including James Stewart, Eleanor Powell, Ray Bolger, Frank Morgan, and Eddie Cantor among many others. In 2004, a monument was dedicated at Hollywood and Vine commemorating the first movie made in Hollywood, made by the precursor to Bond's company, American Mutoscope and Biograph Company. Less than a year later, the 2.8 ton monument was stolen in April, 2005. Bond felt because of the monument's size, it had to have been an "inside job." Bond was so upset, he swore that the company would never shoot any project in the district of Hollywood. Bond said "The Hollywood I grew up in used to be a wonderful and magical place, with great folks. Now it is somewhere I would never want to be." Tommy Bond died on September 24, 2005 due to complications from heart disease in Los Angeles, California. He is buried at Riverside National Cemetery in Riverside, California
Born
September, 16, 1926
USA
Dallas, Texas
Died
September, 24, 2005
USA
Northridge, California
Cause of Death
Cemetery
Riverside National Cemetery
Riverside, California
USA
4138 profile views