Tom Laughlin
(Tom Laughlin)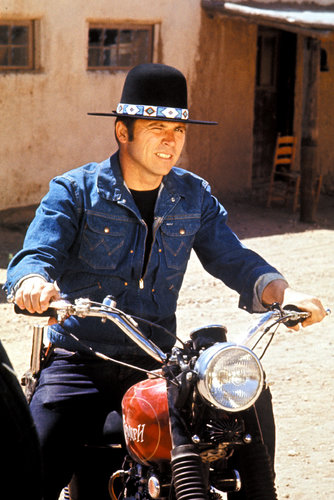 Laughlin was born in Minneapolis, and reared in Milwaukee, where he attended Washington High School. While in high school, he was involved in an athletic controversy that made headlines throughout the city. The controversy involved Laughlin being forced to attend another school for a brief period, making him ineligible to play football at his previous school upon his return. Laughlin first attended college at the University of Wisconsin and later at Marquette University, playing football for both schools.
While at Marquette he played both safety and halfback  He decided to become an actor after seeing a production of A Streetcar Named Desire. According to a 1956 newspaper profile, he became involved in the theater program at Marquette after encouragement by a university professor, Father John J. Walsh. While a student he also formed a stock group and directed and starred in a production of Arthur Miller's All My Sons. He later transferred to the University of South Dakota where he majored in radio acting, directing and producing.  While a student at South Dakota, he met his future wife Delores Taylor. He wrote the original screenplay for the film Billy Jack in 1954 after witnessing the treatment of Native Americans in her hometown, Winner, South Dakota. The two wed on October 15, 1954.
He began his on-screen acting career in the 1955 television series Climax!. From there he went on to appear in several feature films including: These Wilder Years, Lafayette Escadrille, Tea and Sympathy and South Pacific.  He appeared in several episodes of various television series throughout the late 1950s. In 1959, he was cast as young Tom Fowler in the episode "The Fight Back" of the NBC western series, Riverboat. In the story line, Fowler has made himself the boss of Hampton, a corrupt river town near Vicksburg, Mississippi. He blocks farmers from shipping their crops to market. In a dispute over a wedding held on the river vessel, the Enterprise, a lynch mob led by Fowler comes after Captain Grey Holden (series star Darren McGavin). Also appearing in this episode are John Ireland as Chris Slade and Karl Swenson as Ansel Torgin.
In 1959, Laughlin appeared in the film Gidget as "Lover Boy". However, he failed to make any money in the early years, having told People magazine in 1975, "We were living on $5 a week and eating Spam. I stole Christmas cards from a church so I could write home saying how well we were, but then I couldn't afford the stamps."  Laughlin's first starring role was in Robert Altman's 1957 film The Delinquents, in which he played Scotty White, a teenager who gets mixed up with a gang when he is told he can no longer see his girlfriend. Despite the film's low budget, it became a cult film, with Alfred Hitchcock among its fans. However, Laughlin and Altman did not get along well, having sharply differing views on acting; Altman later describing Laughlin as "an unbelievable pain in the ass."
Laughlin made his directorial debut later that year with The Proper Time, though the film wasn't released until 1960. The film was a romantic drama set on the campus of University of California, Los Angeles. Laughlin shot the film on the campus in six days working with a $20,000 budget.  Laughlin wrote, directed, and starred in The Young Sinner. Originally filmed in 1960, and shot in Milwaukee over a period of 14 days, it is the story of a star high school athlete who falls deeper and deeper into trouble after being caught in bed with his girlfriend. The film was intended to be the first of a trilogy entitled We Are All Christ. It premiered in 1963 under the original title Among the Thorns, which was changed to The Young Sinner upon its 1965 re-release. In 1960, Laughlin planned to make a film, Poison in Our Land, based on the true story of a Texas couple affected by atomic radiation, but the project was never realized.
In 1959, Laughlin and his wife founded a Montessori preschool in Santa Monica, California. By 1961, Laughlin had left the film business to devote all of his time to the school, which by 1964 had become the largest school of its kind in the United States. It was profiled by Time magazine in July of that year. However, by 1965, the school had gone bankrupt.  One of his students was Christian Brando, son of Laughlin's friend, Marlon Brando.
In the years after the failure of Billy Jack Goes to Washington, Laughlin played small roles in a couple of films, such as The Big Sleep in 1978 and his last acting role was The Legend of the Lone Ranger in 1981. In 1984, he purchased a series of twelve advertisements in Variety condemning various aspects of the film industry and its treatment of independent filmmakers. He created a blueprint for taking control of the home video distribution industry as a way for independent films to be seen. This plan was a failure. In 1985, he made a fifth Billy Jack film, The Return of Billy Jack, which featured the title character fighting child pornographers in New York City. However, he suffered a concussion and neck injury during the production, which led to the film being shut down. In 2009, several scenes from this unfinished film were released on Laughlin's website. A notable incident occurred while he was filming in New York City, when he broke up a street fight on Manhattan's West Side, threatening to rip a man's arm off. He garnered notoriety at this time for making a citizen's arrest of a man after an argument over Laughlin's driving.  Laughlin had sought funding for a fifth Billy Jack film since at least 1996, when he spoke about it during a lawsuit against a man who had (Laughlin claimed) illegally changed his name to "Billy Jack", and at one point Laughlin had plans to make a Billy Jack television series. In 2004 he announced that the film would be entitled Billy Jack's Crusade to End the War in Iraq and Restore America to Its Moral Purpose; this was shortened to Billy Jack's Moral Revolution in 2006.
In 2008, the film's title was changed to Billy Jack for President. It was re-titled Billy Jack and Jean. Laughlin claimed it would be a "new genre of film" and a great deal of social commentary on politics, religion, and psychology will be discussed, and a debate will take place between Billy Jack and President George W. Bush via computer manipulation of archived speeches. In 2009, Laughlin released plot details of this film on a video on his website. The video contained several scenes from the film.  In 2010, Frank, Chris, and Theresa Laughlin, founded Billy Jack Rights, LLC, which manages the rights to all of Tom Laughlin's films, including the Billy Jack franchise.
In his later years, Laughlin turned his attention to politics. In 1992, as a protest he sought the Democratic Party nomination for U.S. President. He told the Milwaukee Sentinel, "I am the least qualified person I know to be President, except George Bush."  He appeared on the primary ballots in New Hampshire and Louisiana. He campaigned on a platform of a tax cut for "ordinary Americans", term limits, an overhaul of public education, universal health care, and nuclear disarmament. While campaigning for the Iowa caucus he said of fellow candidate and Iowan, U.S. Senator Tom Harkin: "I think he's a sleazebag. I despise him."  Excluded from debates by party officials who did not consider him a serious candidate, Laughlin received 1,986 votes in the New Hampshire primary. He blamed the results on lack of cooperation by the Democratic Party, which allowed him and other candidates only five minutes to speak at the state's convention while giving the five front-runners 20 minutes each. He participated in the Independent presidential candidates Debate on March 25, 1992, along with former U.S. Senator Eugene J. McCarthy and others who had been excluded from the major debates. However, he was seen by much of the press as a "fringe candidate."
Laughlin later protested at being excluded from the primary ballot in his home state of Wisconsin at the same time that David Duke, the former Grand Wizard of the Ku Klux Klan was included. After dropping out of the race, he worked as an advisor to the campaign of Ross Perot.  He ran for president again in 2004, this time as a Republican. Campaigning as an opponent of the Iraq War, he received 154 votes in the New Hampshire primary against U.S. President George W. Bush. He again was not allowed to participate in the debates. He ran again for President in 2008 as a Democrat, getting 47 votes in the New Hampshire primary.
Laughlin was an outspoken critic of the Iraq War and President George W. Bush. His website presented several writings calling the Iraq conflict worse than the Vietnam War, in addition to pieces on what he called "realistic exit strategies." He also devotes several pages of the Billy Jack website to reasons that he feels justify an impeachment of George W. Bush and also repeatedly stated the need for a viable, mainstream third political party. In addition, he criticized what he called the "Christian right", which he called "false Evangelicals", "false prophets", and the "Christo-fascist movement." He released several videos and writings during the 2008 election.
Laughlin married Delores Taylor in 1954. They had three children: Frank, Teresa, and Christina. His daughter Teresa (known by the family as T.C.) is a fashion designer. He derived at least two of his pseudonyms from his children: Frank Laughlin, his son's name and the name he used to direct The Trial of Billy Jack and The Master Gunfighter, and T.C. Frank, which stood for Teresa Christina Frank.  In 2001, it was announced that Laughlin was suffering from a cancer of the tongue that was inoperable. His website claimed the cancer was in remission. His book, The Psychology of Cancer, was about faith, attitude and other factors that might affect cancer. On November 20, 2007, he posted a video on YouTube explaining that poor health had caused him to leave his BillyJack.com website in a dormant state. The site was later revived. Laughlin suffered from Celiac disease, an auto-immune disorder, and suffered a series of strokes. In the video, he announced that he had his health issues under control, that he updated the website, and was planning a new Billy Jack film. However, that film was never made.  Tom Laughlin died of complications from pneumonia on December 12, 2013 at Los Robles Hospital and Medical Center in Thousand Oaks, California.
Born
August, 10, 1931
USA
Minneapolis, Minnesota
Died
December, 12, 2013
USA
Thousand Oaks, California
17051 profile views