Thomas Lipton
(Thomas Johnstone Lipton)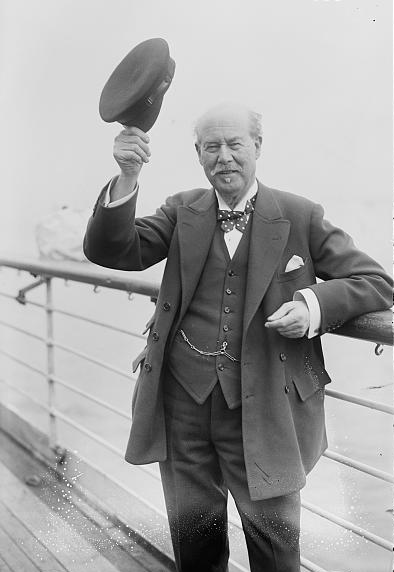 Thomas Lipton was born in a tenement in Crown Street, Glasgow on 10 May 1848. His parents, Thomas Lipton senior and Frances Lipton (née Johnstone), were Ulster-Scots from County Fermanagh. The Liptons had been smallholders in Fermanagh for generations but, by the late 1840s, Thomas Lipton's parents had been forced to leave Ireland due to the potato famine of 1845. Moving to Scotland in search of a better living for themselves and their young family. The Liptons had settled in Glasgow by 1847. Lipton's father would hold a number of occupations throughout the 1840s and 1850s, including working as a labourer and as a printer. Although Thomas Lipton would later state that he was born at his family's home in Crown Street in the Gorbals in 1850 there is no record of this in the parish register for that period. In the 1851 census, however, the family were recorded as living in the north of Glasgow, with young Thomas being listed as being aged 3 years old. It would appear that he was therefore born in 1848. Thomas's siblings, three brothers and one sister, all died in infancy, but Thomas, despite being the youngest, survived. Thomas Lipton was educated at St. Andrew's Parish School close to Glasgow Green between 1853 and 1863. By the early 1860s his parents were the proprietors of a shop at 11 Crown Street in the Gorbals where they sold ham, butter, and eggs. It was with the aim of supplementing his parents' limited income that Thomas Lipton left school at the age of thirteen and found employment as a printer's errand boy, and later as a shirtcutter. He also enrolled at a night school, the Gorbals Youth's School, during this period.
In 1864 Thomas Lipton signed up as a cabin boy on a steamer running between Glasgow and Belfast and was captivated by life aboard the ship and the stories told by sailors who had traveled to the United States. After being let go by the steamer company, Lipton quickly used the wages he had saved to purchase passage on a ship bound for the U.S., where he would spend five years working and traveling all over the country. Lipton had a number of jobs during this time: at a tobacco plantation in Virginia, as an accountant and bookkeeper at a rice plantation in South Carolina, as a door-to-door salesman in New Orleans, a farmhand in New Jersey, and finally as a grocery assistant in New York. He returned to Glasgow in 1870, initially helping his parents run their small shop in the Gorbals. The following year he opened his first provision shop—Lipton's Market—at 101 Stobcross Street in the Anderston area of Glasgow. This enterprise proved to be successful and Lipton soon established a chain of groceries, first across Glasgow, the rest of Scotland, until finally he had stores throughout Britain. While Lipton was expanding his empire, tea prices were falling and demand was growing among his middle class customers. In 1880, Lipton invested in the young stockyards of Omaha, Nebraska, founding a large packing plant in South Omaha which he sold to American interests in 1887. In 1888, when his empire had grown to 300 stores, he entered the tea trade and opened his tea-tasting office. He started bypassing traditional trading and wholesale distribution channels (most UK tea-trading was focused in London's Mincing Lane) in order to sell teas at unprecedented prices to the untapped poor working class market. In order to provide his shops with goods Lipton bought tea gardens and in doing so – amongst other things – he established the Lipton tea brand, which remains in business as a subsidiary of Unilever.
Thomas Lipton visited Sri Lanka in 1890 and made business deals with James Taylor, who introduced tea gardens to Sri Lanka (Ceylon) with Tamil workers from India. Lipton's company purchased Ceylon tea, distributing it through Europe and the USA beginning in 1890. He died at Osidge on 2 October 1931 and bequeathed the majority of his fortune to his native city of Glasgow, including his yachting trophies, which are now on display at the Kelvingrove Art Gallery and Museum. Sir Thomas Lipton was buried alongside his parents and siblings in Glasgow's Southern Necropolis.
Born
May, 10, 1848
Glasgow, Scotland
Died
October, 02, 1931
United Kingdom
London, England
Cemetery
Southern Necropolis
Glasgow, Scotland
1313 profile views