Thomas Johnson
(Thomas Johnson)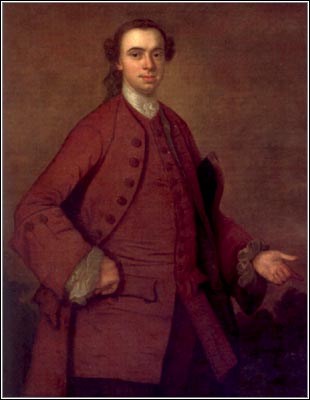 Thomas Johnson was born in Calvert County, Maryland, on November 4, 1732 to Thomas and Dorcas Sedgwick Johnson. His grandfather, also named Thomas, was a lawyer in London who had emigrated to Maryland sometime before 1700. He was the fourth of ten children, some of whom also had large families. His niece (daughter of his brother Joshua ), Louisa Johnson, married John Quincy Adams. The family, including Thomas, were educated at home. As a young man he was attracted to the law, studied it, and was admitted to the Maryland bar in 1753. By 1760, he had moved his practice to Frederick County, Maryland, and in 1761 he was elected to the provincial assembly for the first time. Johnson married Ann Jennings, the daughter of a judge from Annapolis on February 16, 1766. The couple had eight children: Thomas Jennings, Ann Jennings, Rebecca (who died in infancy), Elizabeth, Rebecca Jennings, James, Joshua, and Dorcas. In 1774 and 1775 the Maryland assembly sent him as a delegate to the Continental Congress. In the Congress he was firmly in the camp of those who favored separation from Great Britain. In November 1775, Congress created a Committee of [Secret] Correspondence that was to seek foreign support for the war. Thomas Johnson, along with Benjamin Franklin, and Benjamin Harrison V were initially named to the committee.
Thomas Johnson then returned to Maryland and continued his work in the state's Assembly when the United States Declaration of Independence was signed. In 1775 he drafted the declaration of rights adopted by the Maryland assembly and later included as the first part of the state's first constitution, which was adopted for Maryland by the state's constitutional convention at Annapolis in 1776. He also served as brigadier general in the Maryland militia. Thomas Johnson and his brothers supported the revolution by manufacturing ammunition and possibly cannon. Their former factory, Catoctin Furnace, is now part of a state park near Camp David, just north of Frederick, Maryland. The state legislature elected Johnson as the new state's first Governor in 1777. He served in that capacity until 1779. In the 1780s he held a number of judicial posts in Maryland, as well as served in the assembly in 1780, 1786, and 1787. He pushed a bill through the Maryland Assembly naming commissioners to meet with Virginia's commissioners to "…frame such liberal and equitable regulations concerning [the Potomac] river as may be mutually advantageous to the two states and that they make report thereon to the General assembly." While not a commissioner himself, the resulting conference agreed to regulate and settle the jurisdiction and navigation on their mutual border, and served as a predecessor to the Constitutional Convention of 1787. Thomas Johnson attended the Maryland Convention in 1788, where he successfully urged the state's ratification of the United States Constitution.
In September 1789, President George Washington nominated Johnson to be the first federal judge for the District of Maryland, but he declined the appointment. In 1790 and 1791, Johnson was the senior justice in the Maryland General Court system. In January 1791, President Washington appointed Johnson, with David Stuart and Daniel Carroll, to the commission that would lay out the federal capital in accordance with the Residence Act of 1790. In September 1791 the commissioners named the federal city "The City of Washington" and the federal district "The Territory of Columbia". On August 5, 1791, Johnson received a recess appointment from Washington to the seat on the U.S. Supreme Court that became available after John Rutledge resigned. Formally nominated on October 31, 1791, Johnson was confirmed by the United States Senate on November 7, 1791. Though he received his commission that day, he was not sworn in until August 6, 1792. Johnson was the author of the Court's first written opinion, Georgia v. Brailsford, in 1792. He served on the court until January 16, 1793, when he resigned, citing his poor health and the difficulties of circuit-riding. His tenure of 163 days is the shortest, to date, of any Justice. Thomas Johnson suffered very poor health for many years, and cited it in declining Washington's 1795 offer to nominate him for Secretary of State, as Thomas Jefferson had recommended. He managed to deliver a eulogy for his friend George Washington at a birthday memorial service on February 22, 1800. On February 28, 1801, President John Adams named Johnson chief judge for the District of Columbia when first constituting that body. His daughter Ann had married John Colin Grahame in 1788, and in his later years Johnson lived with them in a home they had built in Frederick, Maryland. The home, called Rose Hill Manor, is now a county park and open to the public. Governor Thomas Johnson High School is on half of the Rose Hill property. He died at Rose Hill on October 26, 1819, and was originally buried in All Saints churchyard. His remains were removed and re-interred at Mount Olivet Cemetery in Frederick.
Born
November, 04, 1732
British America
St. Leonard, Maryland
Died
October, 26, 1819
USA
Frederick, Maryland
Cemetery
Mount Olivet Cemetery
Frederick, Maryland
USA
1352 profile views