Theresa Saldana
(Theresa Saldana)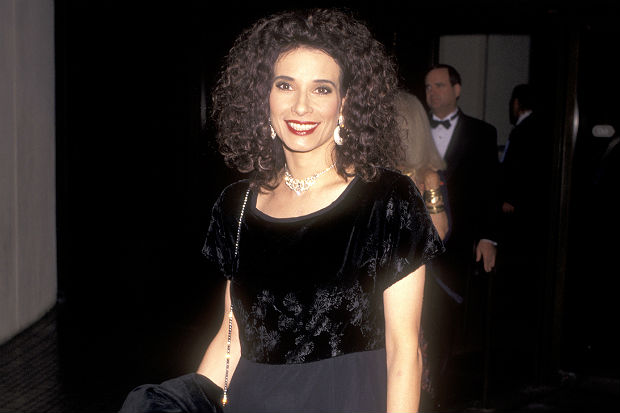 Theresa Saldana
Theresa Saldana, who co-starred on The Commish and in Raging Bull but whose most lasting legacy might be the victims' advocacy work she undertook following a near-fatal stalking incident in 1982, has died. She was 61. Two friends confirmed her death in Facebook posts Monday. She had been hospitalized in Los Angeles, but no cause of death was given. UPDATE: A memorial service for family and friends was held Tuesday June 14.
Brooklyn native Saldana had appeared in a number of films in the late 1970s and early '80s, including as the wife of Joey La Motta (Joe Pesci) in Best Picture Oscar nominee Raging Bull, when she was the victim of a horrific assault. In March 1982, she was stabbed several times outside her West Hollywood home by a mentally disturbed fan who had stalked her. She barely survived the attack — which took place two years after the assassination of John Lennon and seven years before the murder of My Sister Sam actress Rebecca Schaeffer — but went on to resume her acting career and provide both a face and a voice to the then-new issue of celebrity stalking.
Saldana became a devoted victims' advocate, founding the Victims for Victims organization that fought for the establishment of anti-stalking laws and playing herself in the 1984 TV movie Victims for Victims: The Theresa Saldana Story, directed by Karen Arthur. Her memoir, Beyond Survival, was published in 1987.
"I was so saddened to hear the news of Theresa Saldana's untimely death," her Raging Bull director Martin Scorsese said. "I have such good memories of working with her on Raging Bull, and I always admired the way that she handled the horrifying attack by a stalker—the good that she made of it. She was a wonderful actress and a fine human being, and my heart goes out to her loved ones."
She first gained attention in Robert Zemeckis's 1978 film I Wanna Hold Your Hand and, after her recovery, became a familiar presence on episodic TV. Saldana guested on a number of popular series including T.J. Hooker, Cagney & Lacey andSimon & Simon and continued to work in TV and film through the 1980s. Her big break came in 1991, when she was tapped to star opposite Michael Chiklis in ABC's crime drama The Commish. She played the supportive wife of the title character, a tough-but-kind New York police commissioner. Saldana earned a Golden Globe nom for her role on the series, which aired 90-plus episodes from 1991-96.
She also co-starred with Charles Bronson in the 1984 thriller The Evil That Men Doand continued to work in TV into the early 2000s, appearing on such series as Law & Order, Diagnosis Murder, Martial Law, All My Children and most recently Bernie Mac.
Born
August, 20, 1954
New York, New York
Died
June, 06, 2016
Los Angeles, California
Cause of Death
Cemetery
1986 profile views