Theresa Harris
(Theresa Harris)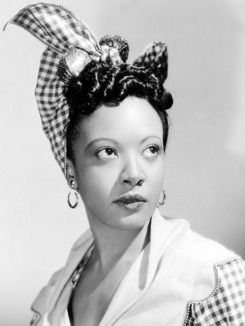 Theresa Harris was born on New Year's Eve 1906 (some sources indicate 1909) in Houston, Texas to Isaiah (1879–1956) and Mable (1883–1964) Harris, both of whom were former sharecroppers from Louisiana. Harris' family relocated to Southern California when she was 11 years old. After graduating Jefferson High School, she studied at the UCLA Conservatory of Music and Zoellner's Conservatory of Music. She then joined the African American musical comedy theatre troupe, the Lafayette Players. In 1929, she traveled to Hollywood where she embarked on an acting career. She made her film debut in Thunderbolt, singing the song "Daddy Won't You Please Come Home". As she entered the 1930s she found herself playing maids to fictitious Southern belles, socialites and female molls played by such actresses as Ginger Rogers, Bette Davis, Sylvia Sidney, Frances Dee, Myrna Loy, Jean Harlow, Esther Williams, Thelma Todd, Kay Francis, and Barbara Stanwyck. These parts, however, were sometimes uncredited. She also floated around studios doing bit-parts, usually at Warner Bros. or Metro-Goldwyn-Mayer. Aside from maids, she also specialized in playing blues singers, waitresses, tribal women, prostitutes, and hat check girls. Theresa Harris had a featured role as a friend of Jean Harlow in MGM's Hold Your Man (1932), also starring Clark Gable. In 1933, she starred as Chico in the Warner Bros. Pre-code production of Baby Face, starring Barbara Stanwyck. That same year, Harris starred in a substantial role opposite Ginger Rogers in Professional Sweetheart. As Rogers' character's maid, Harris' character subs for Rogers' character as a singer on the radio. Despite the fact that Harris' character was a major point for the story's plot development, she was uncredited for the role.
Throughout the 1930s, Harris played many uncredited parts in films such as Horse Feathers (1932), Gold Diggers of 1933 (1933), Mary Stevens, M.D. (1933) and Morning Glory (1933). She also played Bette Davis's maid Zette in the film Jezebel (1938). In 1937, she appeared in the race film Bargain With Bullets opposite Ralph Cooper for Million Dollar Productions which was owned by Cooper. While doing promotion for the film, Harris spoke about her frustration over the difficulty African American actors faced in the film industry stating, "I never had the chance to rise about the role of maid in Hollywood movies. My color was against me anyway you looked at it. The fact that I was not "hot" stamped me either as uppity or relegated me to the eternal role of stooge or servant. […] My ambition is to be an actress. Hollywood had no parts for me." She also praised Ralph Cooper for starting a production company that produced films starring African American actors. She said, "We have nothing to lose in the development of an all-colored motion picture company. The competition will make Hollywood perk up and produce better films with our people in a variety of roles." Theresa Harris continued to lobby for better parts but found few opportunities within Hollywood.
In addition to films, Harris also performed in many radio programs including Hollywood Hotel. Harris was often paired with Eddie Rochester Anderson, who portrayed her on-screen boyfriend. They appeared together in Buck Benny Rides Again (1940) and What's Buzzin' Cousin (1943). In Buck Benny Rides Again, Harris and Anderson performed the musical number, "My, My," where they sing and dance tap, classical, Spanish, and swing. She also appeared in several prominent roles for RKO Pictures as she was a favorite of RKO producer Val Lewton who routinely cast African American actors in non-stereotypical roles. In 1942, Lewton cast Harris as a sarcastic waitress in Cat People, followed by roles in I Walked with a Zombie (1943), Phantom Lady (1944), and Strange Illusion (1945). During the 1950s, Harris appeared several times on television on such shows as Lux Video Theatre, Alfred Hitchcock Presents, and Letter to Loretta. She made her last film appearance in an uncredited role in The Gift of Love in 1958. Harris later married a doctor and retired from acting, living comfortably after having carefully invested the money she made during her career in the movies. On October 8, 1985, Theresa Harris (then known as Theresa Robinson) died of undisclosed causes in Inglewood, California. She was buried in Angelus-Rosedale Cemetery in Los Angeles, California.
Born
December, 31, 1906
USA
Houston, Texas
Died
October, 08, 1985
USA
Inglewood, California
Cemetery
Angelus Rosedale Cemetery
Los Angeles, California
USA
4818 profile views