Telly Savalas
(Aristotelis Savalas)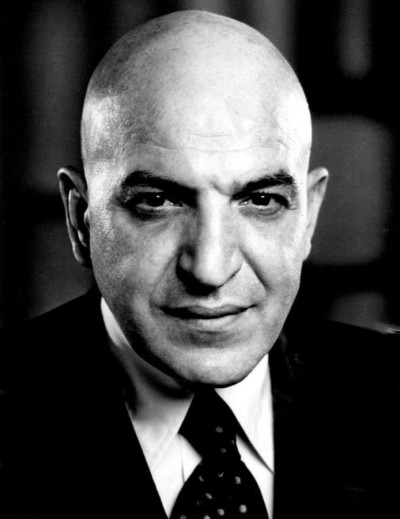 Telly Savalas
Telly Savalas was born as Aristotelis Savalas on January 21, 1922, in Garden City, New York, to Greek American parents Christina (née Kapsalis), a New York City artist who was a native of Sparta, and Nick Savalas, a Greek restaurant owner. Savalas and his brother Gus sold newspapers and shined shoes to help support the family. He entered Sewanhaka High School in Floral Park, New York, and graduated in 1940. He initially spoke only Greek when he entered grade school, but learned English. After graduation from high school he worked as a lifeguard, but on one occasion was unsuccessful at rescuing a man from drowning, an event which would haunt Savalas for the remainder of his life. When he entered Columbia University School of General Studies Savalas took courses including English language, radio, and psychology, graduating in 1948. At that time he fell in love with radio and television, which led to his interest in acting. Telly Savalas also served three years (1943–1946) in the United States Army during World War II, working for the US State Department as host of the Your Voice of America series, then at ABC News, before beginning an acting career in his late thirties. In 1950, Savalas hosted a radio show called The Coffeehouse in New York City. Telly Savalas began as an executive director and then senior director of the news special events at ABC. He then became an executive producer for the Gillette Cavalcade of Sports where he gave Howard Cosell his first job in television. Telly Savalas was a character actor on television series during 1959 and the 1960s. His first acting role was on "And Bring Home a Baby", an episode of Armstrong Circle Theatre in January 1958. He appeared on two more episodes of this same series in 1959 and 1960. Between 1959 and 1967, he made more than fifty guest appearances in such series as Naked City, Empire, Arrest and Trial, The Eleventh Hour, King of Diamonds, The Aquanauts, The Untouchables, Diagnosis: Unknown, Burke's Law, Combat!, The Fugitive, Breaking Point, Bonanza, The Man from U.N.C.L.E., The F.B.I. and the The Twilight Zone classic episode "Living Doll" in which he can be seen with hair. He had a recurring role as Brother Hendricksen on the popular crime drama series, 77 Sunset Strip and was a regular on the short-lived NBC television series Acapulco. In 1980, he starred in the TV film Alcatraz: The Whole Shocking Story.
While playing Lucky Luciano on the TV series The Witness, he was "discovered" by actor Burt Lancaster. He appeared with Lancaster in four movies – the first of these was the crime drama The Young Savages (1961). After playing a police officer in this movie, he moved on to play a string of heavies. Once again opposite Lancaster, he won acclaim and an Oscar nomination for Best Supporting Actor for his performance as the recidivist prisoner Feto Gomez in Birdman of Alcatraz (1962). In the same year he appeared alongside Gregory Peck and Robert Mitchum in Cape Fear (1962) as private detective Charles Sievers. Telly Savalas shaved his head for his role as Pontius Pilate in The Greatest Story Ever Told (1965), and decided to remain shaved for the remainder of his life. Telly Savalas played Archer Maggott in The Dirty Dozen (1967), the seminal ensemble action film by director Robert Aldrich. He later returned to play a different character in two of the movie's TV sequels – The Dirty Dozen: The Deadly Mission (1987) and The Dirty Dozen: The Fatal Mission (1988). He co-starred with Burt Lancaster for the third time in The Scalphunters (1968), a comedy western that looked at racism during the Civil Rights movement. Two more appearances in comedies for Savalas were as Herbie Haseler in Crooks and Coronets (1969) and opposite Clint Eastwood in Kelly's Heroes (1970) where he played the hard-as-nails company sergeant "Big Joe". Savalas performed a voice over for a 70s nature series on Yosemite National Park.
Savalas's best-known role was as the star of the television series Kojak. The series originated with the TV movie pilot The Marcus-Nelson Murders (CBS, 1973), which was based on the real-life Career Girls Murder case. Savalas' character was named Theo "Kojack" in his first appearance. Lt. Theo Kojak was a bald New York City detective with a fondness for lollipops and whose tagline was "Who loves ya, baby?" (He also liked to say "Everybody should have a little Greek in them.") Although the lollipop gimmick was added in order to indulge his sweet tooth, Savalas also smoked heavily onscreen – cigarettes, cigarillos and cigars – throughout the first season's episodes. The critic Clive James explained the lead actor's appeal as Kojak: "Telly Savalas can make bad slang sound like good slang and good slang sound like lyric poetry. It isn't what he is, so much as the way he talks, that gets you tuning in." He was nominated for an Emmy Award for Outstanding Lead Actor in a Drama Series two years in succession, winning the Emmy in 1974. He was also nominated for the Golden Globe for Best Actor in a TV Drama Series from 1975 to 1978, winning twice, in 1975 and 1976. His younger brother George played the regular role of Detective Stavros – a sensitive, wild-haired, quiet, comedic foil to Kojak's street-wise humor in an otherwise dark dramatic TV series. Kevin Dobson played the role of Kojak's trusted young partner, Det. Bobby Crocker. The on-screen chemistry of Savalas and Dobson was a success story of 1970s television. After the show's cancellation, Dobson went on to further fame in the popular prime-time 1980s soap opera Knots Landing. As a result, he did not appear in a majority of Kojak TV movies. Savalas and Dobson were reunited on-screen for one last time when they appeared together in the 1990 TV movie Kojak: It's Always Something, where Dobson's character was a lawyer – similar to his role on Knots Landing – instead of a police officer.
Dobson said of his first meeting with Savalas: "The moment I met Telly Savalas, we shook hands and our eyes met and locked and the chemistry was there." Dobson added: "The lollypop started in the 5th show. We were in Kojak's office and Telly said," Hey Kevin, I need somethin here." George handed Telly an apple and I said "NO" and a stagehand was standing off to the side(half asleep) with a lollypop was jammed into his shirt packet along with cigs, pens,toothbrush etc. and I said "Yo,the lollypop" as I motioned with my fingers (gimme the tootsie pop) and then said "Telly, here yah go!". Thus the beginning of the "lollypop cop" ."  In 1978, after five seasons and 118 episodes, CBS canceled the show because of lowered ratings. Savalas was unhappy about the show's demise, but he got the chance to reprise the Kojak persona in several television films. Telly Savalas died on January 22, 1994, the day after his 72nd birthday, of complications of cancer of the bladder and prostate[24] at the Sheraton-Universal Hotel in Universal City, California. He had lived at the Sheraton in Universal City for 20 years, becoming such a fixture at the hotel bar that it was renamed Telly's. Savalas was interred at the George Washington section of Forest Lawn – Hollywood Hills Cemetery in Los Angeles, California. The funeral, held in the Saint Sophia Greek Orthodox Church, was attended by his third wife, Julie, and his brother Gus. His first two wives, Katherine and Marilyn, also attended with their own children. The mourners included Angie Dickinson, Nicollette Sheridan, Jennifer Aniston, Kevin Sorbo, Sally Adams, Frank Sinatra, Don Rickles, and several of Telly's Kojak co-stars – Kevin Dobson, Dan Frazer, and Vince Conti.
Born
January, 21, 1922
Garden City, New York
Died
January, 22, 1994
Universal City, California
Cause of Death
bladder and prostate cancer
Cemetery
Forest Lawn Memorial Park (Hollywood Hills)
Los Angeles, California
6721 profile views