Tammi Terrell
(Thomasina Winifred Montgomery)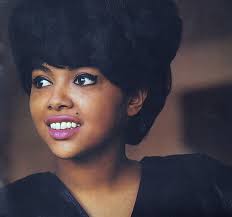 Tammi Terrell
Over a span of just 12 months beginning in April 1967, the duo of Marvin Gaye and Tammi Terrell enjoyed a string of four straight hits with some of the greatest love songs ever recorded at Motown Records. Sadly, only the first two of those four hits were released while Tammi Terrell was still well enough to perform them. In October 1967, just six months after the release of the now-classic "Ain't No Mountain High Enough," Terrell collapsed onstage during a live performance at Virginia's Hampton-Sydney College. Two-and-a-half years later, on March 16, 1970, Tammi Terrell died of complications from the malignant brain tumor that caused her 1967 collapse.
Tammi Terrell was only 24 years old at the time of her death, but she already had more than 10 years of show-business experience behind her. By the age of 13, working under her given name, Tammy Montgomery, she was appearing as an opening act in the Philadelphia area for the likes of Gary "U.S." Bonds and Patti Labelle & the Bluebelles. She had a record deal—but no hit records—at 16, then joined James Brown's live revue as a backup singer at 18. In 1965, at the age of 20, she was signed to Motown Records, but had only moderate success with her initial solo recordings. Then, in early 1967, Motown decided to pair her with Marvin Gaye, who had several top-10 hits to his credit at that point, but was by no means a major star. Working with Motown's newest songwriters, the husband-and-wife team of Nickolas Ashford and Valerie Simpson, he and Terrell became a sensation. After "Ain't No Mountain High Enough" came five more Ashford & Simpson singles, three of them major R&B hits: "Your Precious Love," "Ain't Nothing Like the Real Thing" and "You're All I Need to Get By."
Terrell's illness was at first downplayed by the Motown Records publicity machine while new material by the duo of Gaye and Terrell was still being released. Many of the singles released under their names were created by laying Marvin Gaye's vocals over existing recordings of Terrell made prior to her illness. Gaye scored one of his biggest solo hits ever during this period with "I Heard It Through the Grapevine," but following Terrell's death in 1970, he stopped performing live for the next three years.
Born
April, 29, 1945
Philadelphia, Pennsylvania
Died
March, 16, 1970
Philadelphia, Pennsylvania
Cause of Death
Cemetery
Mount Lawn Cemetery
Sharon Hill, Pennsylvania
19003 profile views