Sylvia Browne
(Sylvia Celeste Browne)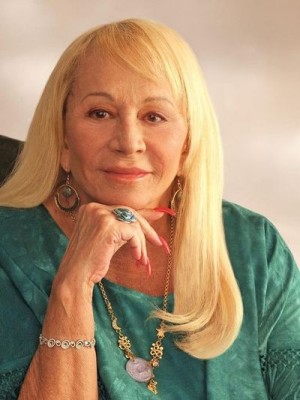 Sylvia Browne
Browne grew up in Kansas City, Missouri, the daughter of Celeste (née Coil) and William Lee Shoemaker. Her father held several different jobs, working at times in mail delivery, in jewelry sales, and as a vice president of a major freight line. Browne was raised mostly as a Catholic, and was said to have Jewish, Episcopalian, and Lutheran relatives.  Browne claimed that she started seeing visions at the age of five, and that her grandmother, who claimed to be a psychic medium, helped her understand what they meant. Browne also claimed her great-uncle was a psychic medium and was "rabid about UFOs".
Browne was the head of the Sylvia Browne Corporation and Sylvia Browne Enterprises. In a 2010 interview, Browne's business manager said that Browne's businesses earn $3 million a year.  Browne started to give psychic readings in 1974, and performed thousands of one-on-one readings for a wide variety of groups and individuals. As of 2008, she charged $750 for a 20- to 30-minute telephone session.  Browne was the author of dozens of books on paranormal and spiritual topics. She discussed a wish for people to feel that they are loved by God. Browne claimed that God comprises both a male and a female part, named Om and Azna respectively. She stated that the entity of God loves all people and living beings equally, no matter what one's specific religious or spiritual beliefs are. According to Browne, this includes atheists. Browne wrote that people's actions and intentions define a person and soul, and that people of all religions, spiritual beliefs, and non-beliefs may go to "the Other Side", as she referred to Heaven. Browne wrote that she presented her beliefs in a way that allows readers or listeners to take what they want from her teachings and leave behind what they do not agree with.
Browne was a frequent guest on US television and radio programs, including Larry King Live, The Montel Williams Show, That's Incredible!, and Coast to Coast AM. During these appearances, she usually discussed her abilities with the host and then performed readings for audience members or callers. On certain occasions she was paired with other guests, including skeptics, often leading to debate about the authenticity of Browne's psychic abilities. These shows often featured verbal sparring between the two, with each trying to convince the audience that the other was wrong.  Browne hosted her own hour-long Internet radio show on Hay House Radio, where she performed readings and discussed paranormal issues.  Browne appeared in a 1991 episode of Haunted Lives: True Ghost Stories. In the segment "Ghosts R Us", she portrayed herself in a recreation of events that purportedly took place in a haunted Toys R Us store. Browne also appeared as herself on the television soap opera The Young and the Restless in December 2006.
In 1986, Browne founded a Campbell, California church known as the Society of Novus Spiritus, which describes itself as "Gnostic Christian". The church states that they carry on the traditions and teachings followed by Jesus Christ, while incorporating the Gnostic Gospels and not excluding Buddhism, Judaism, Islam, or Hinduism. The Novus Spiritus website says that while the Bible is a "marvelous book of learning and hope", it is not the "unaltered word of God".
Browne claimed that she knew what it is like in Heaven. In her book The Other Side and Back, she says the temperature is a constant 78 °F (25.6 °C), that there are no insects unless one wants there to be, that pets go to Heaven, and that a house can be built wherever one wants. She asserted that the "other side" exists approximately three feet above ground level and at a "higher vibrational level" and that this makes it difficult for humans to perceive. Like a number of other psychics, she claimed to have been born able to perceive a wider range of "vibrational frequencies".  Browne declared that she could see angels, and that they looked similar to depictions in paintings but had different traits depending on their "phylum". She also claimed that they do not speak. Browne professed the ability to speak with her spirit guide, "Francine", and gave details of 54 of her own former lives as divined by her.
Browne married four times. Her first marriage, from 1959 to 1972, was to Gary Dufresne. The couple had two sons, Paul and Christopher. She took the surname Brown upon her third marriage, and later changed it to Browne. Her fourth marriage took place on February 14, 2009, to Michael Ulery, the owner of a jewelry store.  Browne claimed that her son, Christopher Dufresne, is also a psychic. Her website says, "If Sylvia is the best psychic around—then Chris is the second best."  In March 2011, Society of Novus Spiritus, the church founded by Browne, announced that Browne had suffered a heart attack on March 21 in Hawaii. The church requested donations on Browne's behalf.  Browne died on November 20, 2013, at the age of 77, at Good Samaritan Hospital in San Jose, California.
Born
October, 19, 1936
Kansas City, Missouri
Died
November, 20, 2013
San Jose, California
Cemetery
Oak Hill Memorial Park
San Jose, California
16759 profile views