Sydney Pollack
(Sydney Irwin Pollack)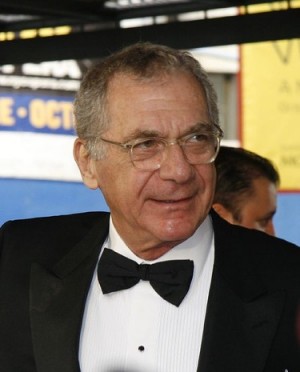 Sydney Pollack
was an American film director, producer and actor. Pollack directed more than 21 films and 10 television shows, acted in over 30 films or shows, and produced over 44 films. Some of his best known works include Jeremiah Johnson (1972), The Way We Were (1973), Three Days of the Condor (1975) and Absence of Malice (1981). His 1985 film Out of Africa won him Academy Awards for directing and producing; he was also nominated for Best Director Oscars for They Shoot Horses, Don't They? (1969) and Tootsie (1982), in the latter of which he also appeared. His subsequent films included Havana (1990), The Firm (1993), Sabrina (1995), The Interpreter (2005), and as producer for and actor in Michael Clayton (2007).
Pollack found initial success in television in the 1960s by directing episodes of series such as The Fugitive and Alfred Hitchcock Presents. After doing TV, he made the jump into film with a string of movies that drew public attention. His film-directing debut was 1965's The Slender Thread, starring Sidney Poitier and Anne Bancroft. Over time, Pollack's films received a total of 48 Academy Award nominations, winning 11 Oscars. His first Oscar nomination was for his 1969 film They Shoot Horses, Don't They?, and his second in 1982 for Tootsie. For his 1985 film Out of Africa starring Meryl Streep and Robert Redford, Pollack won Academy Awards for directing and producing.
During his career, he directed 12 different actors in Oscar-nominated performances: Jane Fonda, Gig Young, Susannah York, Barbra Streisand, Paul Newman, Melinda Dillon, Jessica Lange, Dustin Hoffman, Teri Garr, Meryl Streep, Klaus Maria Brandauer and Holly Hunter. Only Young and Lange won Oscars for their performances in one of Pollack's films.
His disputes with Hoffman during the filming of Tootsie became well-known. Eventually Hoffman began pushing the idea that Pollack play the role of his agent, and Pollack reluctantly agreed despite not having had any film roles in 20 years. Their off-screen relationship added authenticity to their scenes in the movie, most of which feature them arguing. Pollack subsequently took on more acting roles in addition to producing and directing. He appeared as himself in the documentary One Six Right, describing his joy in owning and piloting his Citation X jet aircraft.
One of a select group of non- and/or former actors awarded membership in The Actors Studio, Pollack resumed acting in the 1990s with appearances in such films as The Player (1992) and Eyes Wide Shut (1999), often playing corrupt or morally conflicted power figures. As a character actor, Pollack appeared in films such as A Civil Action, and Changing Lanes, as well as his own, including Random Hearts and The Interpreter (the latter also being his final film as a director). He also appeared in Woody Allen's Husbands and Wives as a New York lawyer undergoing a midlife crisis, and in Robert Zemeckis's Death Becomes Her as an emergency room doctor. His last role was as Patrick Dempsey's father in the 2008 romantic comedy Made of Honor, which was playing in theaters at the time of his death. He was a recurring guest star on the NBC sitcom Will & Grace, playing Will Truman's (Eric McCormack) unfaithful but loving father, George Truman. In addition to earlier appearances on NBC's Just Shoot Me and Mad About You, in 2007 Pollack made guest appearances on the HBO TV series The Sopranos and Entourage.
Pollack received the first annual Extraordinary Contribution to Filmmaking award from the Austin Film Festival on October 21, 2006. As a producer he helped to guide many films that were successful with both critics and movie audiences, such as The Fabulous Baker Boys, The Talented Mr. Ripley, and Michael Clayton, a film in which he also starred opposite George Clooney, and for which he received his sixth Academy Award nomination, in the Best Picture category. He formed a production company called Mirage Enterprises' with the English director Anthony Minghella. The last film they produced together, The Reader, earned them both posthumous Oscar nominations for Best Picture.
Born
July, 01, 1934
Lafayette, Indiana
Died
May, 26, 2008
Los Angeles, California
Cause of Death
Cemetery
Other
cremated, and his ashes were scattered along the runway at the Van Nuys Airport in Los Angeles
16878 profile views