Susan Tyrrell
(Susan Tyrrell)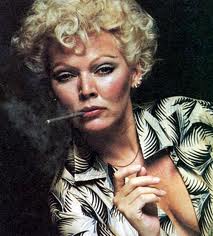 Susan Tyrrell
Susan Tyrrell (born Susan Jillian Creamer; March 18, 1945 – June 16, 2012), was an American actress who appeared in dozens of film, stage and television productions over a forty-year career. Her performance as Oma in John Huston's Fat City (1972) earned her a nomination for an Academy Award for Best Supporting Actress. In 1978, Tyrrell received the Saturn Award for Best Supporting Actress for her performance in Andy Warhol's Bad (1977). Consisting of nearly 80 film and television credits, her work includes Forbidden Zone (1980), Tales of Ordinary Madness (1981), Night Warning (1982), Angel (1984) and its sequel, Avenging Angel (1985) and Cry-Baby (1990).
Early life and career
Tyrrell was born in San Francisco, California to Gillian (née Tyrrell 1913-2012); and John Creamer, who divorced. She had two sisters, Candace and Carole, and a half-brother, Peter from her father's re-marriage. Her mother was from England and remarried to Thomas Hoyt; she was a socialite and member of the diplomatic corps in China and the Philippines during the 1930s and 1940s. Her father John was an agent with the William Morris Agency for Leo Carrillo, Loretta Young, Ed Wynn and Carole Lombard. Tyrrell was raised in New Canaan, Connecticut; rebelling against her mother's expectations, she received poor grades and was frequently expelled from school. As a teenager, she became estranged from Gillian. Tyrrell landed her first role through her father, starring with Art Carney in the New York City theatrical production of Time Out for Ginger (1963); Although John persuaded Look magazine to follow her as she toured with the show, he died shortly afterwards from a reaction to a bee sting. Tyrrell made her Broadway debut in 1965 as a replacement in the comedy Cactus Flower. As a member of the Repertory Theatre of Lincoln Center, she was in the ensemble of a 1968 production of King Lear and revivals of The Time of Your Life (1969) and Camino Real (1970). Off-Broadway, Tyrrell appeared in the 1967 premiere of Lanford Wilson's The Rimers of Eldritch and a 1979 production of Father's Day at The American Place Theatre.
After this, the actress was typecast as a prostitute, alcoholic or sexpot. Tyrrell made her television debut in Mr. Novak (1964) as a student accused of murdering her parents.
Career
1970s
After the actress' film debut in Shoot Out (1971), her performance as Oma in John Huston's Fat City earned her a 1972 Academy Award nomination for Best Supporting Actress. Tyrrell recalled in a 2000 interview how the 66-year-old director prepared her for the role by taking her on an alcohol-fuelled tour of northern California, during which Huston employed the casting couch: "I can't describe to you how horrible it was. Goddamn bastard. I still hate him."
Despite an Academy Award-nominated role, finding steady work was difficult:
"It was hell, I couldn't even get a job as a bad lady. I went up for bad lady parts and they'd say, 'You're too beautiful now. We thought you were a bad lady from Fat City'. Then I'd go up for beautiful parts and they'd say, 'You're not beautiful enough'."
Tyrrell's next role was Emilia in Patrick McGoohan's Catch My Soul (1974), a film loosely based on Shakespeare's Othello. Other roles included a local woman in Jan Troell's Zandy's Bride (1974) and a sadomasochistic prostitute in Burt Kennedy's The Killer Inside Me (1976), a film adaptation of Jim Thompson's 1952 novel of the same name. In 1977 Tyrrell played warmhearted prostitute Lil in Franklin J. Schaffner's Islands in the Stream, an adaptation of Ernest Hemingway's 1970 novel. That year, her performance in Andy Warhol's Bad earned her the Saturn Award for Best Supporting Actress. This was followed by roles as an institutionalized woman in Anthony Page's I Never Promised You a Rose Garden (1977), a film based on the Joanne Greenberg novel; Lisa Blount's scandalous mother in James Bridges' September 30, 1955 (1977) and a teacher in Claude Lelouch's Another Man, Another Chance (1977).
1980s
Tyrrell played the lewd Queen Doris in Richard Elfman's low-budget indie Forbidden Zone (1980), and was credited with a song ("Witch's Egg") in the film; its soundtrack was composed primarily by Elfman's younger brother Danny and his band, Oingo Boingo. Other roles included an incarcerated woman in the made-for-television film Willow B: Women in Prison (1980), a police officer's drug-addicted wife in Subway Riders (1981) and the provocative, offensive Vera in Tales of Ordinary Madness (1981). From 1981 to 1982, Tyrrell starred as an eccentric wife in ABC's short-lived situation comedy series Open All Night. She then played a woman harboring incestuous fantasies about her nephew in the exploitation horror film Night Warning (1982) and the madam of a local brothel in the prison drama Fast-Walking (1982).
In 1985 Tyrrell played Solly, a tough, foul-mouthed lesbian, in the sexploitation film Angel and its sequel, Avenging Angel. In the first film Solly sparred with co-star Dick Shawn over a game of cribbage; in the sequel, Solly acted as a den mother to a group of transvestite prostitutes and raised an abandoned baby. Roles as a pregnant prostitute in Paul Verhoeven's adventure film Flesh+Blood, a reporter in the Vincent Price anthology horror film From a Whisper to a Scream (1985) and a circus owner's extremely-small wife in Big Top Pee-wee (the 1988 sequel to 1985's Pee-wee's Big Adventure) followed.
1990s
The actress played the title character's grandmother in John Waters' Cry-Baby (1990); a lesbian vampire biker in the Tales from the Crypt episode, "Comes the Dawn" (1995); the voice of the disease-spreading ghost Achira in the two-part opening of Extreme Ghostbusters (1997); a hunted mayor of a futuristic city in the direct-to-video film The Demolitionist (1995); the mother of a lesbian daughter in the ensemble film Relax…It's Just Sex (1998), and an alcoholic mother in the psychological thriller film Buddy Boy (1999).
2000s
Later roles included a fortune teller in Bob Dylan's Masked and Anonymous (2003) and a high priestess in The Devil's Due at Midnight (2004). Tyrrell's final role (2012) was a woman trapped in a well in Nathan and David Zellner's Kid-Thing.
Personal life
In early 2000, Tyrrell lost both legs below the knees as a result of blood clots from the rare blood disease essential thrombocythemia. In 2008 she moved to Austin, Texas to be closer to her niece, Amy Sweet, and died there on June 16, 2012. According to Sweet, Tyrrell kept a journal; a January 2012 entry read, "I demand my death be joyful and I never return again."
Born
March, 15, 1945
United States
California
Died
June, 16, 2012
United States
Texas
17054 profile views