Susan Oliver
(Susan Oliver)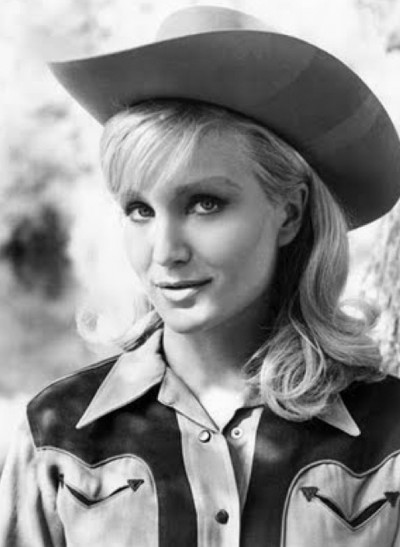 By September 1949 and using her new name, Susan Oliver returned to the East Coast to begin drama studies at Swarthmore College, followed by professional training at the Neighborhood Playhouse in New York City. After working in summer stock, regional theater and in unbilled bits in daytime and primetime TV shows and commercials, she made her first major television appearance playing a supporting role in the July 31, 1955 episode of the live drama series Goodyear TV Playhouse, and quickly progressed to leading parts in other shows. Oliver did numerous TV shows in 1957 and appeared on stage. She began the year with an ingenue part, as the daughter of an 18th-century Manhattan family, in her first Broadway play, Small War on Murray Hill, a Robert E. Sherwood comedy. That same year, Oliver replaced Mary Ure as the female lead in the Broadway production of John Osborne's play Look Back in Anger. The play's short run was immediately followed by larger roles in live TV plays on Kaiser Aluminum Hour, The United States Steel Hour and Matinee Theater. Oliver then went to Hollywood, where she appeared in the November 14, 1957 episode of Climax!, one of the few live drama series based on the West Coast, as well as in a number of filmed shows, including one of the first episodes of NBC's Wagon Train, Father Knows Best, The Americans, and Johnny Staccato. In July 1957 Oliver was chosen for the title role in her first motion picture, The Green-Eyed Blonde, a low-budget independent melodrama released by Warner Bros. in December on the bottom half of a double bill. It is the only motion picture on which Oliver received top billing.
In mid-1958 Susan Oliver began rehearsals for a co-starring role in Patate, her second Broadway play. Its seven-performance run was even shorter than that of Small War on Murray Hill, but won Oliver a Theatre World Award for "Outstanding Breakout Performance"; it was her last Broadway appearance. On April 6, 1960, the 28-year-old Oliver played a spoiled young runaway, Maggie Hamilton, in "The Maggie Hamilton Story" on NBC's Wagon Train. Flint McCullough, played by Robert Horton, searches for her so the wagon train can proceed on schedule. Also in 1960, in an episode of The Deputy she played the long-lost daughter of star Henry Fonda's late girl friend, and appeared in the Zane Grey Theatre episode "Knife Of Hate" as Susan Pittman. In 1961 Oliver played the part of Laurie Evans in the episode "Incident of His Brother's Keeper" on CBS's Rawhide and in 1963, she played Judy Hall in the episode "Incident at Spider Rock." Susan Oliver also appeared in three episodes each of Adventures in Paradise, Twilight Zone, Route 66, Dr. Kildare, The Naked City, The Barbara Stanwyck Show, Burke's Law, The Fugitive, Gomer Pyle, U.S.M.C., I Spy, The Virginian, and The Name of the Game. She made one appearance on The Andy Griffith Show and ABC's family western series, The Travels of Jaimie McPheeters.
Her most challenging role during this time was as the ambitious wife of doomed country music legend Hank Williams (George Hamilton) in Your Cheatin' Heart (1964). The same year Susan Oliver also starred opposite Jerry Lewis in The Disorderly Orderly, and also appeared in The Love-Ins (1967) with Richard Todd. Susan Oliver appeared in television films including Carter's Army. Oliver had a continuing role as Ann Howard on ABC's prime-time serial Peyton Place in 1966. In the original Star Trek TV series Oliver played female lead character Vina in the first season two-part episode "The Menagerie" (1966). The footage featuring Oliver originated from the earlier of two pilot episodes, "The Cage" (1964). The framing device was needed because of significant format and cast changes, in particular Jeffrey Hunter played the Captain in the pilot episode. For a fantasy sequence in which her character appeared as an "Orion slave girl", she was covered in green makeup all over her body. A still of her with green skin was frequently seen in the end credits of the show, and became an iconic image of Star Trek, so much so that a 2014 documentary about Susan Oliver's life was titled The Green Girl. From 1975 to 1976 Oliver was a regular cast member of the soap opera Days of Our Lives and received her only Emmy nomination (for "Outstanding Performance by a Supporting Actress") in the three-hour, October 25, 1976, NBC made-for-TV movie Amelia Earhart. In addition to television roles Oliver also had roles in several theatrical features including The Gene Krupa Story (1959), BUtterfield 8 (1960), and The Caretakers (1963).
By the late 1970s with acting assignments becoming scarcer, Susan Oliver turned to directing. She was one of the original 19 women admitted to the American Film Institute's Directing Workshop for Women (AFI DWW) "who, upon her early death, left a good chunk of funding for the DWW." In 1977, she wrote and directed Cowboysan, her AFI DWW short film which presents the fantasy scenario of a Japanese actor and actress playing leads in an American western. Oliver directed two TV episodes, the October 25, 1982, installment of M*A*S*H and the December 4, 1983, entry of one of its sequel series, Trapper John, M.D.. In Oliver's last fully active years, she also appeared in the February 21, 1985, episode of Magnum, P.I., two episodes of Murder, She Wrote (March 31 and December 1), the February 12, 1987, episode of Simon & Simon and the January 10, 1988, episode of the NBC domestic drama Our House. She made her last onscreen appearance in the November 6, 1988 episode of the syndicated horror anthology Freddy's Nightmares. Oliver spent the remainder of her career in Hollywood, having appeared in more than one hundred television programs. Susan Oliver died from lung cancer on May 10, 1990, at the Motion Picture & Television Hospital in Woodland Hills, California.
Born
February, 13, 1932
USA
New York, New York
Died
May, 10, 1990
USA
Woodland Hills, California
Cause of Death
Other
5458 profile views