Stoney Cooper
(Dale Troy Cooper)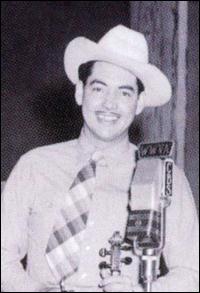 Stoney Cooper
Dale Troy "Stoney" Cooper and his wife Wilma Lee were one of the premier husband-and-wife duos in country music. Staples of the Grand Ole Opry for 20 years, they performed together for close to four decades, and helped old-time music evolve into modern country music.
They were born four years apart on opposite ends of Randolph County, WV. Cooper came from a family of fiddle players, while Wilma's family loved performing sacred songs, billing themselves as the Singing Leary Family. Following his high-school graduation, Cooper began fiddling for Rusty Hiser's Green Valley Boys at a radio station in West Virginia; Wilma's family was singing on the air in Virginia. Following the breakup of his band, Stoney joined the Learys as a sideman. He and Wilma began singing together and were married in 1941. The couple began their career together singing at various radio stations around the country, ending up on The Wheeling Jamboree and staying there for the next ten years as one of the show's most enduringly popular acts.
The duo signed to Columbia in 1949 and remained for five years, releasing several classic singles, including "Sunny Side of the Mountain" and the devotional "Walking My Lord Up Calvary Hill." Wilma Lee & Stoney Cooper formed a backing acoustic band called the Clinch Mountain Clan, featuring several Dobro, fiddle, and mandolin players over the years. They moved to Hickory Records in 1955 and the following year had two small hits. In 1957, the Coopers joined the Opry. Their most successful year was 1959, when they released three Top Five hits: "Come Walk with Me," "Big Midnight Special," and "There's a Big Wheel." They had two Top 20 hits in 1960 and scored their last chart appearance in 1961 with the Top Ten hit "Wreck on the Highway."
Stoney suffered a heart attack in 1963 and was forced to slow down considerably. The two moved to Decca in 1965 and tried to update their sound, without much success. In 1977, Stoney finally succumbed to his health problems. Wilma Lee continued to tour and play the banjo in a more bluegrass-oriented style; her performing days ended when she had a stroke while playing on the Grand Ole Opry stage in 2001, although she recovered sufficiently to appear at the Opry later as a non-performer and offer greetings and thank-yous to fans.
Born
October, 16, 1918
Harman, West Virginia
Died
March, 22, 1977
Nashville, Tennessee
Cause of Death
Cemetery
Woodlawn Memorial Park and Mausoleum
Nashville, Tennessee
16524 profile views