Steve Clark
(Stephen Maynard Clark)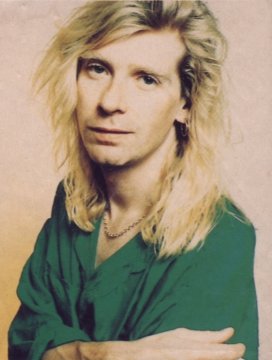 Before joining Def Leppard in 1978, Steve Clark played cover songs with his small band, Electric Chicken, in Sheffield. Around that time, he met Pete Willis (Def Leppard's original guitarist and founder). Clark asked for a spot in the band and joined Def Leppard in January 1978. According to Joe Elliott in Behind the Music, Clark auditioned for Def Leppard by playing all of Lynyrd Skynyrd's "Freebird" without accompaniment. While a guitarist for Def Leppard, he contributed to the band's music and lyrics. Clark and Pete Willis shared lead guitar duties, and Clark was nicknamed "The Riffmaster". When Willis was asked to leave, guitarist Phil Collen was recruited into the band. Clark and Collen quickly bonded, becoming close friends and leading to the trademark dual-guitar sound of Def Leppard. He and Clark became known as the "Terror Twins," in recognition of their talents and friendship. Part of their success as a duo was attributed by Collen to their ability to swap between rhythm and lead guitar, often both playing lead or both doing rhythm within the same song. Lead singer Joe Elliott told the same programme that Clark was not a technician, he was a guitarist who wore his instrument a few notches too low, and his style was a key part of the band's chemistry. Elliott referred to Clark as the "creative one" and Collen as a "total utter technician". Whereas Collen quit drinking alcohol during the 1980s in pursuit of a healthier lifestyle, Clark never managed to escape his addiction to alcohol.
Steve Clark primarily played Gibson guitars during his career and signed an endorsement with Gibson sometime before the commencement of the Hysteria World Tour. Gibson made some custom specification guitars for Clark. He was occasionally seen playing other guitars, including a Fender Stratocaster for the song and video "Love Bites". Clark would also use Fenders in the studio occasionally due to their unique sound. In the early days of Def Leppard's career Clark would often be seen on stage playing a Hamer Standard and a Hamer Special. Clark always stated that he was more of a traditionalist when it came to guitars. This can be seen in his selection of gear. At the time of his death, it was estimated that he owned approximately 75 guitars. Prior to his death, Clark contributed to the recording of half of the band's 1992 album, Adrenalize. Collen and Clark began working on what would become the song "White Lightning" during the recording sessions for the 1992 album, Adrenalize. Completed after Clark's death, the song described the effects of Clark's alcohol and drug addictions. Def Leppard enjoyed their most successful years commercially during the Clark era.
At the time of his death, Steve Clark was on a 6-month leave of absence from Def Leppard. On Tuesday 8 January 1991, Clark was found dead on his couch by Dean.[3] He was 30 years old. The autopsy revealed that he had died from an overdose of codeine. The autopsy also found that Clark had a blood alcohol level of .30 as well as the presence of the prescription drugs, Diazepam and morphine. No evidence of suicidal intent was discovered during the autopsy. Daniel Van Alphen, Clark's drinking companion the night before, testified that the two went to a local pub and returned to the guitarist's home at midnight to watch a video. He was buried at Wisewood Cemetery located in Loxley, Sheffield, near the Clark family estate. Tesla, who opened for Def Leppard on the Hysteria tour, recorded a tribute to Clark entitled "Song & Emotion (To Our Friend, Steve 'Steamin' Clark)" for their album, Psychotic Supper.
Born
April, 23, 1960
United Kingdom
Hillsborough, Sheffield, England
Died
January, 08, 1991
United Kingdom
London, England
Cause of Death
Cemetery
Wisewood Cemetery
Loxley, Sheffield
United Kingdom
4511 profile views