Stanley Kauffmann
(Stanley Kauffmann)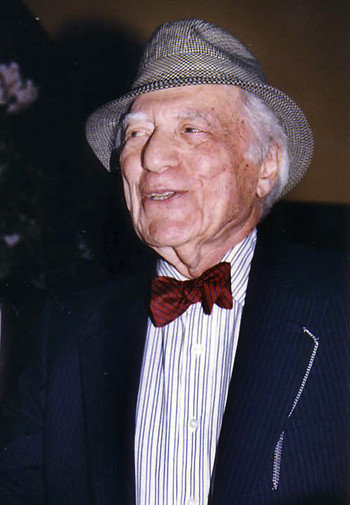 Kauffmann started with The New Republic in 1958 and contributed film criticism to that magazine for the next fifty-five years, publishing his last review in 2013. He had one brief break in his New Republic tenure, when he served as the drama critic for the New York Times for eight months in 1966.  He worked as an acquisitions editor at Ballantine Books in 1953, where he acquired the novel Fahrenheit 451, by Ray Bradbury. Several years later, while working as an editor at Alfred A. Knopf in 1959 he discovered a manuscript by Walker Percy, The Moviegoer. Following a year of rewrites and revisions, the novel was published in 1961, and went on to win a National Book Award in 1962.
Kauffmann was a long-time advocate and enthusiast of foreign film, helping to introduce and popularize in America the works of directors such as Ingmar Bergman, François Truffaut, Claude Chabrol, and Yasujiro Ozu. He inspired and influenced younger film and cultural critics such as Roger Ebert and David Denby.  Kauffmann was also a professor of English, Drama, and Film at City University of New York (1973–76) and also taught at the Yale School of Drama.
Kauffmann was featured in the 2009 documentary For the Love of Movies: The Story of American Film Criticism where he was shown discussing the beginnings of film criticism in America, and noting the important contributions of poet Vachel Lindsay, who grasped that "the arrival of film was an important moment in the history of human consciousness".  Kauffmann attended DeWitt Clinton High School in the Bronx and New York University where he received a Bachelor of Fine Arts degree in 1935, and was an actor and stage manager with the Washington Square Players. Kauffmann married Laura Cohen in 1943; they did not have children. Kauffmann died of pneumonia at St. Luke's Hospital in Manhattan on October 9, 2013, aged 97.
Born
April, 24, 1916
USA
New York, New York
Died
October, 09, 2013
USA
Manhattan, New York
16819 profile views