Stanford Ovshinsky
(Stanford Ovshinsky)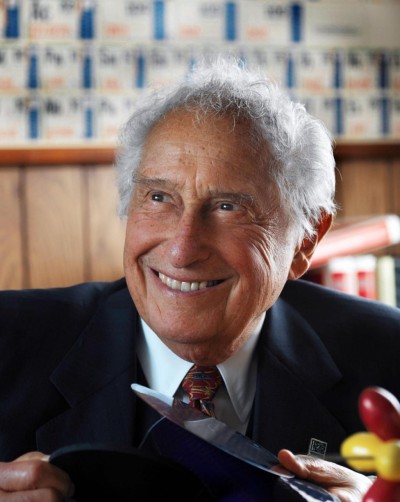 Stanford Robert Ovshinsky (November 24, 1922 – October 17, 2012) was a prolific American inventor and scientist who had been granted well over 400 patents over fifty years, mostly in the areas of energy and information. Many of his inventions have had wide ranging applications. Among the most prominent are: an environmentally friendly nickel-metal hydride battery, which has been widely used in laptop computers, digital cameras, cell phones, and electric and hybrid cars; flexible thin-film solar energy laminates and panels; flat screen liquid crystal displays; rewritable CD and DVD discs; hydrogen fuel cells; and nonvolatile phase-change memory.
Ovshinsky opened the scientific field of amorphous and disordered materials in the course of his research in the 1940s and 50s in neurophysiology, neural disease, the nature of intelligence in mammals and machines, and cybernetics. Amorphous silicon semiconductors have become the basis of many technologies and industries. Ovshinsky is also distinguished in being self-taught, without formal college or graduate training. Throughout his life, his love for science and his social convictions were the primary engines for his inventive work.
In 1960, Ovshinsky and his soon-to-be second wife, Iris Dibner, founded Energy Conversion Laboratory in a storefront in Detroit, dedicating the laboratory to the solution of important societal problems using science and technology. Focusing on the critical areas of energy and information, their new company, reconstituted in 1964 as Energy Conversion Devices (ECD), went on to become a forefront invention and development laboratory whose products have built new industries, many of them aimed at making fossil fuel obsolete. ECD continues (through joint ventures and license partners) to be a leading solar energy and battery production firm.
Roughly a year after Iris Ovshinsky's death in August 2006, Ovshinsky left ECD and established a new company, Ovshinsky Innovation LLC, devoted to developing the scientific basis for highly innovative and revolutionary energy and information technologies. In October 2007 he married Rosa Young, a physicist who had worked at ECD on numerous energy technologies including a hydrogen-powered hybrid car and on Ovshinsky's vision of a hydrogen-based economy.
Ovshinsky died of prostate cancer on October 17, 2012, aged 89 in Bloomfield Hills, Michigan. His last public appearance was at Louis Riel School in Calgary, Alberta, Canada.
Born
November, 24, 1922
USA
Akron, Ohio
Died
October, 17, 2012
USA
Bloomfield Hills, Michigan
Cemetery
Farband and Workmen's Circle Cemeteries
Akron, Ohio
USA
15994 profile views