Spike Milligan
(Terence Alan Milligan)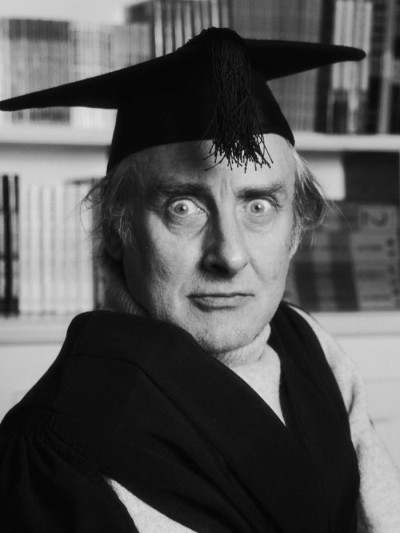 Milligan was born in Ahmednagar, India, on 16 April 1918, the son of an Irish father, Captain Leo Alphonso Milligan, MSM, RA (1890–1969), who was serving in the British Indian Army. His mother, Florence Mary Winifred Kettleband (1893–1990), was English. He spent his childhood in Poona (India) and later in Rangoon, capital of British Burma. He was educated at the Convent of Jesus and Mary, Poona, and later at St Paul's High School, Rangoon. After returning from Burma, Milligan lived most of his life in the United Kingdom apart from overseas service in the British Army in the Royal Artillery during the Second World War. Milligan returned to jazz in the late 1940s and made a precarious living with the Hall trio and other musical comedy acts. He was also trying to break into the world of radio, as a performer or script writer. His first success in radio was as writer for comedian Derek Roy's show. After a delayed start, Milligan, Peter Sellers, Harry Secombe and Michael Bentine joined forces in a relatively radical comedy project, The Goon Show. During its first season the BBC titled the show as Crazy People, or in full, The Junior Crazy Gang featuring those Crazy People, the Goons!, an attempt to make the programme palatable to BBC officials, by connecting it with the popular group of theatre comedians known as The Crazy Gang.
The first episode was broadcast on 28 May 1951 on the BBC Home Service. Although he did not perform as much in the early shows, Milligan eventually became a lead performer in almost all of the Goon Show episodes, portraying a wide range of characters including Eccles, Minnie Bannister, Jim Spriggs and the nefarious Count Moriarty. He was also the primary author of most of the scripts, although he co-wrote many scripts with various collaborators, most notably Larry Stephens and Eric Sykes. Most of the early shows were co-written with Stephens (and edited by Jimmy Grafton) but this partnership faltered after Series 3. Milligan wrote most of Series 4 but from Series 5 (coinciding with the birth of the Milligans' second child, Seán) and through most of Series 6, he collaborated with Eric Sykes, a development that grew out of his contemporary business collaboration with Sykes in Associated London Scripts. Milligan and Stephens reunited during Series 6 but towards the end of Series 8 Stephens was sidelined by health problems and Milligan worked briefly with John Antrobus. The Milligan-Stephens partnership was finally ended by Stephens' death from a brain haemorrhage in January 1959; Milligan later downplayed and disparaged Stephens' contributions.
The Goon Show was recorded before a studio audience and during the audience warm-up session, Milligan would play the trumpet, while Peter Sellers played on the orchestra's drums.[12] For the first few years the shows were recorded live, direct to 16-inch transcription disc, which required the cast to adhere closely to the script but by Series 4, the BBC had adopted the use of magnetic tape. Milligan eagerly exploited the possibilities the new technology offered—the tapes could be edited, so the cast could now ad-lib freely and tape also enabled the creation of groundbreaking sound effects. Over the first three series, Milligan's demands for increasingly complex sound effects (or 'grams', as they were then known) pushed technology and the skills of the BBC engineers to their limits—effects had to be created mechanically (foley) or played back from discs, sometimes requiring the use of four or five turntables running simultaneously. With magnetic tape, these effects could be produced in advance and the BBC engineers were able to create highly complex, tightly edited effects 'stings' that would have been very difficult (if not impossible) to perform using foley or disc. In the later years of the series many Goon Show 'grams' were produced for the series by members of the BBC Radiophonic Workshop, a notable example being the "Major Bloodnok's Stomach" effect, realised by Dick Mills.
Although the Goons elevated Milligan to international stardom, the demands of writing and performing the series took a heavy toll. During Series 3 he suffered the first of several serious mental breakdowns, which also marked the onset of a decades-long cycle of manic-depressive illness. In late 1952, possibly exacerbated by suppressed tensions between the Goons' stars, Milligan apparently became irrationally convinced that he had to kill Sellers but when he attempted to gain entry to Sellers's neighbouring flat, armed with a potato knife, he accidentally walked straight through the plate-glass front door. He was hospitalised, heavily sedated for two weeks and spent almost two months recuperating; fortunately for the show, a backlog of scripts meant that his illness had little effect on production.[14] Milligan later blamed the pressure of writing and performing The Goon Show, for both his breakdown and the failure of his first marriage. A lesser-known aspect of Milligan's life in the 1950s and 1960s, was his involvement in the writers' agency Associated London Scripts. Milligan married for the first time and began a family. This reportedly distracted him from writing so much, that he accepted an invitation from Eric Sykes to share his small office, leading to the creation of the co-operative agency.
Milligan made several forays into television as a writer-performer, in addition to his many guest appearances on interview, variety and sketch comedy series from the 1950s to the 2000s. The Idiot Weekly, Price 2d (1956) starring Peter Sellers, was the first attempt to translate Goons humour to TV; it was followed by A Show Called Fred and Son of Fred, both made during 1956 and directed by Richard Lester, who went on to work with the Beatles. During a visit to Australia in 1958, a similar special was made for the Australian Broadcasting Commission, "The Gladys Half-Hour", which also featured local actors Ray Barrett and John Bluthal, who would appear in several later Milligan projects. In 1961, Milligan co-wrote two episodes of the popular sitcom Sykes and a…, co-starring Sykes and Hattie Jacques and the one-off "Spike Milligan Offers A Series of Unrelated Incidents at Market Value".
The 15-minute series The Telegoons (1963), was the next attempt to transplant the Goons to television, this time using puppet versions of the familiar characters. The initial intention was to 'visualise' original recordings of 1950s Goon Show episodes but this proved difficult, because of the rapid-fire dialogue and was ultimately frustrated by the BBC's refusal to allow the original audio to be used. 15-minute adaptations of the original scripts by Maurice Wiltshire were used instead, with Milligan, Sellers and Secombe reuniting to provide the voices; according to a contemporary press report, they received the highest fees the BBC had ever paid for 15-minute shows. Two series were made in 1963 and 1964 and (presumably because it was shot on 35mm film rather than video) the entire series has reportedly been preserved in the BBC archives. Milligan's next major TV venture was the sketch comedy series The World of Beachcomber (1968), made in colour for BBC 2; it is believed all 19 episodes are lost. That same year, the three Goons reunited for a televised re-staging of a vintage Goon Show for Thames Television, with John Cleese substituting for the late Wallace Greenslade but the pilot was not successful and no further programmes were made.
In early 1969, Milligan starred in the ill-fated situation comedy Curry & Chips, created and written by Johnny Speight and featuring Milligan's old friend and colleague Eric Sykes. Curry & Chips set out to satirise racist attitudes in Britain in a similar vein to Speight's earlier creation, the hugely successful Till Death Us Do Part, with Milligan 'blacking up' to play Kevin O'Grady, a half-Pakistani–half-Irish factory worker. The series generated numerous complaints, because of its frequent use of racist epithets and 'bad language' – one viewer reportedly complained of counting 59 uses of the word "bloody" in one episode – and it was cancelled on the orders of the Independent Broadcasting Authority after only six episodes. Milligan was also involved in the ill-fated programme The Melting Pot. Director John Goldschmidt's film The Other Spike dramatised Milligan's nervous breakdown in a film for Granada Television, for which Milligan wrote the screenplay and in which he played himself. Later that year, he was commissioned by the BBC to write and star in Q5, the first in the innovative "Q" TV series, acknowledged as an important precursor to Monty Python's Flying Circus, which premiered several months later. There was a hiatus of several years, before the BBC commissioned Q6 in 1975. Q7 appeared in 1977, Q8 in 1978, Q9 in 1980 and There's a Lot of It About in 1982. Milligan later complained of the BBC's cold attitude towards the series and stated that he would have made more programs, had he been given the opportunity. A number of episodes of the earlier "Q" series are missing, presumed wiped. In 1979 he was a special guest star on The Muppet Show. From 1995 to 1998, he voiced the highly successful children's animated series Wolves, Witches and Giants for ITV. The series was written by Ed Welch, who had featured in the "Q" series, collaborated with Spike on several audio productions, produced and directed by Simon & Sara Bor. The series was shown in over 100 territories including the UK and USA.
Milligan also wrote verse, considered to be within the genre of literary nonsense. His poetry has been described by comedian Stephen Fry as "absolutely immortal—greatly in the tradition of Lear." One of his poems, "On the Ning Nang Nong", was voted the UK's favourite comic poem in 1998 in a nationwide poll, ahead of other nonsense poets including Lewis Carroll and Edward Lear. This nonsense verse, set to music, became a favourite Australia-wide, performed week after week by the ABC children's programme Playschool. Milligan included it on his album No One's Gonna Change Our World in 1969, to aid the World Wildlife Fund. In December 2007 it was reported that, according to OFSTED, it is among the ten most commonly taught poems in primary schools in the UK. While depressed, he wrote serious poetry. He also wrote a novel Puckoon and a series of war memoirs, including Adolf Hitler: My Part in His Downfall (1971), "Rommel?" "Gunner Who?": A Confrontation in the Desert (1974), Monty: His Part in My Victory (1976) and Mussolini: His Part in My Downfall (1978). Milligan's seven volumes of memoirs cover the years from 1939 to 1950 (his call-up, war service, first breakdown, time spent entertaining in Italy and return to the UK). He also wrote comedy songs, including "Purple Aeroplane", which was a parody of the Beatles' song "Yellow Submarine". Glimpses of his bouts with depression, which led to the nervous breakdowns, can be found in his serious poetry, which is compiled in Open Heart University.
Even late in life, Milligan's black humour had not deserted him. After the death of Harry Secombe from cancer, he said, "I'm glad he died before me, because I didn't want him to sing at my funeral." A recording of Secombe singing was played at Milligan's memorial service. He also wrote his own obituary, in which he stated repeatedly that he "wrote the Goon Show and died". Milligan died from kidney failure, at the age of 83, on 27 February 2002, at his home in Rye, Sussex. On the day of his funeral, 8 March 2002, his coffin was carried to St Thomas Church in Winchelsea, East Sussex, and was draped in the flag of Ireland. He had once quipped that he wanted his headstone to bear the words "I told you I was ill." He was buried at St Thomas's churchyard but the Chichester diocese refused to allow this epitaph. A compromise was reached with the Irish translation, Dúirt mé leat go raibh mé breoite and in English, "Love, light, peace". According to a letter published in the Rye and Battle Observer in 2011, Milligan's headstone was removed from St Thomas's churchyard in Winchelsea and moved to be alongside the grave of his wife.
Born
April, 16, 1918
Ahmednagar, British India
Died
February, 27, 2002
United Kingdom
Rye, East Sussex, England
Cause of Death
Cemetery
Winchelsea Churchyard
Winchelsea, East Sussex, England
United Kingdom
8865 profile views