Smiley Burnette
(Lester Alvin Burnette)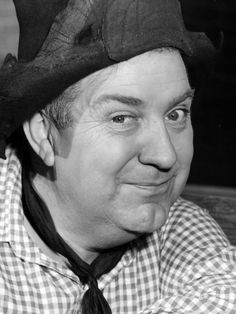 Smiley Burnette
Lester A. Burnett (he added the final "e" later in life) was born in Summum, Illinois, on March 18, 1911, and grew up in Ravenwood, Missouri. He began singing as a child and learned to play a wide variety of instruments by ear, yet never learned to read or write music. In his teens he worked in vaudeville and, starting in 1929, at the state's first commercial radio station, WDZ-AM in Tuscola, Illinois.
Burnette came by his nickname while creating a character for a WDZ children's program. He was reading Mark Twain's "The Celebrated Jumping Frog of Calaveras County" at the time, which included a character named Jim Smiley. He named the radio character Mr. Smiley and soon adopted the moniker as his own, dropping the title.
His break came in December 1933, when he was hired by Gene Autry to play accordion on National Barn Dance on Chicago's WLS-AM, on which Autry was the major star. As sound films became popular, Hollywood sought musical talent for Western films; and in 1934, producer Nat Levine cast the duo in their film debut (unbilled) as part of a bluegrass band in Mascot Pictures' In Old Santa Fe starring Ken Maynard. Burnette sang and played accordion, and the film included two of his compositions.
He had other small parts until a secondary but more prominent role in the 1935 serial The Adventures of Rex and Rinty. That same year, Levine gave Autry his first starring role in the 12-part serial The Phantom Empire, with Burnette playing "Oscar," a comic relief role. Mascot was soon absorbed by Republic Pictures Corp., and Burnette teamed up with Autry for the studio as his lovable comedic sidekick, Frog Millhouse, with his trademark floppy black hat. Their association produced 62 feature-length musical westerns. Frog was known for sometimes singing in a deep, froglike, croaking voice.
By 1940, he ranked second only to Autry in a Boxoffice magazine popularity poll of Western stars, the lone sidekick among the top ten (though rumored that off screen he earned a reputation as being moody and temperamental), and when Autry left for World War II service, Burnette provided a sidekick to Eddie Dew, Sunset Carson, and Bob Livingston and appeared in nine other films with Roy Rogers. He had a fan club and was especially popular among juvenile fans. Burnette's movie horse, white with a black-ringed left eye, also became famous, first as Black-eyed Nellie, then as Ring-eyed Nellie, and finally as just Ring Eye.
After leaving Republic in June 1944, he became the sidekick to Charles Starrett at Columbia Pictures in the long-running Durango Kid series. Starrett starred in the series from 1945 until 1952, and the pairing resulted in 56 films. When the series ended, Burnette rejoined Autry for Autry's final six films, all released by Columbia Pictures in 1953.
Just after completing the fourth season of Petticoat Junction, Burnette became ill. On February 16, 1967, a month before his 56th birthday, he died in Encino, California, from leukemia and was interred in Forest Lawn Memorial Park in Hollywood Hills, California.
Born
March, 18, 1911
Summum, Illinois
Died
February, 16, 1967
Encino, California
Cause of Death
Cemetery
Forest Lawn Hollywood Hills
Los Angeles, California
17470 profile views