Silk Smitha
(Silk Smitha)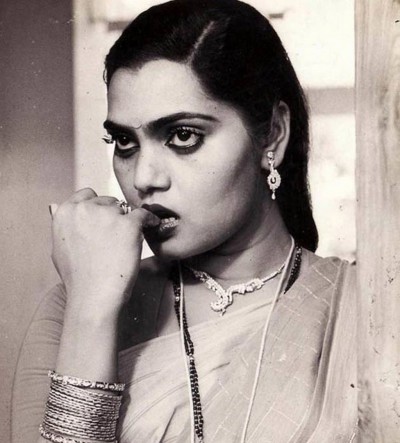 Vijayalakshmi (2 December 1960 – 23 September 1996), better known by her stage name Silk Smitha, was an Indian film artiste who worked predominantly in the South Indian languages. She entered the industry as an extra actress and first got noticed for her role as "Silk" in the 1979 Tamil film Vandichakkaram. She became the most sought-after erotic actress in the early 1980s. In a career spanning 17 years, she appeared in over 450 films in Telugu, Tamil, Malayalam, Kannada and Hindi languages. On 23 September 1996, she was found dead in her apartment in Chennai, apparently having committed suicide. Vijayalakshmi was born in a family to Ramallu and Sarasamma in Eluru, Andhra Pradesh. She left school after her fourth standard (in India, at about 8 years of age) due to the family's financial constraints. Her striking looks burdened her with uninvited attention, and her family married her off at a very young age. When she was ill-treated by her husband and in-laws, she ran away to Madras (now known as Chennai) and started living with an aunt. Vijayalakshmi started as a touch-up artist for a -D grade actress and soon got a break in small character roles. Later she was discovered by Vinu Chakravarthy, director at a flour mill. He renamed her Smitha and took her under his wing: his wife taught her English and arranged for her to learn dancing. though soon, due to her marked sex appeal, she switched to roles of cabaret dancers and vamps and inevitably found herself typecast. After garnering much notice and acclaim with her first major role in the Tamil film Vandichakkaram, in 1979, Smitha assumed the screen name "Silk", after her character's name in the movie. After it became a big hit, she could not escape typecasting, severely limiting her range throughout her career.
Silk Smitha went on to star in Tamil, Telugu, Malayalam, Kannada and a few Hindi films. Her dance numbers, semi-nude scenes and bold performances in films like Moondru Mugam made her the ultimate symbol of sensuality in South Indian cinema. Her item numbers in films like Amaran, Hallimeshtru Kannada were also celebrated at the box office. Some film critics, historians and journalists have referred to her as a "soft porn" actress. A vast majority of her movies are considered 'softcore' by Indian standards and a common theme is her playing a freakishly strong agent in skimpy bikinis beating up huge thugs. Her acting prowess did not go completely unnoticed and in her rare non-sexual roles, she impressed critics and audiences, such as her portrayal of a wife hurt by her role in her husband's rape of their maid (which she passively allowed by not preventing his entering the maid's bathroom and standing "guard" during the shameful act, to prevent embarrassment to their family) in Alaigal Oivathillai (1981). One of her films, Layanam (1989), has earned a cult status in the Indian adult film industry and was dubbed in numerous languages including, Hindi as Reshma Ki Jawani (2002), which, too, acquired cult status. Her most respected film is Moondram Pirai by Balu Mahendra, remade in Hindi as Sadma, with much of the top-drawer cast, including Sridevi, Kamal Hassan, and Silk Smitha reprising their roles.
Such was her audience-drawing power that, at the peak of her career, according to Tamil film historian, Randor Guy, "Films that had lain in cans for years were sold by the simple addition of a Silk Smitha song." On 23 September 1996, Smitha was found dead in her Chennai apartment. In the prior year she had been trying to move her career to become a film producer. Financial problems, a disillusionment in love and an alcohol dependency apparently led to depression.
Born
December, 02, 1960
India
Somavarappadu, Eluru, Andhra Pradesh
Died
September, 23, 1996
India
Chennai, Tamil Nadu
Cause of Death
7074 profile views