Sid Vicious
(John Simon Ritchie)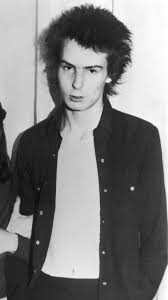 Sid Vicious
Sid Vicious, born John Simon Ritchie, later named John Beverley (10 May 1957 – 2 February 1979), was an English bass guitarist and vocalist, most famous as a member of the influential punk group the Sex Pistols, and notorious for the murder of Nancy Spungen.
Vicious joined the Sex Pistols in early 1977, to replace Glen Matlock, who had fallen out of favour with the rest of the group. Due to intravenous drug use, Vicious was hospitalized with hepatitis during the recording of the band's only studio album Never Mind the Bollocks. Accordingly, his bass is only partially featured on one song from the album. Vicious would later appear as a lead vocalist, performing three cover songs, on the soundtrack to The Great Rock 'n' Roll Swindle, a largely fictionalized documentary about the Sex Pistols, produced by the group's former manager Malcolm McLaren and directed by Julien Temple.
During the brief and chaotic ascendancy of the Sex Pistols, Vicious met eventual girlfriend and manager Nancy Spungen. Spungen and Vicious entered a destructive codependent relationship based on drug use. This culminated in Spungen's death from an apparent stab wound, while staying in the Hotel Chelsea, Manhattan, with Vicious. Under suspicion of having committed Spungen's murder, Vicious was released on bail; he was later arrested again for assaulting Todd Smith, brother of Patti Smith, at a night club, and underwent drug rehabilitation on Rikers Island. In celebration of Vicious' release from prison, his mother hosted a party for him (at his girlfriend's residence in Greenwich Village) which was attended notably by the Misfits bassist Jerry Only.
Vicious' mother had been supplying him with drugs and paraphernalia since he was young, and assisted him in procuring heroin late that night. Vicious died in his sleep, having overdosed on the heroin his mother had procured.
Nearly four weeks after Vicious' death, the soundtrack album of The Great Rock 'n' Roll Swindle was released. Later that year, on 15 December, a compilation of live material recorded during his brief solo career was packaged and released as Sid Sings.
Born
May, 10, 1957
England
London
Died
February, 02, 1979
United States
New York
18122 profile views