Shirley Mitchell
(Shirley Mitchell)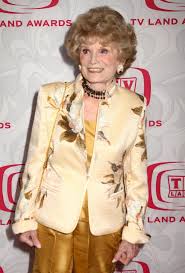 Shirley Mitchell
Shirley Mitchell (November 4, 1919 – November 11, 2013) was an American radio, film, and television actress.
Biography
Early life
Mitchell was born in Toledo, Ohio,the daughter of Sam Mitchell and his wife.
Career
Following a move to Chicago, Mitchell appeared in the network broadcast of The First Nighter and played small parts in various soap operas including The Story of Mary Marlin and The Road of Life. After she relocated to Los Angeles, she played opposite Joan Davis and Jack Haley in The Sealtest Village Store. She also starred as Louella in The Life of Riley and joined the cast of Fibber McGee and Molly as Alice Darling in 1943. Her most prominent radio role was that of the charismatic Southern belle Leila Ransom on The Great Gildersleeve radio show beginning in September 1942. In the third season of CBS's I Love Lucy, from 1953–54, she appeared in three episodes as Lucy Ricardo's friend with the funny laugh, Marion Strong. She was the last surviving recurring adult cast member following the deaths of Doris Singleton in 2012 and Peggy Rea in 2011.
In 1962, she played Janet Colton in thirteen episodes of another CBS sitcom, Pete and Gladys, starring Harry Morgan and Cara Williams, with Peter Leeds cast as her husband, George Colton. Between 1963-65 she made five appearances on Perry Mason, including in the 1965 episode "The Case of the Carefree Coronary", when she played Marilyn David, the widow of a murder victim. In 1964 she played the role of murder victim Elizabeth Bain, although her character was only heard, not seen, in "The Case of the Woeful Widower."
From 1965–67, she appeared as neighbor Marge Thornton on NBC's series Please Don't Eat the Daisies. She went on to appear in several TV shows of the 1960s and did voiceover work in subsequent decades. She appeared in an episode of the ABC crime drama The Feather and Father Gang in 1977.
In the late 1970s Mitchell appeared alongside Don Porter in an episode of Three's Company.
Personal life
She became engaged to Dr. Julian Frieden by early October 1946, holding her engagement shower at the San Fernando Valley home of singer Dinah Shore. They married on November 26, 1946.
By August 1955, they had two children, a girl followed by a boy. Brooke, and Scott, respectively. Mitchell and Frieden divorced in August 1974. In 1992, she married songwriter Jay Livingston and the two remained married until his death in 2001.
Mitchell died of heart failure on November 11, 2013, at the age of 94.
Born
November, 04, 1919
Toledo, Ohio
Died
November, 11, 2013
Westwood, California
Cause of Death
Cemetery
Westwood Memorial Park
Los Angeles, California
16597 profile views