Shelley Winters
(Shelley Winters)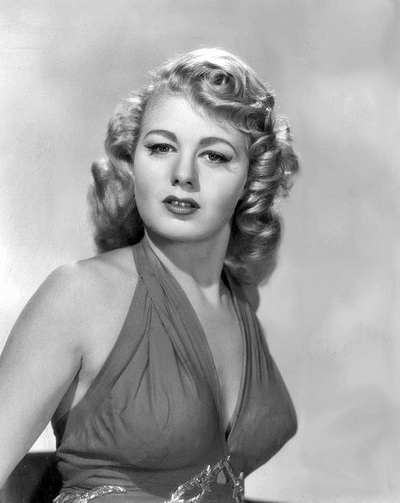 Winters was born Shirley Schrift in St. Louis, Missouri, the daughter of Rose (née Winter), a singer with The Muny, and Jonas Schrift, a designer of men's clothing. Her parents were Jewish; her father emigrated from Austria, and her mother had been born in St. Louis to Austrian immigrants. Her parents were third cousins. Her family moved to Brooklyn, New York when she was three years old. Her sister Blanche Schrift later married George Boroff, who ran The Circle Theatre (now named El Centro Theatre) in Los Angeles. Winters studied at The New School in New York City.
As the New York Times obituary noted, "A major movie presence for more than five decades, Shelley Winters turned herself into a widely-respected actress who won two Oscars." Winters originally broke into Hollywood as "the Blonde Bombshell", but quickly tired of the role's limitations. She washed off her makeup and played against type to set up Elizabeth Taylor's beauty in A Place in the Sun, still a landmark American film. As the Associated Press reported, the general public was unaware of how serious a craftswoman Winters was. "Although she was in demand as a character actress, Winters continued to study her craft. She attended Charles Laughton's Shakespeare classes and worked at the Actors Studio, both as student and teacher." She studied in the Hollywood Studio Club, and in the late 1940s she shared an apartment with another newcomer, Marilyn Monroe.
Her first movie was What a Woman! (1943). Working in films (in mostly bit roles) through the 1940s, Winters first achieved stardom with her breakout performance as the victim of insane actor Ronald Colman in George Cukor's A Double Life, in 1947. She quickly ascended in Hollywood with leading roles in The Great Gatsby (1949) with Alan Ladd and Winchester 73 (1950), opposite James Stewart. But it was her performance in A Place in the Sun (1951), a departure from the sexpot image that her studio, Universal Pictures, was building up for her at the time, that first brought Winters her acclaim, earning a nomination for the Academy Award for Best Actress.
Throughout the 1950s, Winters continued in films, including Meet Danny Wilson (1952) as Frank Sinatra's leading lady, most notably in Charles Laughton's 1955 Night of the Hunter, with Robert Mitchum and Lillian Gish, and the less successful I Am A Camera starring opposite Julie Harris and Laurence Harvey. She also returned to the stage on various occasions during this time, including a Broadway run in A Hatful of Rain, in 1955–1956, opposite future husband Anthony Franciosa. She won an Oscar for Best Supporting Actress for The Diary of Anne Frank in 1960, and another award, in the same category, for A Patch of Blue in 1966. She donated her Oscar for The Diary of Anne Frank to the Anne Frank House in Amsterdam.
Notable later roles included her lauded performance as the man-hungry Charlotte in Stanley Kubrick's Lolita; starring opposite Michael Caine in Alfie; and as the once gorgeous, alcoholic former starlet "Fay Estabrook" whose emotional vulnerability the titular hero so cruelly exploits in Harper (both 1966); in The Poseidon Adventure (1972) as the ill-fated Belle Rosen (for which she received her final Oscar nomination); and in Next Stop, Greenwich Village (1976). She also returned to the stage during the 1960s and 1970s, most notably in Tennessee Williams' Night of the Iguana. She appeared in such cult films as 1968's Wild in the Streets and 1971's Whoever Slew Auntie Roo?.
As the Associated Press reported, "During her 50 years as a widely known personality, Winters was rarely out of the news. Her stormy marriages, her romances with famous stars, her forays into politics and feminist causes kept her name before the public. She delighted in giving provocative interviews and seemed to have an opinion on everything." That led to a second career as a writer. Though not an overwhelming beauty, her acting, wit, and "chutzpah" gave her a love life to rival Monroe's. In late life, she recalled her conquests in her autobiographies. She wrote of a yearly rendezvous she kept with William Holden, as well as her affairs with Sean Connery, Burt Lancaster, Errol Flynn and Marlon Brando.
Winters had significant weight gain later in life, but lost much of the weight for (or before) an appearance at the 1998 Academy Awards telecast, which featured a tribute to Oscar winners past and present, at which a panoply of former winners, including Gregory Peck, Claire Trevor, Jennifer Jones and Luise Rainer appeared.  Audiences born in the 1980s knew her primarily for the autobiographies and for her television work, in which she played a humorous parody of her public persona. In a recurring role in the 1990s, Winters played the title character's grandmother on the ABC sitcom Roseanne. Her final film roles were supporting ones: she played a restaurant owner and mother of an overweight cook in Heavy (1995), with Liv Tyler and Debbie Harry; The Portrait of a Lady (1996), starring Nicole Kidman and John Malkovich; and as an embittered nursing home administrator in 1999's Gideon.
Winters was married four times; her husbands were:
Captain Mack Paul Mayer, whom she married on New Year's Day, 1942; they divorced in October 1948. Mayer was unable to deal with Shelley's "Hollywood lifestyle" and wanted a "traditional homemaker" for a wife. Winters wore his wedding ring up until her death, and kept their relationship very private.
Vittorio Gassman, whom she married on April 28, 1952; they divorced on June 2, 1954. They had one child, Vittoria born February 14, 1953, a physician, who practices internal medicine at Norwalk Hospital in Norwalk, Connecticut. She was Winters' only child.
Anthony Franciosa, whom she married on May 4, 1957; they divorced on November 18, 1960.
Gerry DeFord, on January 14, 2006, hours before her death.
Hours before her death, Winters married long-time companion Gerry DeFord, with whom she had lived for 19 years. Though Winters' daughter objected to the marriage, the actress Sally Kirkland performed the wedding ceremony for the two at Winters' deathbed. Kirkland, a minister of the Movement of Spiritual Inner Awareness, also performed non-denominational last rites for Winters.
Winters also had a romance with Farley Granger that became a long-term friendship (according to her autobiography Shelley Also Known As Shirley). She starred with him in the 1951 film, Behave Yourself!, as well as in a 1957 television production of A. J. Cronin's novel, Beyond This Place.  Winters was a Democrat and attended the 1960 Democratic National Convention.  She became friendly with rock singer Janis Joplin shortly before Joplin died in 1970. Winters invited Joplin to sit in on a class session at the Actors' Studio at its Los Angeles location. Joplin never did.
Winters died at the age of 85 on January 14, 2006, of heart failure at the Rehabilitation Centre of Beverly Hills; she had suffered a heart attack on October 14, 2005. Her third ex-husband Anthony Franciosa had a stroke on the day she died and, himself, died five days later.
Born
August, 18, 1920
USA
St. Louis, Missouri
Died
January, 14, 2006
USA
Beverly Hills, California
Cemetery
Hillside Memorial Park
Culver City, California
USA
17822 profile views