Sheb Wooley
(Shelby Fredrick Wooley)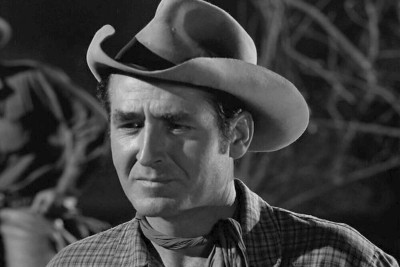 Sheb Wooley
Wooley was born in Erick, Oklahoma, and was raised on a farm. He learned to ride horses at an early age and was a working cowboy and rodeo rider. He also played in a country-western band. Wooley tried to enlist during World War II, but was turned down for military service because of his rodeo injuries. Instead, he worked in the oil industry and as a welder. In 1946, he moved to Fort Worth, Texas, and became a country and western musician. He married Edna Ethel Bunt in Fort Worth and they moved to Hollywood in 1949. When they crossed the famous intersection of Hollywood and Vine on Christmas Day 1949, it was snowing.
Wooley appeared in dozens of western films from the 1950s through 1970s, most notably High Noon . In 1950 he appeared in Rocky Mountain with such veteran actors as Errol Flynn and Slim Pickens in 1954, he played outlaw Jim Younger in the syndicated  western series Stories of the Century. Wooley appeared four times in the syndicated western series, The Range Rider, starring Jock Mahoney  and Dick Jones.  He appeared in a 1953 episode of the The Lone Ranger entitled "Wake of War" and another episode entitled "Message to Fort Apache" in 1954. He appeared five times between 1951 and 1955 in another syndicated series, The Adventures of Kit Carson. He guest starred in The Cisco Kid in the role of Bill Bronson and as Harry Runyon in the episode "The Unmasking" of the CBS western My Friend Flicka. In 1958, he played Baxter in the movie Terror in a Texas Town. He appeared twice in the ABC western series, The Life and Legend of Wyatt Earp.
Wooley's big break came when he was cast as the drover Pete Nolan in the CBS western Rawhide (1959–1966) with Eric Fleming, Clint Eastwood, and Paul Brinegar. He also acted in the films The Outlaw Josey Wales and Giant. Wooley co-starred as Cletus, the principal in the Gene Hackman film, Hoosiers.
In the 1940s, Wooley took an interest in his wife's young cousin, Roger Miller, who also grew up in Erick, Oklahoma. Wooley taught Miller how to play guitar chords and bought him a fiddle.
In the late 1950s, Wooley embarked on a recording career of his own with the song that made him famous, "The Purple People Eater". He followed with a series of lesser novelty hits. Wooley wrote the theme song for the long-running television show Hee Haw. In the UK he enjoyed a minor hit with the comedy single: "Luke The Spook" on the flip side was: "My Only Treasure" a ballad in the country and western tradition.
Wooley also had a string of country hits, his "That's My Pa" reaching No. 1 of Billboard magazine's Hot C&W Sides chart in March 1962. He was a regular on Hee Haw as the drunken country songwriter Ben Colder. He released music and performed as Ben Colder. Wooley also performed using his own name as well. Wooley had intended to record the song "Don't Go Near The Indians", but he was delayed by an acting job. Meanwhile, Rex Allen recorded the song and it was a hit. Wooley said he did not mind—he would do the sequel. His version was "Don't Go Near the Eskimos", about a boy in Alaska named Ben Colder (had never "been colder"). His song was so successful he continued using the name for forty years, one of his last recordings being "Shaky Breaky Car" (which parodied the song "Achy Breaky Heart").
His single "Hootenanny Hoot" was an Australian Top 10 hit in December, 1963.
Wooley is credited as the voice actor for the Wilhelm scream, having appeared on a memo as a voice extra for Distant Drums and later confirmed by his widow. This particular scream recording has been used by sound effects teams in over 300 films.
In 1996 he was diagnosed with leukemia . He died at the Skyline Medical Center in Nashville, Tennessee in 2003 and was buried in Hendersonville Memory Gardens in Hendersonville, Tennessee.
Born
April, 10, 1921
Erick, Oklahoma
Died
September, 16, 2003
Nashville, Tennessee
Cause of Death
Cemetery
Hendersonville Memory Gardens
Hendersonville, Tennessee
17479 profile views