Seymour Hoffman
(Philip Seymour Hoffman)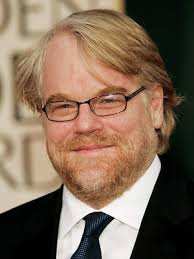 Philip Seymour Hoffman (July 23, 1967 – February 2, 2014) was an American actor, director, and producer. He was prolific in both film and theater from the early 1990s until his death in 2014 at the age of 46, after which The New York Times declared him "perhaps the most ambitious and widely admired American actor of his generation".
Hoffman studied acting at the New York State Summer School of the Arts and the Tisch School of the Arts. He began his career in a 1991 episode of Law & Order, and began to appear in films in 1992. He gained recognition for his supporting work throughout the 1990s and early 2000s in minor but seminal roles, in which he typically played losers or degenerates, including a conceited student in Scent of a Woman (1992), a hyperactive storm-chaser in Twister (1996), a 1970s pornographic film boom operator in Boogie Nights (1997), a smug assistant in The Big Lebowski (1998), a hospice nurse in Magnolia (1999), a music critic in Almost Famous (2000), a phone-sex conman in Punch-Drunk Love (2002), and an immoral preacher in Cold Mountain (2003).
In 2005, Hoffman portrayed the author Truman Capote in Capote, for which he won multiple acting awards including the Academy Award for Best Actor. His three other Oscar nominations came for his supporting work playing a brutally frank CIA officer in Charlie Wilson's War (2007), a priest accused of pedophilia in Doubt (2008), and the charismatic leader of a nascent Scientology-type movement in The Master (2012). He also received critical acclaim for roles in Owning Mahowny (2003), Before the Devil Knows You're Dead (2007), The Savages (2007), Synecdoche, New York (2008), Moneyball (2011), and The Ides of March (2011). In 2010, Hoffman directed the feature film Jack Goes Boating.
Hoffman was also an accomplished theater actor and director. He joined the LAByrinth Theater Company in 1995, and directed and performed in numerous stage productions. His performances in three Broadway plays led to Tony Award nominations: two for Best Leading Actor, in True West (2000) and Death of a Salesman (2012), and one for Best Featured Actor in Long Day's Journey into Night (2003). Hoffman struggled with drug addiction as a young adult, and relapsed in 2012 after many years of sobriety. In February 2014, he died of combined drug intoxication – an unexpected event that was widely lamented by the film and theater industries.
Born
July, 23, 1967
United States
New York
Died
February, 02, 2014
United States
New York
Other
Hoffman was cremated and his ashes were given to his family.
16563 profile views