Selena
(Selena Quintanilla Pérez)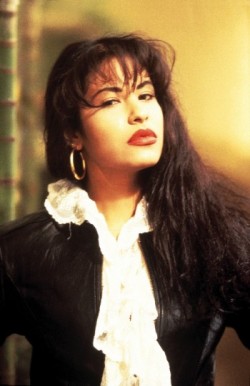 Selena
Mexican actress Salma Hayek was originally asked to play the role of Selena in a biopic film produced by the Quintanilla family and Warner Bros. Hayek turned the role down, feeling that it was "too early" to base a movie on Selena and that it would be too emotional since Selena's death was still being covered on national television. Puerto Rican actress Jennifer Lopez replaced Hayek, which drew criticism because of her ancestry. Gregory Nava served as the director for the film, which was released on March 21, 1997. After the film's release, fans changed their views on Lopez after seeing her performance in the movie. Selena opened in 1,850 theaters worldwide and grossed $11,615,722, making it the second-highest debut for that week. With a production budget of $20 million, the film grossed a total of $35 million domestically. The film was a commercial and critical success and is often cited by critics as Lopez' breakout role.
Selena's family and her former band, Los Dinos, held a tribute concert a week after the 10th anniversary of her murder on April 7, 2005. The concert, entitled Selena ¡VIVE!, was broadcast live on Univision and achieved a 35.9 household rating. It was the highest-rated and most-viewed Spanish-language television special in the history of American television. The special was also the number-one program (regardless of language) among adults ages 18 to 34 in Los Angeles, Chicago and San Francisco; it tied for first in New York, beating that night's episode of Fox's American Idol. Among Hispanic viewers, Selena ¡VIVE! outperformed Super Bowl XLV between the Packers and the Steelers and the telenovela Soy Tu Dueña during the "most-watched NFL season ever among Hispanics".
In 1997 Selena was commemorated with a museum and a bronze life-sized statue (Mirador de la Flor in Corpus Christi), which are visited by hundreds of fans each week.[242] In 1999, a Broadway-bound musical entitled Selena was scheduled to premiere in San Antonio in March 2000 to commemorate the fifth anniversary of her murder. Broadway producers Tom Quinn, Jerry Frankel, Peter Fitzgerald and Michael Vega staged the musical,[243] and Edward Gallardo wrote the show's book and lyrics. Fernando Rivas composed the show's songs. In 2000, Selena Forever was first produced for a 30-city national tour with a budget of over US$2 million.[243] After a national casting call, producers chose Veronica Vasquez to portray Selena; Vasquez alternated in the role with Rebecca Valdez.[244] The musical previewed on March 21, and opened on March 23 at the San Antonio Municipal Auditorium.[245]
The Spirit of Hope Award was created in Selena's honor in 1996,[246] and was awarded to Latin artists who participated in humanitarian and civic causes.[247] On March 16, 2011, the United States Post Office released a "Latin Legends" memorial stamp to honor Selena, Carlos Gardel, Tito Puente, Celia Cruz, and Carmen Miranda. In February 2014, the Albany, NY Times Union named her one of "100 Coolest Americans in History".
Born
April, 16, 1971
Lake Jackson, Texas
Died
March, 31, 1995
Corpus Christi, Texas
Cause of Death
Shot and killed by fan club president
Cemetery
Seaside Memorial Park
Corpus Christi,Texas
17073 profile views