Sean Taylor
(Sean Taylor)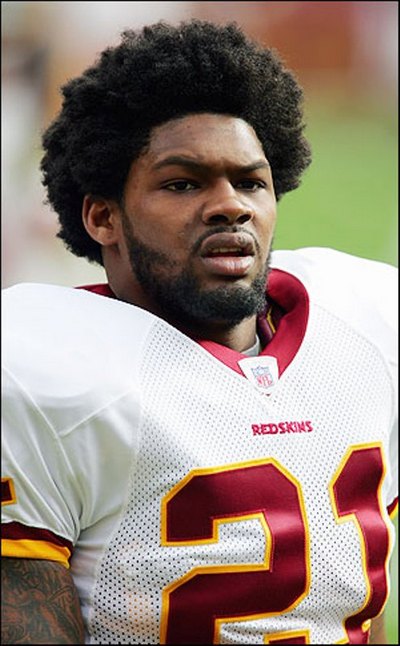 Sean Taylor was born in Florida to Pedro Taylor, a policeman, and Donna Junor. He spent his early years growing up with his great-grandmother Aulga Clarke in Homestead, Florida and later moved to his father's home at the age of 10. He grew up in a low-income neighborhood in Miami, on a street lined with candy-colored houses.

Taylor played high school football in Pinecrest, a suburb of Miami. He originally began his high school football career at Miami Killian High School, a Class 6A public school, but transferred to Gulliver Preparatory School, a Class 2A prep school, where he could play both offense and defense. Despite missing the first game of the season (the team's only loss), he helped Gulliver win the Florida Class 2A State Championship in 2000 with a 14–1 record. Taylor was a star on both sides of the ball during that season, playing running back, defensive back and linebacker. He rushed for 1,400 yards and a state-record 44 touchdowns and on two separate occasions, rushed for more than 200 yards during Gulliver's state playoff run. He also compiled more than 100 tackles during the season and scored three touchdowns (two receiving, one rushing) in the state title game victory over Marianna High School.
Taylor was considered the No. 1 prospect in Miami-Dade County by the Miami Herald. He was also rated the nation's No. 1 skill athlete and an All-American by Super Prep. Taylor was also an Orlando Sentinel Super Southern Team selection, the No. 1 athlete on the Florida Times-Union Super 75 list and rated the No. 1 player in Florida by The Gainesville Sun.
In 2007 he was also named to the Florida High School Association All-Century Team, which selected the Top 33 players in the 100-year history of high school football in the state. After his death, Taylor was honored at Gulliver by a plaque that was placed in the school's cafeteria. The football field at Gulliver Prep was renamed Sean Taylor Memorial Field on September 5, 2009.
2001 season
Taylor was recruited to play for coach Larry Coker's Miami Hurricanes football at the University of Miami, and he carved a niche for himself in Miami's secondary in nickel and dime defensive schemes as a freshman (he was one of just four true freshmen to play for the team). During the season, Taylor was named Big East Special Teams Player of the Week for his performance against the Pittsburgh Panthers. The Hurricanes won the national championship in 2001, their fifth national championship since 1983.
2002 season
In 2002, his first season as a starter, Taylor was a second-team All-Big East selection by the league's head coaches. He finished third on the team in tackles with 85 (53 solo), broke up 15 passes, intercepted 4 passes, forced one fumble, blocked one kick and returned a punt for a touchdown. He led all Miami defensive backs in tackles, interceptions and passes broken up, and had a career-high 11 tackles (2 solo) and intercepted 2 passes in the Fiesta Bowl loss to Ohio State. One interception occurred on an infamous play where he was stripped by Maurice Clarett on the return, allowing the Buckeyes to retain possession.
2003 season
Taylor produced a historic season during his final year at Miami that culminated with a plethora of honors and awards. He was named a unanimous first-team All-American, the Big East Conference Defensive Player of the Year and a finalist for the Jim Thorpe Award, given to the nation's best defensive back. He led the Big East Conference and ranked first nationally in interceptions with 10, tying the record for interceptions in a season with former Hurricanes standout Bennie Blades. Taylor also finished first in total tackles with 77 (57 solo). He intercepted two passes in Miami's impressive 28-14 win over Pittsburgh, playing a key role as the Hurricanes limited All-American receiver Larry Fitzgerald to just three receptions for 26 yards. He returned interceptions for an average of 18.4 yards, including a 67-yard touchdown return at Boston College, a 50-yard scoring runback at Florida State and a 44-yard scoring runback against Rutgers University. His three touchdown returns of interceptions is a Miami single-season record.
2004 NFL draft
Following his 2003 season, Taylor announced that he was entering the NFL draft. Taylor was drafted in the first round (fifth overall) by the Washington Redskins. He also was the first University of Miami player drafted in 2004, which was somewhat surprising since most experts thought former Hurricanes tight end Kellen Winslow II would be the first selection. Winslow was drafted right after Taylor by the Cleveland Browns.
The drafting of Taylor by the Redskins in the first round began an NFL Draft record where an unprecedented six players from the University of Miami were drafted in the first round (the other five players were Kellen Winslow II,Jonathan Vilma, D. J. Williams, Vernon Carey and Vince Wilfork).
Washington Redskins
Following his selection by the Redskins, Taylor signed a seven-year, $18 million contract with the team. However, problems soon began for Taylor as he fired his agent and then skipped part of the NFL's mandatory rookie symposium, drawing a $25,000 fine. Over his first three seasons, Taylor also was fined at least seven times for late hits, uniform violations and other infractions.
2004 Rookie Season
On the field during the 2004 season, Taylor was successful, emerging as the Redskins' starting free safety by the third game of his rookie year. Starting the remaining 13 games of the season, Taylor finished the year with 89 tackles, two forced fumbles, one sack, 9 passes defended and 4 interceptions (second-highest on the team).
2005 Season
Before the season started, Taylor switched his jersey number from #36 to #21 after the cornerback who had worn number 21 the year before. Fred Smoot, a close personal friend of Taylor, had left the team and signed with theMinnesota Vikings. Taylor kept the number when Smoot rejoined the Redskins in 2007, with Smoot opting to wear #27 (his number from Minnesota).
Taylor continued his effective play in the 2005 season, finishing with 70 tackles, 2 sacks, 2 forced fumbles, 2 interceptions, 10 passes defended and 1 fumble returned for a touchdown.
Taylor, along with fellow University of Miami and Redskins teammate Clinton Portis, was fined $5,000 in the home game against the Philadelphia Eagles for violating the NFL dress code by wearing socks that did not match the Redskins' standard uniform.
Taylor had ups and downs during a January 7, 2006 wild card game against the Tampa Bay Buccaneers. Although he scored a touchdown that proved to be the Redskins' game-winning touchdown, he was ejected after spitting at Buccaneers running back Michael Pittman. He was subsequently fined $17,000, the amount of his game bonus check.
2006 Season
In 2006 Sean Taylor finished the year leading the Redskins' defense with 129 tackles and also had 1 interception, 6 passes defended and 3 forced fumbles.
During the season, Washington Redskins assistant coach Gregg Williams frequently called Taylor the best athlete that he had ever coached.

In Week 9, Taylor returned a blocked Mike Vanderjagt field goal into Dallas Cowboys territory and was awarded a 15-yard penalty after Kyle Kosier grabbed his facemask. This set up the winning field goal by Nick Novak.
Three weeks later in Week 12, Taylor had his best game of the season against the Carolina Panthers. Though he played well throughout the game, his presence was felt most sharply in the final minutes in which he made a key 4th-down tackle to prevent a 1st down and intercepted Jake Delhomme to seal the victory. He earned NFL Defensive Player of the Week honors following the game.
Even while playing on a struggling Redskins defensive unit, Taylor's impact on the field was recognized when he was named a first alternate to the NFC's 2007 Pro Bowl team. When the NFC's first choice for safety, Brian Dawkins of the Philadelphia Eagles, chose not to play in the Pro Bowl due to an injury, Taylor was named to the vacated spot, marking his first and only Pro Bowl appearance. A crushing hit by Taylor on Buffalo Bills punter Brian Moorman in the Pro Bowl created much fan and media discussion.

2007 Season
Prior to the start of the 2007 season, Sports Illustrated named Taylor the hardest-hitting player in the NFL.

Before the season, in a rare interview, he was quoted as saying, "[Y]ou play a kid's game for a king's ransom. And if you don't take it serious enough, eventually one day you're going to say, 'Oh, I could have done this, I could have done that.'" The season appeared to represent a personal turnaround for Taylor, as teammates said that he had finally gotten his life straightened out because of his daughter.

Also before the season, the Redskins decided to use Taylor in a more traditional free safety role with less responsibility.

At the time of his death, Taylor was tied for the most interceptions in the National Football Conference and second in the league with 5 despite having missed Weeks 11 and 12 with a knee injury. Playing at a high level, Taylor had also compiled 42 tackles, 9 passes defended and a forced fumble.
On December 18, 2007, Taylor was posthumously voted to his second Pro Bowl, becoming the first deceased player in NFL history to be so elected to the Pro Bowl. During the Pro Bowl, Chris Samuels, Chris Cooley and Ethan Albright wore Taylor's #21 jersey to honor him. Like the Redskins had done earlier in the season, the NFC lined up with just one safety on the first play of the game.

Taylor was arrested in Fairfax County, Virginia at 2:45am on October 27, 2004 for allegedly driving under the influence of alcohol following a birthday party in Washington for former Redskins receiver Rod Gardner. Pulled over for driving 82 mph on the Beltway, where the speed limit is 55 mph, Taylor failed a field sobriety test and then refused a blood alcohol (BAC) test, which resulted in his arrest. A Fairfax County judge acquitted Taylor of the charges in March 2005 after viewing a videotape of Taylor's roadside sobriety tests that, according to the judge, failed to demonstrate obvious intoxication. Taylor was, however, convicted for refusing to take a blood alcohol test requested by a Virginia state police officer. But when this case was heard on appeal in March 2005, Taylor was acquitted of refusing to take the BAC test, with the judge ruling there was a lack of probable cause for the request.

On June 3, 2005, Taylor was named publicly as a "person of interest" by Miami-Dade County police in regard to a Miami assault case involving firearms, and was being sought for questioning. "We need to speak to him, we don't know if he's a victim, witness or suspect," Miami-Dade police spokesman Mary Walters said. Taylor allegedly was present at, and possibly involved in, an incident on June 1 in which bullets allegedly were fired into a stolen vehicle.

On June 5, ESPN and the Miami Herald both reported that Taylor, accompanied by his lawyer, had surrendered to Miami-Dade police at approximately 10pm EST on June 4 at the Cutler Ridge district police station, from which he was transported to the Turner Guilford Knight correctional facility. He was charged with aggravated assault with a firearm (a felony) and misdemeanor battery. Miami-Dade police issued a statement the same day confirming the earlier reports. Taylor had allegedly pointed a gun at a person over a dispute over two ATVs that he claimed were stolen.
The Associated Press reported that Taylor was held in detention at Turner Gilford Knight and released the evening of June 4 after posting bond of $16,500. The Miami-Dade County Clerk's Office announced that he would soon be officially arraigned on the charges.

The Washington Post reported on March 3, 2006 that Taylor's trial had been postponed until April 10. Days before that date, the trial was moved back once more, this time by a week, because of conflicts with Passover and Easter celebrations.

On January 28, 2006, the Miami-Dade County prosecutor announced that he was filing new charges against Taylor, which would have increased his potential maximum state prison time from 16 years to 46 years. The new charges included increasing his felony assault charges from one to three, which reflected the allegation that, on June 1, 2005, he brandished a firearm at three individuals who Taylor believed stole two all-terrain vehicles from him.
On April 17, the trial was again postponed until May 8, after the prosecutor in the case asked the presiding judge to be removed from the case. The county prosecutor's request for removal from the case came as Taylor's defense lawyers argued that the prosecutor was using the case to promote his side work as a disc jockey in South Beach. Defense lawyers for Taylor entered a motion for the case's complete dismissal, due to prosecutorial misconduct.

On May 8, the prosecution requested and received another extension of the case, citing the new prosecutor assigned to the case and a need for additional preparation time. The trial was scheduled to begin July 10 in Miami, but on June 2 the charges against Taylor were dropped as part of a negotiated plea bargain. Taylor donated his time to various charities and made $1,000 donations to 10 southern Florida schools in scholarships. In exchange, would avoid jail time and a felony record.

Taylor's house had been burglarized in his absence on November 18, 2007. Media reports briefly described the police reports of the circumstances surrounding the first burglary. Among the details noted were that the intruders pried open a window to climb into the home, went through the desk and safe that were located in Taylor's bedroom, also damaged an air conditioning unit. This report had been made by Taylor's mother, who had checked on the home and discovered the burglary. The police report did not specify if anything was stolen from the home, presumably because his mother would not know the contents of the desk or safe located in his bedroom.

Eight days after the original burglary, on November 26 at 1:45 a.m. EST, Taylor was shot in the upper leg by an armed intruder at his home in Palmetto Bay, Florida, where he had been recuperating from a football injury. His femoral artery was hit and severed, causing a mortal wound. His longtime girlfriend, Jackie Garcia (a niece of actor Andy García), hid under the bedding with their 18-month-old daughter Jackie. Garcia then called 9-1-1 from her cell phone.

Taylor was airlifted to the Ryder Trauma Center at Jackson Memorial Hospital in Miami, where he underwent surgery. He emerged from surgery about 12:30 p.m. He had lost a significant amount of blood and remained in a coma. His doctors speculated he may have suffered brain damage due to the blood loss, and an unnamed Redskins source reported that Taylor's heart stopped twice during the emergency surgery. After three hours, on November 27, Taylor died at the hospital at 3:30 a.m. The news was released to the media by Richard Sharpstein, a family friend who learned the news from Taylor's father around 5:30 a.m., and by Drew Rosenhaus, Taylor's agent.

Born
April, 01, 1983
USA
Miami, Florida
Died
November, 27, 2007
USA
Miami, Florida
Cemetery
Woodlawn Park Cemetery South
Miami, Florida
USA
17702 profile views