Sam Peckinpah
(David Samuel Peckinpah)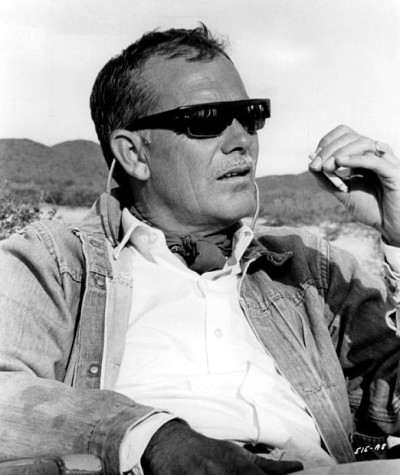 David Samuel "Sam" Peckinpah was born February 21, 1925, in Fresno, California, where he attended both grammar school and high school. He spent much time skipping classes with his brother to engage in cowboy activities on their grandfather Denver Church's ranch, including trapping, branding, and shooting. During the 1930s and 1940s, Coarsegold and Bass Lake were still populated with descendants of the miners and ranchers of the 19th century. Many of these descendants worked on Church's ranch. At that time, it was a rural area undergoing extreme change, and this exposure is believed to have affected Peckinpah's Western films later in life. He played on the junior varsity football team while at Fresno High School, but frequent fighting and discipline problems caused his parents to enroll him in the San Rafael Military Academy for his senior year. In 1943, he joined the United States Marine Corps. Within two years, his battalion was sent to China with the task of disarming Japanese soldiers and repatriating them following World War II. While his duty did not include combat, he claims to have witnessed acts of war between Chinese and Japanese soldiers. According to friends, these included several acts of torture and the murder of a laborer by sniper fire. The American Marines were not permitted to intervene. Sam Peckinpah also claimed he was shot during an attack by Communist forces. Also during his final weeks as a Marine, he applied for discharge in Peking, so he could marry a local woman, but was refused. His experiences in China reportedly deeply affected Peckinpah, and may have influenced his depictions of violence in his films. After being discharged in Los Angeles, he attended California State University, Fresno, where he studied history. While a student, he met and married his first wife, Marie Selland, in 1947. A drama major, Selland introduced Peckinpah to the theater department and he became interested in directing for the first time. During his senior year, he adapted and directed a one-hour version of Tennessee Williams' The Glass Menagerie. After graduation in 1948, Peckinpah enrolled in graduate studies in drama at University of Southern California. He spent two seasons as the director in residence at Huntington Park Civic Theatre near Los Angeles before obtaining his master's degree. He was asked to stay another year, but Peckinpah began working as a stagehand at KLAC-TV in the belief that television experience would eventually lead to work in films. Even during this early stage of his career, Peckinpah was developing a combative streak. Reportedly, he was kicked off the set of The Liberace Show for not wearing a tie, and he refused to cue a car salesman during a live feed because of his attitude towards stagehands.
In 1954, Sam Peckinpah was hired as a dialogue coach for the film Riot in Cell Block 11. His job entailed acting as an assistant for the movie's director, Don Siegel. The film was shot on location at Folsom Prison. Reportedly, the warden was reluctant to allow the filmmakers to work at the prison until he was introduced to Sam Peckinpah. The warden knew his family from Fresno and was immediately cooperative. Siegel's location work and his use of actual prisoners as extras in the film made a lasting impression on Peckinpah. He worked as a dialogue coach on four additional Siegel films: Private Hell 36 (1954), An Annapolis Story, (1955, and co-starring L. Q. Jones), Invasion of the Body Snatchers (1956) and Crime in the Streets (1956). Invasion of the Body Snatchers, in which Peckinpah appeared in a cameo as Charlie the meter reader, starred Kevin McCarthy and Dana Wynter. It became one of the most critically praised science fiction films of the 1950s. Peckinpah claimed to have done an extensive rewrite on the film's screenplay, a statement which remains controversial. Nevertheless, Sam Peckinpah's association with Siegel established him as an emerging screenwriter and potential director.
Throughout much of his adult life, Sam Peckinpah was affected by alcoholism, and, later, other forms of drug addiction. According to some accounts, he also suffered from mental illness, possibly manic depression or paranoia. It is believed his drinking problems began during his service in the military while stationed in China, when he would frequent the saloons of Tianjin and Beijing. After divorcing Selland, the mother of his first four children, in 1960, he married the Mexican actress Begoña Palacios in 1965. A stormy relationship developed, and over the years they married on three separate occasions. They had one daughter together. His personality reportedly often swung between a sweet, soft-spoken, artistic disposition, and bouts of rage and violence during which he verbally and physically abused himself and others. An experienced hunter, Peckinpah was fascinated with firearms and was known to shoot the mirrors in his house while abusing alcohol, an image which occurs several times in his films. Peckinpah's reputation as a hard-living brute with a taste for violence, inspired by the content in his most popular films and in many ways perpetuated by himself, affected his artistic legacy. His friends and family have claimed this does a disservice to a man who was actually more complex than generally credited. Throughout his career, Peckinpah seems to have inspired extraordinary loyalty in certain friends and employees. He used the same actors (Warren Oates, L. Q. Jones, R. G. Armstrong, James Coburn, Ben Johnson, and Kris Kristofferson), and collaborators (Jerry Fielding, Lucien Ballard, Gordon Dawson, and Martin Baum) in many of his films, and several of his friends and assistants stuck by him to the end of his life. Peckinpah spent a great deal of his life in Mexico after his marriage to Palacios, eventually buying property in the country. He was reportedly fascinated by the Mexican lifestyle and culture, and he often portrayed it with an unusual sentimentality and romanticism in his films. Four of his films, Major Dundee (1965), The Wild Bunch (1969), Pat Garrett and Billy the Kid (1973) and Bring Me the Head of Alfredo Garcia (1974), were filmed entirely on location within Mexico, while The Getaway (1972) concludes with a couple escaping to freedom there. Peckinpah was seriously ill during his final years, as a lifetime of hard living caught up with him. Regardless, he continued to work until his last months. He died of heart failure on December 28, 1984. At the time, he was in preparation for shooting an original script by Stephen King entitled The Shotgunners, which later became a book called The Regulators. He lived at the Murray Hotel in Livingston, Montana, from 1979 until his death in 1984.
Born
February, 21, 1925
USA
Fresno, California
Died
December, 28, 1984
USA
Inglewood, California
Cause of Death
Other
6365 profile views