Sam Kinison
(Samuel Burl Kinison)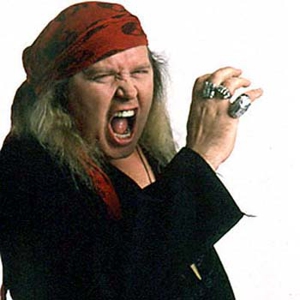 Sam Kinison
Kinison acquired much of his material from his difficult first two marriages, to Patricia Adkins (1975-1980) and Terry Marze (1981-1989). Kinison began a relationship with dancer Malika Souiri towards the end of his marriage with Marze. In 1990, Souiri alleged she was raped by a man Kinison hired as a bodyguard that same day, while Kinison lay asleep in the house. The bodyguard stated that the sex was consensual; the jury deadlocked in the subsequent trial and charges were later dropped.
On April 4, 1992, six days before he died, Kinison married Souiri at the Candlelight Chapel in Las Vegas. They then had a honeymoon in Hawaii for 5 days before returning home to LA on April 10 and preparing for a show that night at the Riverside Resort Hotel and Casino. Souiri sued Kinison's brother Bill in 1995 for allegedly defaming her in his book Brother Sam: The Short Spectacular Life of Sam Kinison and then again in 2009 for allegedly forging the will of his brother.
In February 2011, the Toronto Sun reported that Kinison fathered a child with the wife of his best friend and opening act, Carl LaBove, who had been paying child support for the girl for nearly 13 years. LaBove filed legal papers claiming the girl was Kinison's, and DNA tests taken from Kinison's brother Bill show a 99.8% likelihood that Sam Kinison was the father of the unnamed woman, who was 21 at the time of the Toronto Sun story, and excluded LaBove as her father.
On April 10, 1992, Kinison died at the age of 38 after his white 1989 Pontiac Trans Am was struck head-on on U.S. Route 95, four miles (6 km) north of Interstate 40 and several miles west of Needles, California, by a pickup truck driven by 17-year-old Troy Pierson, who had been drinking alcohol. The pickup truck crossed the center line of the roadway and went into Kinison's lane. At the time of the collision, Kinison was traveling to Laughlin, Nevada to perform at a sold-out show.
Kinison's body was found lying between the seats of his car at the scene of the collision. An autopsy found that he had suffered numerous traumatic injuries—including a dislocated neck, a torn aorta, and torn blood vessels in his abdominal cavity—which caused his death within minutes of the collision. Malika Souiri, Kinison's wife, whom he had married merely six days prior, was rendered unconscious by the collision, but survived the accident with a mild concussion.
Pierson later pleaded guilty to one count of vehicular manslaughter with gross negligence. He was sentenced to one year of probation and 300 hours of community service, and his driver's license was suspended for two years.
Kinison is interred with family members at the Memorial Park Cemetery in Tulsa, Oklahoma. His grave marker includes the unattributed quote "In another time and place he would have been called prophet."
Born
December, 08, 1953
Yakima, Washington
Died
April, 10, 1992
Needles, California
Cause of Death
numerous traumatic injuries from an auto accidents
Cemetery
Memorial Park Cemetery
Tulsa,Oklahoma
17837 profile views