Sally Rand
(Hattie Helen Gould Beck)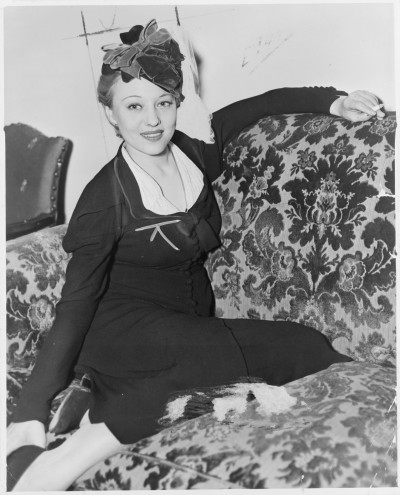 Hattie Helen Gould Beck was born in the village of Elkton, Hickory County, Missouri. Her father, William Beck, was a West Point graduate and retired U.S. Army colonel, while her mother, Nettie (Grove) Beck, was a school teacher and part-time newspaper correspondent. The family moved to Jackson County, Missouri while she was still in grade school. Helen got her start on the stage quite early, working as a chorus girl at Kansas City's Empress Theater when she was only 13. An early supporter of her talent was Goodman Ace, drama critic for the Kansas City Journal who saw her performing in a Kansas City nightclub and wrote glowing reviews. After studying ballet and drama in Kansas City, the teenage Helen decided her future lay in Hollywood. For a short time as she worked her way to the west coast, she was employed as an acrobat in the Ringling Brothers Circus. She also performed in summer stock and traveling theater, including working with a then-unknown Humphrey Bogart. During the 1920s, she acted on stage and appeared in silent films. Cecil B. DeMille gave her the name Sally Rand, inspired by a Rand McNally atlas. She was selected as one of the WAMPAS Baby Stars in 1927. After the introduction of sound films, she became a dancer, known for the fan dance, which she popularized starting at the Paramount Club, at 15 E. Huron, in Chicago. Her most famous appearance was at the 1933 Chicago World's Fair, which was entitled Century of Progress. She would play peek-a-boo with her body by manipulating her fans in front and behind her, like a winged bird as she swooped and twirled on the stage, usually to "Clair de Lune". She was arrested four times in a single day during the fair due to perceived indecent exposure after a fan dance performance and while riding a white horse down the streets of Chicago, where the nudity was only an illusion, and again after being bodypainted by Max Factor, Sr. with his new make-up formulated for Hollywood films. She also conceived and developed the bubble dance, in part to cope with wind while performing outdoors. She performed the fan dance on film in Bolero, released in 1934. In 1936, she purchased The Music Box burlesque hall in San Francisco, which would later become the Great American Music Hall. She starred in "Sally Rand's Nude Ranch" at the Golden Gate International Exposition in San Francisco in 1939 and 1940.
She was arrested twice in San Francisco in 1946; while performing at Club Savoy, she was arrested by six police officers in the audience as she danced, seemingly nude, in silhouette behind a large white fan; the judge granted her immunity should she be arrested for the same offense while on trial; however she was arrested during a night of the trial while performing her act, despite her immunity and the fact that she was wearing long underwear and a note that read "CENSORED. S.F.P.D." that time. In an unusual move, the judge viewed her performance at the Savoy and cleared her of all charges after deeming that "anyone who could find something lewd about the dance as she puts it on has to have a perverted idea of morals". She appeared on television in March 12, 1957, in episode 13 of the first season of To Tell the Truth with host Bud Collyer and panelists Polly Bergen, Ralph Bellamy, Kitty Carlisle, and Carl Reiner. She did not "stump the panel" but was correctly identified by all four panelists (she was introduced as Helen Beck, her birth name).
She continued to appear on stage doing her fan dance into the 1970s. Rand once replaced Ann Corio in the stage show, This Was Burlesque, appeared at the Mitchell Brothers club in San Francisco in the early 1970s and toured as one of the stars of the 1972 nostalgia revue "Big Show of 1928," which played major concert venues, including New York's Madison Square Garden. Rand died on August 31, 1979, at Foothill Presbyterian Hospital, in Glendora, California, aged 75, from congestive heart failure. She was deeply in debt at her death. Rand's adopted son told an interviewer that Sammy Davis, Jr., stepped in and wrote a $10,000 check which took care of Rand's expenses.
Born
April, 03, 1904
USA
Hickory County, Missouri
Died
August, 31, 1979
USA
Glendora, California
Cause of Death
Cemetery
Oakdale Memorial Park
Glendora, California
USA
8146 profile views